This year's Midwinter Meeting is all about the societal role of libraries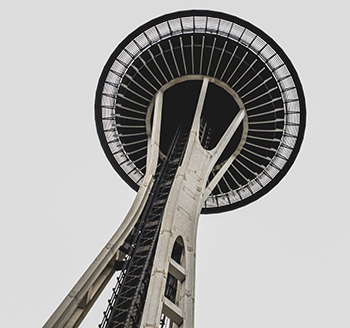 Photo by Ram Catapang


The American Library Association (ALA) Midwinter Meeting will return to Seattle, January 25–29, 2019, at the Washington State Convention Center. While the full schedule was not yet released at press time, the anchor events evince a clear, consistent theme: the critical issues that impact the planet and people alike and the crucial role libraries can play in addressing them. Check https://2019.alamidwinter.org for updates. Included with this first look are close-by locavore restaurant choices.


Calls to Action
ALA's flagship auditorium speakers each add a unique perspective to the overarching motif.

Opening Session
Fri., Jan. 25, 4–5:15 p.m.
Opening speaker Melinda Gates, cochair of the Bill and Melinda Gates Foundation, will debut her book The Moment of Lift: How Empowering Women Changes the World (Macmillan). We're looking forward to hearing her share data and anecdotes. She may face questions about the foundation's exit from funding libraries.
Auditorium Speaker Rick Steves
Sun., Jan. 27, 9:30–10:30 a.m.
This travel author (and publisher) takes the road less traveled in his new book, leaving guides to explore Travel as a Political Act: How To Leave Your Baggage Behind. He stresses tolerance, cultural diversity, learning about the world, and bringing that knowledge back home.
ALA President's Program
Sun., Jan. 27, 3:30–5:30 p.m.
Robin DiAngelo, author of White Fragility: Why It's So Hard for White People to Talk About Racism (Beacon), will discuss how to engage more constructively in conversations about racism—important for this demographically skewed field.
Closing Session
Mon., Jan. 28, 2–3 p.m.
Former CNN International anchor Isha Sesay will share her story of writing Beneath the Tamarind Tree (HarperCollins, Jul. 2019), an account of Boko Haram's abduction of the Chibok schoolgirls, and founding Women Everywhere Can Lead, which supports education and empowers girls in Africa, and ROUSE, a multi-city event sharing stories of inspirational African women.


Getting Future Ready
The Symposium on the Future of Libraries explores near- and longer-term trends. Our picks examine how social justice and technology interact.
Algorithms, Implicit Bias, and Search Literacy: Exploring Beliefs Among Computer Science Students About Search Engine and Machine Learning Models
Sat., Jan. 26, 1–2 p.m.
Learn to develop ethically informed search literacy, and help ensure that ­libraries are spaces where users can expect fair treatment from automated systems.
Machine Learning: How Does It Work?!
Sun., Jan. 27, 2:30–3:30 p.m.
See a high-level overview of how neural nets work and explore a prototype library discovery interface based in neural nets. Also learn why machine learning might not be the right tool for your job, owing to limitations, biases, and social risks.
What Does Your Community Want? Using Google Search Data for Strategic Planning
Sun., Jan. 27, 2:30–3:30 p.m.
Using Google's application programming interface (API), presenters tried themed key phrases in 3,000 public library service areas. Such surveys can inform marketing, resource management, and planning.


What's News
ALA's News You Can Use returns with more need-to-know topics. Among them are:
Libraries & Public Policy After the Midterm Elections and the Midpoint of the Administration
Sat., Jan. 26, 10:30–11:30 a.m.
ALA's Washington Office will bring librarians up to speed on which library issues will be on the table for the 116th Congress and what we can expect from the next two years.
Intellectual Freedom and the Law: Issues and Updates for Meeting Rooms, Drag Queen Storytimes, and Library Displays
Sat., Jan. 26, 1–2 p.m.
After the recent adoption, and subsequent rollback, of a new meeting room interpretation of the Library Bill of Rights, not to mention lawsuits over Drag Queen Storytimes, we expect this Office for Intellectual Freedom session to be packed.


Just the Ticket
Extending the learning even further, preconferences and other ticketed events add deeper, longer dives into topics spanning the gamut of library service. Those that caught our eye resonated with the recently adopted ALA core principles of equity, diversity, and inclusion.
Implicit Bias, Health Disparities and Health Literacy: Intersections in Health Equity
Fri., Jan. 25, 9 a.m.–noon
Learn how libraries can deepen their work in health literacy to ensure a lasting impact for improving the health of their community.
Advancing Racial Equity in Public Libraries: Normalizing, Organizing, and Operationalizing
Fri., Jan. 25, 8:30 a.m.–4 p.m.
Training from the Government Alliance on Race and Equity will cover the history of U.S. race and racism, bias and brain function, and individual, institutional, and structural racism. Participants will learn how to communicate about race and use a racial equity analysis tool, leaving poised to implement a change in practice, procedure, or protocol in their own libraries.
Transgender Inclusion in Libraries
Fri., Jan. 25, 8:30 a.m.–12:30 p.m.
Attendees will evaluate their own libraries and how policies impact their accessibility to transgender patrons, learn tips and best practices, and brainstorm ways to approach administrators and create more equitable libraries.

AWAKE IN SEATTLE (l.–r.) Annie Ward, Chris Pavone, Juliet Grames, and Wayétu Moore

Authors and Awards
ALA Midwinter will highlight forthcoming books, award winners, and the authors who make it possible.
Spotlight on Book Club Picks
Sat., Jan 26, 2–4 p.m.
United for Libraries will host author signings, galley giveaways, etc., in the midst of the exhibit floor.
Gala Author Tea
Sun., Jan. 27, 2–4 p.m.
Best-selling authors Wayétu Moore, Chris Pavone, Juliet Grames, and Annie Ward will discuss their writing lives and forthcoming books over tea and light refreshments, followed by a book signing. United for Libraries will recognize the winners of the 2018 National Friends of Libraries Week Awards.
Book and Media Awards
Sun., Jan. 27, 5–7 p.m.
The Andrew Carnegie Medals for Excellence in Fiction and Nonfiction will highlight works handpicked by committees of librarians who work closely with adult readers.
Morris & Nonfiction Award Presentation
Mon., Jan. 28, 10:30 a.m.–noon
Celebrate the 2019 honorees and winners for the William C. Morris and Excellence in Nonfiction Awards, who will speak over a continental breakfast.