Book clubs are a treasured resource of public libraries. Usually small and unique in flavor, they tend to develop a loyal following.
Prior to 2013, Virginia's Fairfax County Public Library (FCPL) coordinated a program styled on the "one book, one community" efforts, but its return on investment (ROI) was hard to measure. We wanted to do more and potentially reach a bigger audience. Brainstorming with our marketing team, the idea of a biennial book club conference emerged. During the process, we identified goals:
Energize an important segment of our library patrons
Further engage them
Expand the size of the audience by attracting nonlibrary users and inspiring more people to join a book club
Equip those not currently in a book club with information and ideas to launch their own.
EVENT ELEMENTS

Among the important elements of the event, we decided to feature a high-profile author to anchor it. We knew this would generate excitement among our book club regulars, but we hoped also to pull in avid readers who don't use the library. Keynote speakers included Will Schwalbe, former editor in chief of Hyperion Books and author of the critically acclaimed New York Times (NYT) best-selling memoir The End of Your Life Book Club; Celeste Ng, whose debut novel Everything I Never Told You was an NYT best seller and Amazon's 2014 #1 Best Book of the Year, and Yaa Gyasi, author of the highly acclaimed debut novel Homegoing and a recipient of the National Book Foundation's 2016 "5 under 35" recognition.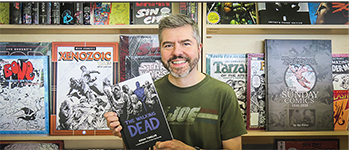 We also planned to offer workshops whereby participants learn firsthand about a trend, a how-to explanation, or a best practices discussion. Presenters included Michael Dirda, Pulitzer Prize–winning columnist for the Washington Post, who led a workshop on "Choosing Great Books"; Jason Merkoski, the Amazon tech expert who helped invent the technology used in ebooks, on the impact of social media and digital technologies on the future of reading; Judy Gelman and Vicki Levy Krupp of The Book Club Cookbook spoke about their unique book club and menus and recipes for book club dining; Barry Trott, special projects director at the Williamsburg, VA, regional library, discussed online resources to find the next great book, from Goodreads to NoveList; Melanie Adams, former youth services librarian at FCPL's Thomas Jefferson Library, led "Book Clubs for Parents and Kids/Teens," sharing insights on how the club can help parents better understand their teenagers' perceptions and motivations, surface conversations about challenging situations and moral dilemmas, and share their love of reading with their kids; and Amanda Holmes Duffy, author, book club leader, and bookseller at Politics and Prose Bookstore, Washington, DC, led "Book Club Nuts & Bolts." From her perspective, book clubs are an avenue for forging community with people you might not normally ever meet, pushing boundaries of opinion and understanding—and sometimes your comfort zone.
To allow time to network we provided a light breakfast before the keynote speaker and lunch between the sessions. Sponsorships from the Fairfax Library Foundation and the Friends of the Reston Regional Library enabled us to offer food and cover speaker fees.


CRITICAL TO SUCCESS

Logistical preparation is essential to making the event run smoothly.
Treat your speakers like rock stars. Find out their needs and coordinate them, such as hospitality/green room requests, travel requirements, and room setup preferences
Post ushers at the doors
Provide a reception center for participants to check in and receive handouts and lunch tickets
Arrange a tech team to take care of laptop setup, Wi-Fi access, sound checks, etc.
Survey participants for feedback.
CONFERENCE OFFERS SOLID ROI
A book club conference can provide libraries with return on investment in multiple ways. It can score an immediate success: in our launch year we saw registration filled more than a week before the event, for nearly 300 attendees. It can attract nonusers or users who have never taken advantage of events or other value-added services. It can launch new book clubs: in our case, at least two. And it can heighten the loyalty of those already engaged in book clubs.
Proof that it's working comes not only from gate counts but from participant feedback. Anne Bradley attended two Book Club Conferences. She found the workshops "stimulating," recalling in particular the session led by Michael Dirda on his rules for successful book clubs. For Ninamarie Maragioglio, who attended all the Book Club Conferences, she was particularly moved by each of the keynote speakers. "It's such a great opportunity to get to visit with an established author, to hear about the influences from their background, their childhood, and what went into their work of art," Maragioglio said. "I love that human aspect. That the county offers such an event at no cost to residents is a fabulous opportunity."
---
Ted Kavich is Administrative Services Division Director, Fairfax County Public Library, VA