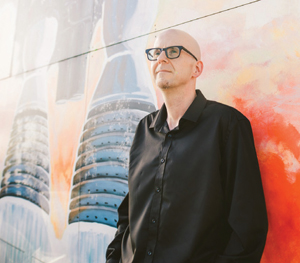 Editor John Joseph Adams is perhaps best known in the sf and fantasy field as a noted editor of short fiction, including for Lightspeed Magazine and a variety of anthologies. But since October 2015 he's also headed an eponymous long-form imprint at Houghton Harcourt. In town to appear on a panel at New York Comic Con, he dropped by the LJ offices to fill us in on the novelties of life at novel length.
---
I knew you as a short fiction editor. How did you get into this? What was the origin story?
I had worked in short fiction my whole career. I lived near the hub of publishing and always thought someday I would transition to novel editing. Unfortunately HR departments were not impressed with my qualifications, so I never got interviews. Eventually I moved out to California and figured I'm never going to edit novels. But then I pitched Best American Science Fiction and Fantasy to [Houghton], and they were impressed with the first volume. My agent was having lunch with [Houghton's] Bruce Nichols, saying, you should publish more genre fiction. Bruce indicated they'd love to but weren't sure who to have head acquisitions. So he suggested me, and they reached out. I didn't even go seeking an imprint. Someone offered it to me.
---
How did you start off?
The first things we acquired were three Hugh Howie novels that had previously been self-published. The first original book I acquired was Carrie Vaughn's Bannerless, which won the Philip K. Dick Award. We're doing seven to ten a year, so that all the books can get a lot of love and attention.
---
What's the same about working with short fiction and long fiction, and what's different?
Finding the stuff you passionately love is very similar. Even with agented submissions, surprisingly, the ratio is the same. The main difference is in short fiction you're kind of like a dictator. I invite who I want, buy the stories I want to buy. Short fiction submissions are normally submitted exclusively. Whereas in novels, you fall in love with a book and try to buy it, and then you either get outbid or get into an auction. Or somebody snatches something away with a preempt. So there's a lot more ups and downs, because in novels there's a higher expectation for how many copies a book has to sell in order to be successful.
I didn't know the details of how the sausage is made. I was surprised by the amount of ancillary work that an editor does. I'm in a best-case scenario. I'm not in-house. Someone's handling a lot of things that normally the acquiring editor would do. So I can devote most of my time to finding and editing manuscripts. I don't understand how editors who work in-house ever have time to read books.
---
Is the editing process the same?
It's more hands-on. Short stories are much more of a buyer's market, so if there's something that I think is interesting but in too rough a shape, I'll just pass on it. I can pick something that's closer to ready to be published. With novels, you don't necessarily have that luxury, and it's much more likely to have flaws, because the writer doesn't have the time to polish everything the way they can a short story.
---
A lot of genre trends start in short fiction. What are you seeing?
Portal fantasy is having a moment. Which is interesting, because it was a dead genre for a long time. Maybe it's just because they're like, hey, this world's a trash fire. Can we escape to some other one and have adventures? #Ownvoices stuff is really important. I'm glad to see more [authors] being confident to submit. I like to see that [editors] are being proactive about acquiring such things.
---
What are you looking for in submissions?
I'm looking for a gritty space opera, like The Expanse. I'm still looking for other epic fantasy that is doing something much different and interesting with it.
---
Read-alikes are very important for librarians doing readers' advisory. But I see authors bristle at comparisons that they feel belittle the originality of their work. How do you thread the needle?
It's tricky. With the Ashok Banker, it's tempting to say it's "the Indian Game of Thrones," but you don't want to put it that way because it's diminishing it. But on the other hand, I think Game of Thrones fans would love it. One thing you do is try to find the right person to write a blurb that will give the book additional context, who will hopefully say something that evokes the same thing that might help those readers find it.
Photo ©2018 by Jeffrey San Juan
---
This article was originally published in Library Journal's November 1, 2018, issue, as part of Emily Wagner's "Seize the Future" SF/Fantasy Genre Spotlight