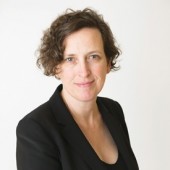 The dire warning embodied in the new "Global Warming of 1.5° C" report from the Intergovernmental Panel on Climate Change should have everyone focusing on the pressing crisis that is upon us. Even in the best outlook, we are facing a frightening future. We must act now to mitigate the worst impacts. And we must act together to change the way we live in the world in order for the world to remain livable.
Leaders in libraries, as in any organization, should be thinking about how to address this at the institutional level and with community partners. Those not in leadership roles should advocate for, demand, immediate proactive planning. Alas, I dread that daunted by the challenge or preoccupied with other, more immediate crises, we will instead take our eyes off this global ball.
When problems seem too big, it can be useful to break them down into focus areas. From the vast coverage the report has received so far, I found Vox's "10 Ways To Accelerate Progress Against Climate Change" helpful. As someone who has targeted library-led sustainable thinking, and its application, for some time, including as a cocreator of the New York Library Association's (NYLA) Sustainability Initiative, I think libraries have a key role here.
First, libraries can raise awareness of the facts, possible scenarios, approaches, and potential corrective solutions. Belief in the reality and urgency of climate change, and the lack of political will to face it, can be considered an information problem. Libraries are great at those. From core work such as collection development and merchandising that pulls the topic forward to active programming, libraries can keep their communities informed and create paths to deeper learning. This work extends to innovative initiatives such as establishing an environmentalist in residence, as Toronto Public Library recently did; or partnering across institutions to bring a local lens to climate change via open data, as was done in Wisconsin with the Changing Weather and Climate in the Great Lakes Region project and in Rhode Island with the Old Weather Whaling project, which mined special collections to extend the history of climate data. Visualization tools such as the one in the New York Times story "How Much Hotter Is Your Hometown Than When You Were Born?" can help bring the reality home, literally. (My results for Wallace, ID, show a rise from six days above 92°F to between nine and 19 days by the time I'm 80.) Information made personal is powerful.
Second, we can help drive markets through purchasing. This spans items small and large—from replacing disposables to turning toward cleaner electric vehicles for delivery and outreach to making our buildings as green as possible—from envelope and interiors to operations. Not only does this reduce our own carbon footprints, it can help create demand for more sustainable products, including those needed to create net-zero buildings and help meet the Living Building Challenge. The resulting increase in ecofriendly options helps everyone make greener choices.
Third, libraries can foster innovators. By extending existing STEM activities to grapple with climate challenges, libraries can help accelerate the next generation's readiness to tackle these problems and perhaps even help discover new approaches today. What if business incubator projects framed the potential of the entrepreneurial spirit against the rising demands brought by the changes ahead and the solutions needed to ease the worst-case scenarios?
Fourth, libraries can act as a coalition to create pressure for progress on every level. That will require this network to cohere in a new way around this question and, for some, to overcome the fear of being too political or not neutral. But it would also enable libraries to join with larger coalitions to help protect those we serve. The systemic issues involved in confronting climate change require a systemic response. Since change is hard to come by from the top, we need to ignite the system to change locally, and libraries, worldwide, are all about local.
Our library ecosystem can be a powerful force acting on behalf of our communities today and for tomorrow.