What's Next | LJ Index 2018
Database use and website visits to join the Index

Database use and website visits to join the Index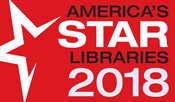 Circulation of electronic materials and Wi-Fi sessions are the two latest output measures to be added to the IMLS PLS and, as of next year, the LJ Index. While it will likely be at least two or three years before the next new output measures are added, others are on the way.
Two new output measures are in the "pipeline," making them likely additions over the next few years. Electronic collections (aka databases) use was added to PLS last year, and library website visits was added this year. Under the new standard, e-collections use should be added to the LJ Index in 2020 (FY18 data), and library website visits in 2021 (FY19 data). The eventual addition of these two measures will go far toward updating the LJ Index to more fully reflect the range of services provided by today's public libraries.
As community engagement becomes a watchword of public libraries, it would also be timely for IMLS and the state library agencies to consider adding relevant new output measures, such as counts of individuals and organizations contacted during outreach activities occurring beyond the library and individual attendance at uses of library facilities by community-based organizations—as well as the number of such organizations. These types of services might not be captured in existing library programming statistics.
To Access STAR Libraries 2018 Home page - click here
—Keith Curry Lance