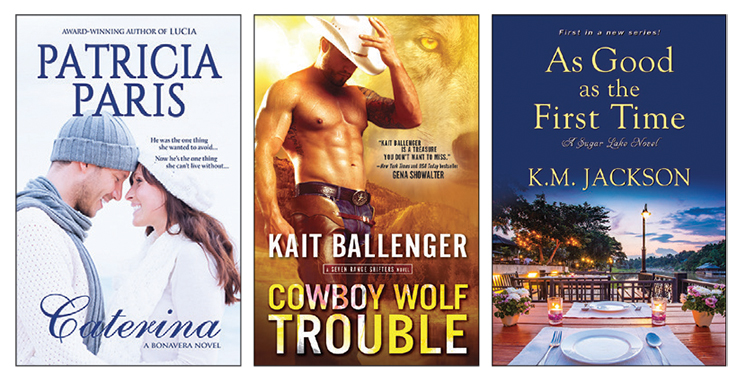 When it comes to romance, the best stories provide swoon-worthy escapism mixed with real-life problems. The coming months will feature new works that skillfully balance lighthearted fun with serious issues straight from the headlines. Romantic comedies are being reworked for the #MeToo era, while a group of diverse writers and characters infuse much-needed perspectives into almost every subgenre. Established names are launching new books that break from familiar fare, and debut authors are generating major buzz. With so many fresh takes on the classic love story, there's never been a better time to be a romance fan.
ROMANTIC COMEDY REIGNS
This year's most talked-about genre is the romantic comedy. Upbeat romance "doesn't seem to be stopping," according to Jennie Conway, assistant editor at St. Martin's Press. Power dynamics are a key factor in its appeal. As Cindy Hwang, vice president and editorial director at Penguin Random House's Berkley Publishing Group, explains, "Readers aren't as interested in a Cinderella story; instead they want to see couples on an even playing field. If an author can give them that with witty banter, even better!" Expect plenty of such back-and-forth in Christina Lauren's My Favorite Half-Night Stand (Gallery, Dec.), when a professor makes a pact to find a date via an online matchmaking service. Sally Thorne follows up her banter-filled The Hating Game with 99 Percent Mine (Morrow, Jan. 2019), the story of a woman who can't find anyone to measure up to her childhood crush: her brother's best friend.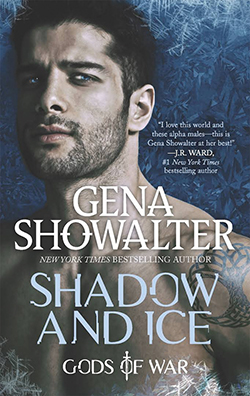 Switched or mistaken identities are another popular trope in rom-coms. In Lindsay Emory's The Royal Runaway (Gallery, Oct.), a princess hires a spy to find out what happened to her missing groom, only to discover the secret agent is his brother. A twin swap takes center stage in Teri Wilson's The Accidental Beauty Queen (Gallery, Dec.), as a shy librarian takes her sister's place at a pageant.
Romantic comedies also wouldn't be complete without the chance encounter. In One Day in December by Josie Silver (Crown, Oct.), our heroine sees her perfect man through the window of a bus and tries to find him every day for a year. In Helena Hunting's Meet Cute (Forever, Apr. 2019), the protagonists are introduced when they literally run into each other. Years later the heroine becomes the reluctant lawyer to the hero, her former teenage ­heartthrob.
MULTICULTURAL CROSSOVER
The Romance Writers of America (RWA) diversity survey released in May showed that only 6.2% of romance novels published in 2017 were written by an author of color. The good news is that publishers are recognizing this imbalance and working to change it. When it comes to diverse protagonists and perspectives in romance, Deb Werksman, editorial director for Sourcebooks Casablanca, believes "we are absolutely seeing an increase." Joanne Grant, editorial director for global acquisition at Harlequin, explains, "Romance readers want to see themselves reflected in the books they read...this should be a fundamental change to the makeup of the publishing landscape rather than a passing 'trend.' " However, changes are happening "not nearly at a rate to mirror our growingly diverse population," says Norma Perez-­Hernandez, assistant editor at Kensington.
Change may be slow, but it is happening, and protagonists of color are finding their happy-ever-afters in a variety of subgenres. An Indian Canadian woman gets pressured by her grandmother to find a husband in ­Sonya Lalli's debut The Matchmaker's List (Berkley, Jan. 2019; see the Q&A with the author). The upcoming e-original A Wedding One Christmas by Therese Beharrie (Carina, Nov.) is a heartwarming contemporary set in South Africa that features a mixed-race cast. (For many more ­holiday love stories, see the romance column) Fans of sports and rom-coms will want to check out Alex Martin's Intercepted (Berkley Jove, Sept.), about a black woman who falls for an NFL quarterback. She'll follow it up with Fumbled (Apr. 2019). In suspense, Diana Gardin's ­Lawson (Grand Central, Oct.) features an African American Navy SEAL–turned–private investigator. Things get steamy in Zoey Castile's Hired (Kensington, Feb. 2019) when a black woman working toward the bar exam hires a Colombian stripper as an ­escort.
Such interracial romances are hitting big. Yelena Casale, executive editor at City Owl Press, describes them as "one of the fastest growing romance markets currently." Alyssa Cole's Civil War–era "Loyal League" series continues with the much-anticipated An Unconditional Freedom (Kensington, Feb. 2019), as a formerly enslaved hero reluctantly falls for a Cuban American beauty. Jasmine Guillory's sophomore effort, The Proposal (Berkley Jove, Oct.), is a romantic comedy about an African American woman who finds love with a shy Latinx hero. Roni Loren also gives us a strong black heroine in The One You Fight For (Sourcebooks, Jan. 2019), about a psychology professor who falls for a white former Olympic athlete.
COMFORTING READS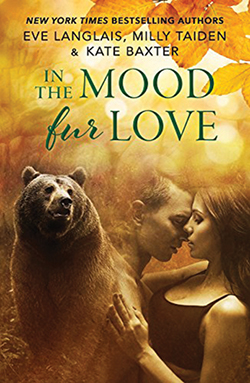 When it seems like the news can't get any worse, there's nothing like romance to provide escape. "More and more we're hearing that readers are looking for 'feel-good' stories as a way to balance the stresses of everyday life," explains ­Susan Swinwood, editorial director at Harlequin. In such fare, small-town settings are the norm. K.M. Jackson's As Good as the First Time (Dafina, Oct.) provides plenty of sweetness for a heroine who returns from the big city to help at her family's bakery. An attractive architect is hired to renovate a romance bookstore for a shy professor in Jenn McKinlay's The Good Ones (Berkley Jove, Feb. 2019), set in a small town in North Carolina. Family plays a big role in Patricia Paris's Caterina (BHC, Dec.), with another architect hero building the heroine's dream restaurant.
Simon & Schuster imprint Gallery is bringing back some familiar authors. Judith McNaught's The Sweetest Thing (Jan. 2019) has a lifestyle entrepreneur falling for a former flame, while Mariah Stewart's The Goodbye Café (Mar. 2019) continues her series about a trio of sisters who discover the importance of family in small-town Pennsylvania. And animal lovers take note: Laurel Kerr's Wild on My Mind (Sourcebooks, Oct.) opens a new series set in a zoo with "big-hearted animals" helping couples find love.
STRONG WOMEN…
The #MeToo movement has shaped the conversation about relationships between men and women. ­Romance continues to reflect the news with heroines who speak out against injustice and harassment while finding love. Esi Sogah, senior editor at Kensington, thinks that since #MeToo, "Readers and critics will be looking at romances in a different light." Harlequin's Grant sees empowered heroines "having a surge in popularity" but reminds us that this is not a new thing: "the heroine always wields the real power in the relationship…she has agency over her desires and life."
Verity copes with the trauma of past exploitation in Rock Rebel, an e-original by Tara Leigh (Forever Yours: Grand Central, Dec.). She finds an ally in a classical music prodigy–turned–rock star. The protagonist of Jamie Pope's Mostly Sunny (Dafina, Oct.; LJ 10/15/18) is also the victim of a toxic workplace. A social worker who advocates for children under her care, she faces harassment from the senior partner in the hero's law firm, which is working for her cause.
Of course, sexism was even more overt in the past than it is today. "Frankie" Bumgarten, the heroine of Betina Krahn's The Girl with the Sweetest Secret (Zebra, Dec. 2018), is pushed toward an older suitor by her family and is forced to find ways to dissuade him, despite his continued sexual harassment. Erica Burke of Susanna Craig's The Duke's Suspicion (Lyrical, Dec.) fights to be recognized by the scientific community as an aspiring botanist in the 19th century.
More and more heroines are taking on roles of power formerly inhabited only by men. Samantha Young's Fight or Flight (Berkley Jove, Oct.) is a romantic comedy about a successful self-made woman who refuses to settle for someone who's incapable of handling her emotional needs. In Amanda Bouchet's new romantic sf series, starting with Nightchaser (Sourcebooks Casablanca, Jan. 2019), the heroine captains a crew of Robin Hood–like thieves against a vicious military general.
…AND SEXY MEN
Whether supersensitive, ultra-alpha, or somewhere in between, an appealing hero can go straight to a romance reader's heart. In Getting Hot with the Scot (St. Martin's, Apr. 2019), debut author Melonie Johnson gives us a heroine who meets a sexy Scot while on vacation—and "who doesn't wish this would happen to them?" says St. Martin's Conway. Heroes with sexy jobs also get readers' hearts racing. A hunky firefighter is auctioned off in Jennifer Blackwood's Up in Flames (Montlake, Oct.), and the heroine who buys him is determined to have this overconfident man do whatever she wants. Sultry Savannah is the setting for Nicola Rendell's Do You Feel It Too? (Montlake, Nov.), where the hero, a handsome TV host and urban legend hunter, has a fling with his new sound engineer. Jessie Beckett, an NFL hero described as a "superhunk," targets the heroine's PI firm for revenge in Rachel van Dyken's Dangerous Exes (Skyscape, Nov.).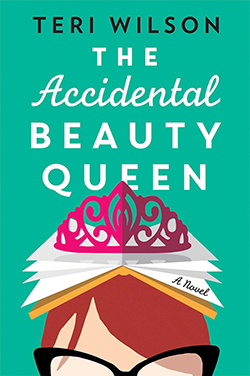 NEW IN LGBTQ+
LBGTQ+ is another area of romance that's rapidly finding a larger audience. Lynn West, publisher at Dreamspinner Press, which specializes in gay romance, says that readers "are demanding richer, deeper romances" from their LGBTQ stories. Stories featuring protagonists of varied sexual orientations are securing representation, and the trend toward multicultural casts and interracial relationships applies here as well. An interracial M/M couple are the heroes of Heidi Cullinan's The Doctor's Secret (Dreamspinner, Apr. 2019), about a Vietnamese doctor and his attractive surgical nurse. A small-town male librarian falls for a big-city Dominican American entrepreneur in Adriana Herrera's debut American Dreamer (Carina, Mar. 2019). Things heat up in Avery Giles's Too Hot (Riptide, Oct.) when a white man is rescued from a burning building by a handsome black firefighter. Erick Lee, the tough-guy Korean hero of Megan Erickson's ebook Final Day (Forever Yours: Grand Central, Oct.), also meets his match when he joins forces with a hit man to take down a murderer.
While F/F couples are less common in mainstream romance, they are also starting to cross genres, as in Ada Harper's e-original A Treason of Truths (Carina, Oct.), an sf romance featuring an empress and a spymaster.
LOVE THROUGH THE AGES
It's safe to say that historicals haven't lost any of their popularity. "Scottish historicals are definitely getting reader love," according to Erika Tsang, editorial director for Avon. Sophie Jordan's This Scot of Mine (Avon, Mar. 2019) continues her "Rogue Files" series with a cursed laird in need of an heir and a woman fleeing a vile fiancé. Going back to 1335, Adrienne Basso's The Bride Chooses a Highlander (Zebra, Dec.) offers a woman the rare opportunity to pick her own husband.
Unusual historical settings are also gaining ground. In The Warrior's Bride Prize by Jenni Fletcher (Harlequin Historical, Oct.), a Roman centurion wins a beautiful woman as a gambling prize, to her dismay. The Gilded Era is also "rising in popularity," according to Avon's Tsang, as evidenced by Maya Rodale's upcoming "Gilded Age Girls Club" series, starting with Duchess by Design (Avon, Oct.), about an ambitious seamstress who stumbles into the arms of a duke seeking an heiress.
Historical fans are in for a treat with new titles from favorite authors. Mary Jo Putney's Once a Scoundrel (Zebra, Oct.; LJ 10/15/18) features swashbuckling romance (and pygmy goats!) on the high seas. Jane Feather launches a new trilogy with Tempt Me with Diamonds (Zebra, Feb. 2019), and Julia Quinn continues her Georgian Rokesby ­stories with The Other Miss Bridgerton (Avon, Dec.), another nautical adventure. Grace Burrowes's My One and Only Duke (Forever, Nov.; LJ 10/15/18) is the first installment in her new "Rogues to Riches" series about the unconventional Wentworth family. Elizabeth Hoyt launches her new "Greycourt" series with Not the Duke's Darling (­Forever, Dec.), featuring two families torn apart by scandal. Debut author Christy Carlyle enters the early Victorian era with A Duke Changes Everything (Avon, Dec.), in which an enigmatic aristocrat owns the country's most notorious gentleman's club.
BEASTLY TALES
When it comes to paranormals, the trend is all about shifters. Leading the pack is Kait Ballenger's Cowboy Wolf Trouble (Sourcebooks Casablanca, Jan. 2019), in which a cowboy tries to give up his werewolf ways until a human woman helps him confront his dark past. Three authors (Eve Langlais, Milly Taiden, and Kate Baxter) contribute wolf- and bear-shifter stories In the Mood Fur Love (St. Martin's, Oct.), their second shifter anthology.
If wolves and bears are not enough, try Echoes of Fire by Suzanne Wright (Montlake, Dec.): a cat-shifter heroine meets her match with a wolf-shifter hero. Or for something truly different, Shelly Laurenston has created a cult following with her "Honey Badger Chronicles" titles. In the latest, In a Badger Way (Kensington, Apr. 2019), a honey badger–shifter can't help cuddling an Asian panda–shifter.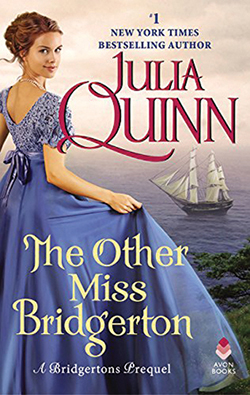 For those who like their paranormals slightly less furry, Gena Showalter's new "Gods of War" series begins with Shadow and Ice (HQN: Harlequin, Oct.). A man who can control shadows meets a street-tough woman who's alarmed to find ancient gods escaping a frozen cave.
KEPT IN SUSPENSE
The continued appeal of romantic suspense proves that readers love to see couples fighting side-by-side against danger. Andrea Doering, editorial director for Revell, believes "romantic suspense will continue to gain readers," and publishers are reflecting that with more suspense titles than ever. Paranormal stalwart J.R. Ward makes the leap to suspense in her new "Firefighters" series, starting with Consumed (Gallery, Oct.; LJ 10/15/18), about an arson investigator hunting a killer. Set in the Pacific Northwest, it features a woman whose life is threatened and the former security agent who comes to her rescue. Say You're Sorry (Berkley, Feb. 2019), the first entry in Karen Rose's "Sacramento" series, introduces us to a community attempting to bring down a cult leader. In Jayne Ann Krentz's Untouchable (Berkley, Jan. 2019), an FBI consultant who survived a fire must face down a longtime nemesis with the aid of a meditation therapist.
Tough-as-nails heroines with exciting jobs are always high on fans' must-read lists. Those who love road trip romance mixed with their suspense will want to pick up Lori Foster's Driven to Distraction (HQN: Harlequin, Nov.), the first in her new "Road to Love" series. An Indiana Jones–like heroine faces danger while collecting rare artifacts and sparring with the hero. Cut and Run by Mary Burton (Montlake, Oct.) has not one but two professional women: an FBI agent and her long-lost twin, a medical examiner, who team up with a Texas Ranger to catch a killer.
LOVE AND GAMES
Football is still the winner when it comes to sports-themed romance. A ripped-from-the-headlines story frames Lexi Blake's Evidence of Desire (Berkley Jove, Jan. 2019), about an ex–pro football player hero who grapples with the controversy surrounding concussions in his new life as a lawyer. Millennials take the spotlight in Sariah Wilson's new adult romance #Awestruck (Montlake, Jan. 2019), which combines an NFL quarterback and the sports announcer who wants revenge for her broken heart. While football is No. 1, there's a new game in town that might be a contender for the romance championship. "We have seen, and acquired, more hockey romances than any other sport," says Kerri Buckley, senior editor at Harlequin's Carina Press. Among several upcoming hockey stories is Lorelei James's I Want You Back (Berkley Jove, Apr. 2019), in which a former NHL star nets a second chance at love.
WHAT'S NEXT: NEURODIVERSITY
Romance inclusivity is extending to nonneurotypical protagonists who have attention-deficit hyperactivity disorder, dyslexia, and other developmental differences. Romantic comedies such as Helen Hoang's The Kiss Quotient and Graeme Simsion's The Rosie Project have already laid the groundwork for introducing readers to protagonists who are on the autism spectrum.
Donna Levin, whose He Could Be Another Bill Gates (Chickadee Prince, Oct.) includes prominent secondary characters who have Asperger's, describes neurodiverse protagonists as "the next frontier in romance." She thinks we will see not only more such characters but also neurodiverse authors who want to share their stories and show that "everyone deserves the 'happily ever after' that romance novels guarantee."
Melody Carlson's upcoming inspirational title Courting Mr. Emerson (Revell, Mar. 2019) has a fun-loving heroine who falls for a buttoned-up retired teacher with obsessive-compulsive disorder. The heroine of Tracey ­Garvis Graves's The Girl He Used To Know (St. Martin's, Apr. 2019) is a librarian with autism who gets a second chance at love. Such neurodiverse characters will surely help keep romance inclusive and allow more readers to find their comfort zone.
Leafing Through Romance
Below are the titles mentioned in this article.
Kathryn Howe is a Community Services Librarian in Saint John, New Brunswick, Canada, and a reviewer of e-original romance for LJ since 2017. She has been writing love stories since the tender age of six and spends her day job at the library secretly slipping romance novels into all her displays and readers' advisory requests
This article was originally published in Library Journal's October 15, 2018, issue.