I expected to be surprised, excited, and inspired by what I would encounter at Next Library's satellite conference in Berlin this past September, and it did not disappoint. In fact, this event had a significant design treat: the physical space itself. Taking pop-ups to another level, it pointed to the power of temporary spaces to illustrate potential that no drawing can deliver.
Arriving at the site was magical—we were met by an installation of wooden structures spanning an area over 300 feet long in front of the Amerika-Gedenkbibliothek (American Memorial Library [AML]). This complex, with various pods and rooms off a primary spine on an elevated walkway, presented a series of unexpected settings for workshops, conversations, and even major convenings in a plenary area that featured trees arching overhead.
According to conference coordinators Tim Leik and Juliana Pranke, both program managers with the Zentral- und Landesbibliothek (Berlin Central and Regional Library), approximately 400 participants from 38 countries engaged across this temporary campus, inside the busy AML, in a nearby church space, and on the grounds. In essence a short-term extension of the library itself, the installation was an expression of the creativity and experimental energy anticipated at the conference. It presented visceral revelations—from cool visual framings through an archway of the people working together to lovely washes of light through planned gaps or tarping.
As a fan of pop-up spaces and other design methods to mobile program delivery, I was particularly taken with the immersive nature of the campus approach. It was stimulating to be at a conference basically outside as a lingering summer heat gave way to brisk rain and back to relative balm. This kept me alert to surroundings made more vivid by the reality that the spaces were there for just a little while. The campus was repurposed after Next Library closed for the Berlin Library Festival, which attracted approximately 12,000 people over two days.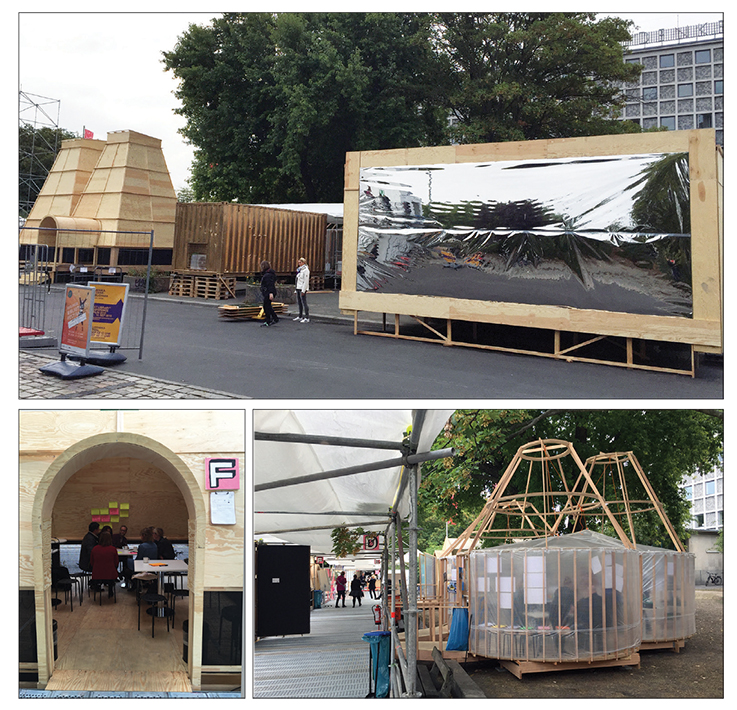 Built by urban design firm raumlaborberlin (raumlabor.net), the campus was constructed of wooden framing on a steel structural support. "This architectural form was inspired by the International Space Station (ISS) and, like it, individual institutions and research institutions were able to 'dock' onto a central plug-in 'backbone' that allowed transnational and transdisciplinary work," noted Leik and Pranke. One example of those docking was the Golden Container, a shipping container that provides an interactive "portal" to connect with others worldwide (check out www.sharedstudios.com).
The nine module rooms plugging into the backbone can be taken apart and reused in other locations, Leik and Pranke added. In the meantime, they will be stored, with their alternative possible futures as seminar rooms for a youth club or university, or artist studios, or even perhaps as coops for an organic chicken farm.
Though it had a few potential improvement points (such as a metal walkway that was just too springy and uncomfortable), the installation was an inspiration. It brought a new level of intensity to the moment and celebrated the library's inventive view of service. Even after it's gone, it points to prospects for maximizing impact through the delight of great, if fleeting, design.