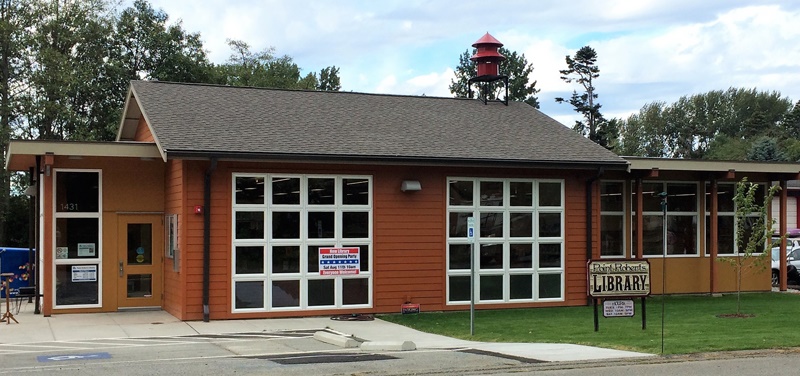 Point Roberts Library
Photo courtesy of Whatcom County Library System, WA

September 13 marked the opening of the enhanced and expanded Grand Glaize Branch, Manchester, MO, of the St. Louis County Library (SLCL). The $4.4 million project, under the direction of Bond Architects, began in fall 2017; it added 5,500 glass-enclosed square feet to the 20,185 square foot facility. The work is part of a $120 million program to renovate or replace 19 SLCL branches. The structure is now equipped with updated fixtures, new windows, contemporary furnishings, a computer lab, refreshed community spaces, and a business center.
The new Point Roberts Library, part of the Whatcom County Library System, WA, opened on August 11. The 2,500 square foot, $800,000 facility replaced its 1,618 square foot predecessor. Designed by architect David King, with HBHansen Construction, the building has a spacious reading room, dedicated sections for youth, public Internet access, an upgraded HVAC system, and a 30-person meeting room. The Point Roberts Library Express kiosk is in the entryway for reserves pickup and checkout. Point Roberts Park & Recreation District #1 purchased the building; fundraising through the Friends of the Library paid for nearly everything else.
The Providence Public Library has made headway with its planned renovation with the hiring of construction manager BOND. The remodel of the 83,000 square foot facility, under the direction of project architect designLAB, will focus on updating the 1950s wing, auditorium, and special collections spaces. The $25 million price tag is partially covered through an $8.8 million grant from the RI Office of Library and Information Services. The multistage effort is expected to last 18 months.
Saint Vincent College, Latrobe, PA, is embarking on a $19 million remodel of its Unity Campus library. The three-year plan will result in a 55,595 square foot facility with tech-enhanced classrooms, study suites, labs, art galleries, and more. To kick off the effort, the school received a $1 million Pennsylvania Redevelopment Capital Assistance Program grant, announced by Gov. Tom Wolf.
The Charles D. Switzer Library, Marietta, GA, will undergo an $8.4 million renovation. Built in 1989, the 64,000 square foot facility has garnered a $2 million Capital Outlay Grant from the Board of Regents to move the work forward. Among the plans will be the reinvention of an outdoor plaza into a walled garden and activity space and the inclusion of a family computer room. The building will also have a new genealogy room, a dedicated teen zone, and extra study rooms. Selection of a design/build team is the next step.