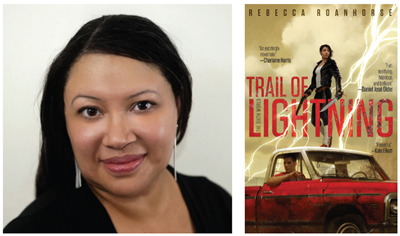 In Rebecca Roanhorse's first novel, Trail of Lightning (Saga: S. & S.; LJ 5/15/18), opening her "Sixth World" series, the Central Western United States is all that exists of a country now 3,500 feet underwater. Maggie Hoskie, a Dinétah monster hunter, reluctantly enlists the aid of Kai Arviso, an unconventional medicine man, when a small town needs help finding a missing girl. Together they unravel clues from ancient legends, trade favors with tricksters, and battle dark witchcraft in a patchwork world of deteriorating technology.
LJ: What first sparked the ideafor Trail of Lightning?
RR: I wanted to write a story that played with a lot of the conventions of urban fantasy but have it set it in an Indigenous North America with all the requisite gods and heroes and monsters. I wanted the Indigenous characters to be at the least contemporary, even better if they were in the future. And I knew my main character must be a woman who hunted monsters. The rest developed from there.
What draws you to the urban fantasy genre, both as an author and a reader?
Possibility. Imagination. The freedom to create worlds and stories and characters who push us to explore worlds beyond our normal everyday lives. This is what draws me to the genre as a reader, as well. Sure, I could write about an Indigenous woman working through the aftermath of violence and trauma but even better if I can let her do that and have superpowers, too. Writing in the fantasy genre leaves the door wide open to approaching problems or issues in a different way, often sliding into the issue sideways so people are more receptive to your message than they might be with straight literary fiction.
Postapocalyptic stories can often provide commentary on our current society. What do you hope readers will take away from your world and Maggie's journey?
I'd like people to read this and spend time with these characters and believe more than even that Indigenous cultures are alive and vibrant and contemporary, here and now and into the future. I want Indigenous readers to be excited to see themselves in sf and fantasy, something I would have loved as a kid. And I want people to enjoy the book, to be entertained. Sure, there are commentaries on society here, but it's also a great mythological adventure.
Are there books that you constantly find yourself going back to?
I reread Ursula Le. Guin's The Left Hand of Darkness every year. I also reread Dune by Frank Herbert and Dawn by Octavia Butler. All of these are works of genius to me and deeply emotionally moving. When I just want a comfort read, I turn to Ilona Andrews, Anne Bishop, and a handful of other urban fantasy authors. But there are so many great new books coming out every day that I mostly try to read the new stuff. My TBR pile is huge and always growing.
Is there anything you can tease about the next book in the "Sixth World" series?
The next book is Storm of Locusts, which I call my girl-gang road trip down an apocalyptic Route 66. In Storm of Locusts, we leave the walls of Dinétah to venture into the larger world to see what's happened after the Big Water. There will be body harvesters, newborn casino gods, and cult leaders with a thing for locusts. It's good old-fashioned postapocalyptic fun.
You're also publishing a book under the Disney middle-grade imprint Rick Riordan Presents. How did that come about and how has that relationship been for you?
The editor of the series approached my agent and asked me if I would be interested in submitting something. The audition process, as I call it, was a bit grueling, including more pages than usual and rounds of edits to see how we worked together and if I was a good match. Thankfully, I was! I am excited to join the Rick Riordan Presents family. Race to the Sun will be out in the fall of 2019.—Kate DiGirolomo
Author photo by Stephen Land Photography

This article was originally published in Library Journal's August issue.