Have a great idea for a podcast? It's an exciting challenge and opportunity to share your message with the world. However, podcasting also requires technical skill, a host of logistical decisions, and extreme attention to detail. So how do you start a podcast? Deliberately. Willingly. And with a lot of patience. Here is a basic look at the process.
THE IDEA
A podcast can contain many things, from discussions and interviews to scripted dramas and stories. Decide what you want to capture. Many subsequent decisions will be driven by what type of podcast you want. Ask yourself:
• What's your show about? Write an intro that you'll say at the beginning of each episode to help you define it.
• Has it been done before? Listen to existing podcasts on the same topic: How will yours be different?
• What's the format? One host? A team? Rotating guests?
• What's your tone? Informal and off-the-cuff? Highly scripted? Consider your own strengths and weaknesses.
• Check to see what names have been taken. You may have to get creative.
RECORDING
Your recording setup will depend on your budget and situation. For a one-person show, one mic is all you need. If you have multiple people on each show, a digital audio recorder that can take multiple mics would be a better choice.
Regardless, the basic ingredients are a microphone, equipment to record into, and editing software.
• Microphones These break down into two types: USB mics connect to a laptop or desktop computer. They are easy to use and come in a range of price and quality. Examples include Blue's Yeti and Samson's Meteor. XLR mics have three-pronged outputs and connect to external recording devices. They are more expensive but give you better quality. Examples include the Shure SM58 and the Rode Procaster.
• Recording devices You can start with a desktop or laptop computer running sound editing software such as Garageband for Mac and Audacity for Windows Digital audio recorders work with XLR mics, provide better audio quality, and are more portable. Audio files need to be transferred to a computer for editing. Examples include the Zoom H6 and the Tascam DR-40.
• Recording space Pick the quietest spot you can find and guard against interruptions. Most spaces are not as insulated as you think; noise seeps in from everywhere. People have been known to record in closets and under blankets.
EDITING
Do at least some basic editing and postproduction work before releasing your podcast to the world.
Things to take care of:
• Audio levels: make sure they are consistent, with no sudden leaps in volume or sections that are too low to hear. Your software will help you adjust.
• ID3 tags: Make sure your audio file has the standard ID3 metadata tags encoded. Podcast players and directories will display this information as author, title, artist, track no., etc.
• Cover/album art: Design an eye-catching, simple graphic for your podcast and embed it in each audio file. It will be your calling card across multiple podcast directories and apps. Apple's requirements for artwork are currently a JPG or PNG image, from 1,400 to 3,000 pixels square.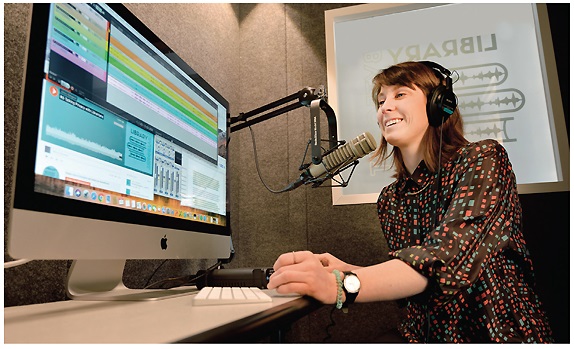 ON THE LINE Libraries that lack the resources to provide their own podcast recording equipment may have access though a consortium or local library organization. The Metropolitan New York Library Council (METRO) is a nonprofit resource-sharing agency for New York City's libraries and archives. Studio manager Molly Schwartz shows off the audio recording booth at METRO's Studio 599. Schwartz produces and hosts METRO's podcast, Library Bytegeist.
Photos ©2018 William Neumann
HOSTING
You need a stable, reliable host to hold your files and generate your RSS feed. The feed is the constantly updated XML file of metadata about your podcast that distributes it to directories and apps across the digital landscape.
Many commercial hosts exist, usually charging a sliding scale for their services. Others are free but come with limitations.
Some things to consider about hosts:
• Check any data upload limits. Choose the tier appropriate to the amount of content you expect to produce. Most hosts reset the limits at the beginning of the month.
• What type of customer service do they provide? Do they offer tutorials or help pages?
• How hard will it be to get your content off their platform should the need arise?
• Popular hosting sites include Blubrry, Libsyn, Podbean, and SoundCloud.
DISTRIBUTION
Apple continues to be the major player in the podcast distribution game. So your first step is to submit your show to Apple Podcasts (formerly iTunes). You'll need an existing Apple ID to log in and submit your RSS feed to Apple. Once accepted, your show will appear in the directory, the Apple Podcast app, and in any app that pulls from Apple, such as Overcast, Downcast, Castro, and so on. Some services, such as Spotify, require you to submit your RSS feed to them individually.
NOW WHAT?
A lot of work goes into a podcast, but don't let the technical requirements dissuade you. If you're passionate about an idea and are willing to commit to it, then get started. The sooner you start, the sooner others can start listening.
Chris Kretz is Head of the Southampton Library, Stony Brook University Libraries, NY. He produces two podcasts: The Long Island History Project (longislandhistoryproject.org) and The Radio Tower (lirtvhs.org/podcasts)