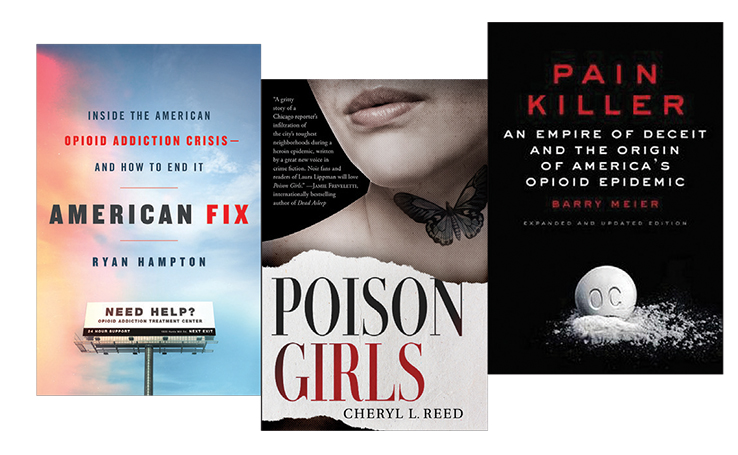 According to the U.S. Department of Health and Human Services (HHS), in this country 130 people die daily from opioid overdose, and "in 2017, the number of overdose deaths involving opioids (including prescription opioids and illegal opioids like heroin and illicitly manufactured fentanyl) was six times higher than in 1999." In October 2017, President Trump's administration declared the opioid epidemic a nationwide public health emergency under federal law. Opioid addiction can affect any age group and any socioeconomic or demographic group.
The landslide of overdoses has created what is termed the opioid epidemic, involving prescription medicines (to those who were prescribed them and those diverted to others) and illegal narcotics. Addiction is widely regarded as a chronic disease and has chemical and genetic components. In 1999, when pharmaceutical company Purdue Pharma brought an oxycodone medication, OxyContin®, onto the market, the company used research, which has since been called into question, to claim that its medication would not be addictive or open to abuse. When overprescribing became common, the drug flooded the marketplace, and the addiction rate soared.
Advocacy Efforts
While these issues are playing out, individuals with opioid addiction must try to find effective treatment and recovery options. As well, the regulatory remedies that have attempted to curb this crisis since the early 2000s, specifically tighter prescribing of opioids, mean that patients who genuinely benefit from such medication find it more difficult to get what they need. As with most health conditions, many advocates, including those in recovery and people with family members battling addiction, work to raise awareness and ensure that more coherent, consistent, and impactful policies are sought. [For more on how libraries are battling the epidemic, see "Not Just Narcan," LJ 5/19, p. 25–27.]
Librarians must be aware that resources that support the use of alternative options for recovery from opioid addiction that veer from current medical treatment and modalities are based on few or no evidence-based studies and therefore could be a tricky purchase. Conversely, resources that promote nonopioid and complementary pain therapies, such as yoga, massage, and counseling, are valuable in conjunction with traditional treatment practice. The opioid crisis has an intensely personal side, but it also concerns businesses, regulators, community members, governments, health-care professionals, and family members. This list aims to inform on the history, the effects, and the current advocacy efforts of the opioid epidemic.
---
Elizabeth J. Eastwood (MLIS, CILIP) works at a public library in New Mexico. She has served in multiple libraries for more than 25 years and has reviewed consumer health titles for LJ since 2005
---
Starred titles (
) are essential for most collections.
Historical/Investigative
Lembke, Anna. Drug Dealer, M.D.: How Doctors Were Duped, Patients Got Hooked, and Why It's So Hard To Stop. Johns Hopkins. 2016. 192p. bibliog. index. ISBN 9781421421407. pap. $19.95; ebk. ISBN 9781421421414.
In one of the first books to cover the prescription opioid epidemic, addiction medicine expert Lembke focuses on the role prescribing doctors play in the crisis, specifically the ease of over­prescribing. Also includes patients' experiences and how health professionals deal with different patient "personalities," which also affects prescribing habits. ( LJ 9/15/16).
McGreal, Chris. American Overdose: The Opioid Tragedy in Three Acts. PublicAffairs. 2018. 336p. notes. bibliog. index. ISBN 9781610398619. $27; ebk. ISBN 9781541773769.
Reporter and journalist McGreal delves into the crucial areas affected by the opioid epidemic and weaves together the story of how poor pharma­ceutical regulations, personal addiction dynamics, and drug cartels perpetuate the crisis. (LJ Winter 2018)
Macy, Beth. Dopesick: Dealers, Doctors, and the Drug Company That Addicted America. Little, Brown. 2018. 384p. illus. bibliog. index. ISBN 9780316551243. $28; pap. ISBN 9780316551304. $17.99; ebk. ISBN 9780316551212.
Investigative reporter Macy springboards from her newspaper articles in this focused exploration of the rise of the epidemic, mainly through interviews with parents, schoolteachers, community leaders, and law enforcement. (LJ 5/15/18)
Meier, Barry. Pain Killer: An Empire of Deceit and the Origin of America's Opioid Epidemic. 2d ed. Random. 2018. 240p. notes. bibliog. index. ISBN 9780525511106. $27; ebk. ISBN 9780525511090.
A classic, first written in 2003, this book was the initial source for the documentation of Purdue Pharma's (OxyContin) involvement in the epidemic, as investigated by award-­winning journalist Meier. This edition includes new information illustrating the next 15 years of the epidemic with regard to Purdue Pharma. (LJ 11/15/03)
Quinones, Sam. Dreamland: The True Tale of America's Opiate Epidemic. Bloomsbury. 2015. 384p. maps. bibliog. index. ISBN 9781620402504. $28; pap. ISBN 9781620402528. $18; ebk. ISBN 9781620402511; Young Adult ed. Bloomsbury YA. Jul. 2019. 208p. ISBN 9781547601318. $18.
In short pieces, journalist Quinones details the situations that combined to create the crisis in 2014, just as this book was released. It gathers all the tendrils of the issue, with the Mexico drug cartel as the central theme. A young adult version is scheduled for publication in July; it condenses, updates, and uses teen-relevant information.
Riley, Jack. Drug Warrior: Inside the Hunt for El Chapo and the Rise of America's Opioid Crisis. Hachette. Feb. 2019. 272p. illus. index. ISBN 9781602865839. $27; ebk. ISBN 9780316488310.
In his increasingly influential positions in the DEA, agent Riley (now retired) tried to get policymakers to realize the extent of the opioid epidemic, specifically the role of Joaquín Guzmán (El Chapo). Heroin was becoming the drug of choice as the supply of prescription opioids was being cut off, allowing Riley to experience firsthand the result of the epidemic and finally help to mastermind the capture of the drug lord. This first-person account of real-life agent work reads like a thriller. ( LJ 2/19).
Memoir
Araoz, Lynda Hacker. The Weight of a Feather: A Mother's Journey Through the Opiate Addiction Crisis. Morgan James. 2018. 136p. ISBN 9781683509219. $29.95; pap. ISBN 9781683509196. $14.95.
A mother's experience of how she successfully helped her son with his addictions when all legal channels were blocked—either financially, or by too-tight inclusion requirements.
Bush, Nicholas. One by One: A Memoir of Love and Loss in the Shadows of Opioid America. Apollo. 2018. 248p. illus. ISBN 9781948062169. $24.99; ebk. ISBN 9781948062176.
This is the raw, human side of the crisis from someone who has been personally affected by the epidemic and feels strongly that current treatment/recovery processes need drastic change.
Advocacy/Memoir
Hampton, Ryan. American Fix: Inside the Opioid Addiction Crisis—and How To End It. All Points. 2018. 304p. ISBN 9781250196262. $27.99; ebk. ISBN 9781250196279.
Hampton uses his personal journey to highlight the deficiencies in the current treatment/recovery process and offers recommendations for a more cohesive and effective program. (LJ 8/18)
Mitchell, Tracey Helton. The Big Fix: Hope After Heroin. Seal Pr. 2016. 272p. bibliog. ISBN 9781580056038. $24; pap. ISBN 9781580056632. $16.99; ebk. ISBN 9781580056045.
Mitchell explicitly details her journey into heroin addiction, street living, and existing minute to minute, which leads into her almost miraculous recovery. Now she advocates for effective harm-reduction programs and eliminating the stigma, so others have a chance to recover.
Reference
Newton, David E. The Opioid Crisis. ABC-CLIO. (Contemporary World Issues). 2018. 358p. illus. bibliog. index. ISBN 9781440864353. $60; ebk. ISBN 9781440864360.
This exhaustive, unbiased reference book covers background, history, controversies, and solutions. There are nine perspective essays from all sides of the epidemic, biographies of key players, important data and documents, and a comprehensive bibliography in each section.
Prescription Drug Abuse. H.W. Wilson. (Reference Shelf, Bk. 5). 2017. 277p. bibliog. index. ISBN 9781682174555. pap. $75.
Eye-opening articles from many sources (e.g., Vogue, National Affairs, the New York Times) from December 2013 to September 2017 cover the state of prescription drug abuse. This collection captures the last few years of the epidemic from multiple viewpoints.
Consumer Health
Bisaga, Adam. Overcoming Opioid Addiction: The Authoritative Medical Guide for Patients, Families, Doctors, and Therapists. The Experiment. 2018. 304p. ISBN 9781615194582. pap. $16.95; ebk. ISBN 9781615194599.
Addiction psychiatrist Bisaga's practical guide details how "the medical model" is the only evidence-based method that can effectively help overcome opioid addiction and how significantly changing the rehab/therapy dynamics currently in use is a necessary part of the process. He also discusses the controversy around the long-term use of anti-addiction medications.
Olsen, Yngvild & Joshua M. Sharfstein. The Opioid Epidemic: What Everyone Needs To Know. Oxford Univ. Jun. 2019. 344p.ISBN 9780190916039. $75; pap. ISBN 9780190916039. $16.95.
A step-by-step overview covering the basics of opioid addiction in an unbiased Q&A format, this title brings all the relevant areas of the topic together. Citations lead readers to further studies. Includes information about helping those who still are using, i.e., harm-­reduction techniques, a controversial issue, with lawsuits currently in the court system.
Purvez, Akhtar. Managing Chronic Pain in an Age of Addiction. Rowman & Littlefield. 2018. 216p. ISBN 9781538109236. $32; ebk. ISBN 9781538109243.
A pain specialist practitioner and advocate for careful pain control describes opioid use and misuse within the larger context of pain management modalities. This solid introduction is written in lay­person's terms, couched in a self help–style book, detailing alternative pain relief ­options.
Fiction
Gumbiner, Daniel. The Boatbuilder. McSweeney's. 2018. 240p. ISBN 9781944211554. pap. $18; ebk. ISBN 9781944211547.
Written in the third person, this is a higher functioning and almost calming experience from an addict's perspective. The protagonist yo-yos between being "clean" and ­addicted.
Markley, Stephen. Ohio. S. & S. 2018. 496p. ISBN 9781501174476. $27; ebk. ISBN 9781501174490.
In New Canaan, OH, four former classmates are back home and meet ten years after graduation. All having immediate or tangential exposure to the cruelty of opioid addiction. (LJ 5/1/18)
Reed, Cheryl L. Poison Girls. Diversion. 2017. 374p. ISBN 9781682308264. pap. $15.99; ebk. ISBN 9781682308257.
Written by a journalist, this debut is set in a 2008 Chicago suburb where "poison," a Fentanyl-tainted heroin, is killing moneyed white teenage girls. We see the effects of street drugs on a city, people, individuals, and communities. (Xpress Reviews, 8/18/17)
Walker, Nico. Cherry. Knopf. 2018. 336p. ISBN 9780525520139. $26.95; ebk. ISBN 9780525520146.
A raw account, at times almost written as if in a drug haze, highlighting the effects of being totally immersed in addiction. A young man lives through military service and tries to survive life back home. (LJ 8/18)
DVDs
NOVA: Addiction. 60 min. Sarah Holt, dist. by PBS. 2018. DVD UPC 841887039901. $24.99.
Using the most up-to-date research, and the opioid epidemic as the prime example, this program visually illustrates the medical model of addiction, including the basic body and brain chemistry, alongside the human effects. There are interviews with health professionals, researchers, those struggling with substance use disorder, family members, and advocates for better recovery programs. This production addresses harm-reduction ­strategies.
Understanding the Opioid Epidemic. 56 min. John Grant, dist. by PBS. 2018. DVD ISBN 9781531704193. $24.99.
This special broadcast closely follows the historical time line of the rise of the opioid epidemic and concludes with possibilities for future paths. Many specialists, including policymakers, health professionals, and advocates, are interviewed, as are families affected by the disease. Watching a lawmaker discuss with middle school children their firsthand experiences with opioid addiction is a powerful way to illustrate how much all generations are ­impacted.
Special Media Reports
Heroin Addiction Explained: How Opioids Hijack the Brain; A Visual Journey Through Addiction; bit.ly/HeroinAddictionTimes
From the New York Times Special Report, dated December 18, 2018: "A look at how opioids hijack the brain, from temptation and tolerance to relapse and recovery," captured over many months by the news team, in words, photos, and personal reflections. Access may require a ­subscription.
Opioid Epidemic: NPR; bit.ly/EpidemicNPR
This site collects National Public Radio news stories about the epidemic chronologically. A recording of each relevant broadcast is also available, along with more in-depth research reports.
More Resources
Centers for Disease Control (CDC) and Prevention: Opioid Overdose; dc.gov/drugoverdose/index.html> "The CDC is committed to an approach that protects the public's health and prevents opioid overdose deaths." This site synthesizes statistical data to provide reports that support program creation and decisions on appropriate treatments.
Department of Health and Human Services (HHS); hhs.gov/opioids
A subsite of HHS, the Prescription Drug and Heroin Overdose Epidemic covers strategies for prevention, treatment, and recovery for health professionals and families, organized through and using government resources.
Facing Addiction; facingaddiction.org
A not-for-profit organization "dedicated to finding solutions to the addiction crisis," this website covers all types of addictions and is a solid source for finding local agencies. This group merged with the National Council on Alcoholism and Drug Dependence to create a stronger advocacy support network.
National Institute on Drug Abuse (NIDA); drugabuse.gov/drugs-abuse/opioids
This government agency supports research on the "health aspects of drug abuse and addiction." The website features a specific section on opioids, collecting the latest data and facts from across the country. There are also in-depth reports to help educate readers.
The Substance Abuse and Mental Health Administration (SAMHSA); samhsa.gov
This public health agency of the U.S. Department of Health and Human Services works to support the behavioral health of the country. It incorporates information on health initiatives, current statistics, grant opportunities, and links to where to find help and treatment. Also includes an opioid overdose prevention toolkit.
---
This article was originally published in Library Journal's May 2019 issue.