An international school's class reunion in New Jersey ends with the death of journalist Angie in Ruvanee Pietersz Vilhauer's crime fiction debut, The Mask Collectors. LJ asked Vilhauer about her globe-trotting characters and more.
An international school's class reunion in New Jersey ends with the death of journalist Angie in Ruvanee Pietersz Vilhauer's crime fiction debut, The Mask Collectors (Little A). Angie's classmate Grace McCloud and her husband, Duncan McCloud, are soon immersed in the case, which moves from the United States to Sri Lanka and may involve a shadowy drug company. When editor Vivian Lee first read the book, she was immediately impressed by Vilhauer's ability to "tackle huge issues" while spinning a mystery, as well as include "the quieter moments in relationships." LJ asked Vilhauer about her globe-trotting characters and more.
---
How has living in Sri Lanka, Canada, Thailand, Australia, and New Jersey influenced your writing?
Setting stories in places I've lived allows me to retrieve memories that aren't always accessible to me but that emerge when I'm writing. Sri Lanka, where I spent my most formative years...and New Jersey, where I've lived the longest as an adult, seemed like the ideal places to set my first novel.
When did you get the writing bug? How did this hybrid of suspense, social commentary, and adventure come together?
I was a nerdy child who loved adventure books by Enid Blyton, Leslie Charteris, Frank Richards, W.E. Johns, C.S. Lewis, and other British authors. In Sri Lanka, with its colonial heritage, those were the books available. As a teenager, I read my way through every Agatha Christie available in libraries and used book sales.
I submitted a short story to the Commonwealth Short Story Competition years ago, on a whim, and was stunned to [win] a runner-up prize. In 2004, I won first place...[and] became more serious about writing.
The story line, characters, and themes [here] were inspired by many different experiences and interests. Many years ago, I completed a master's degree in molecular genetics. Years later, I wrote another master's thesis on the placebo effect. I worked with a professor who had been trained as an anthropologist. I was fascinated by the way his perspective diverged from my own, which was grounded in biological science. Through that experience, I became interested in the symbolic aspects of healing. I even considered doing a doctoral dissertation that connected Sri Lankan healing rituals (thovil) to the placebo effect.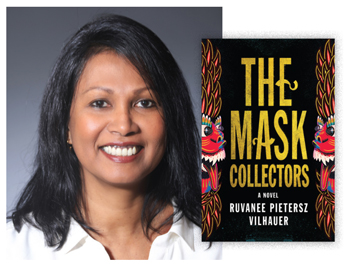 How did you apply your psychology training to the character-building?
Creating rounded characters that have foibles and strengths, conflicts and desires, involves the same empathetic engagement that a clinician needs. I spend a lot of time thinking about the formative experiences characters would need to have had in order to have their present motivations and what kinds of new experiences might free their bonds to the past.
Much of the plot concerns Sri Lankan exorcism rituals. How familiar were you with them and how much research did you do? Do you believe in them?
I heard quite a bit about these rituals when I was growing up, and...I've observed portions of such rituals. When I began writing this book, I did a lot of...reading and talking to other people who have witnessed them. I wanted to make sure that I represented the rituals as accurately as possible and the attitudes people have toward them.
My own perspective is that science is the most rational and empirically grounded approach we have for understanding the world. It's true that some things are not explicable by [today's] science. The placebo effect, for example, is a robust phenomenon that no scientist would deny. Yet no scientist has been able to satisfactorily explain how it comes about. Similarly, I've observed people in ritual trance in Sri Lanka who sometimes do things that seem inexplicable from a scientific perspective. As our knowledge increases, science may be able to explain these phenomena. At the same time, because of my experience in multiple cultures, I'm familiar with perspectives that are quite different from my own; it's important to respect those.
What books about Sri Lanka would you recommend to readers who seek a better understanding of your home country?
My 2018 short story collection, The Water Diviner and Other Stories , gives a window into Sri Lanka. I would also recommend Funny Boy by Shyam Selvadurai, Reef by Romesh Gunesekera, The Jam Fruit Tree by Carl Muller, Running in the Family by Michael Ondaatje, and Island of a Thousand Mirrors by Nayomi Munaweera.
A strong theme in your novel is shame and keeping secrets.
Most people have secrets that they keep from others, or, more often, themselves. There are things we don't want to admit to ourselves about our needs, our fears, our mortality. We hide behind masks. In a sense, healing happens when we confront our personal demons and when others accept us as we really are. Then we become free to abandon our masks. One could see psychotherapy as a means to this end and also the healing rituals described in this book.
What are you working on now? Do you have another novel in progress?
I do have a second novel in the works. It's also about a conspiracy, and it also involves a number of esoteric practices that I'm thoroughly enjoying researching.
---
This article originally was published as part of the Mystery Genre Spotlight "Crime (Fiction) Wave" in Library Journal's May 2019 issue