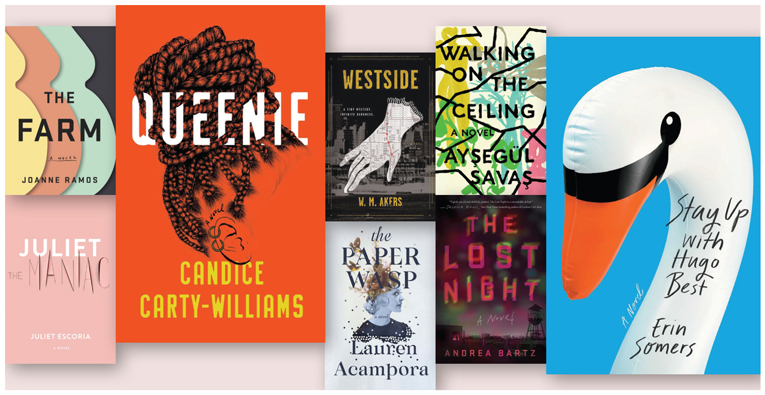 Spotlighting titles published from February through June, this seasonal roundup uncovers more hot debuts than ever, whether already reviewed by LJ ("Books To Get") or chosen as the best yet to come ("Books To Anticipate"). While mystery/thrillers make a surprisingly modest showing, perhaps because breaking into the ranks of such popular genres is a challenge, sf/fantasy titles look stronger than ever. (Is it the beautiful broadening of these genres, as exemplified recently by Marlon James's Black Leopard, Red Wolf?) Literary titles are so numerous that they're divided into "Literary Fiction," "Here from Afar," and "The World at Large," reflecting burgeoning interest (see "Circ Shift," LJ 2/19).
Favorite themes include the immigrant experience (Juliet Grames's The Seven or Eight Deaths of Stella Fortuna , Gina Marie Guadagnino's The Parting Glass), the Middle East (Isabella Hammad's The Parisian, Aysegül Savas'sWalking on the Ceiling), genre blending (Namwali Serpell's The Old Drift, W.M. Akers's Westside), and youthful quests (Lauren Acampora's The Paper Wasp, Candice Carty-Williams's Queenie). For more February titles, see "Books To Anticipate" in "Fall/Winter Bests," LJ 10/1/18.
---
Books To Get
Literary Fiction
Carr, Jonathan. Make Me a City. Holt. Mar. 2019. 448p. ISBN 9781250294012. $30; ebk. ISBN 9781250294029. Excerpts from letters, journals, and history books blend with a huge cast of characters in this reimagining of Chicago's first 100 years. "Ambitious." (LJ 3/19)
Cheek, Chip. Cape May. Celadon: Macmillan. Apr. 2019. 256p. ISBN 9781250297150. $26.99; ebk. ISBN 9781250297167.
In late September 1957, honeymooners Henry and Effie find beach town Cape May, NJ, deserted until they meet a wild trio who lead them astray. "[A] perceptive exploration of innocence and experience, corruption and betrayal." (LJ 3/19)
James, Evan. Cheer up, Mr. Widdicombe. Atria. Mar. 2019. 288p. ISBN 9781501199615. $26; ebk. ISBN 9781501199639.
Carol Widdicombe hopes her mournful husband will be cheered by the move to their new island home, where the alliances and misalliances of a charming cast of characters hold sway. "An absurd and hilarious satire." (LJ Winter 2018)
Langsdorf, Julie. White Elephant. Harper. Mar. 2019. 320p. ISBN 9780062857750. $26.99; ebk. ISBN 9780062857774.
A conflict between small-town neighbors becomes a conflagration. "Lays bare the secrets and hypocrisies of 21st-century American communities hell-bent on preserving what may never have been." (LJ 3/19)
Laskar, Devi S. The Atlas of Reds and Blues. Counterpoint. Feb. 2019. 272p. ISBN 9781640091535. $22.50; ebk. ISBN 9781640091542.
Having endured a home raid when her professor husband was wrongly accused of racketeering, Laskar reenvisions a woman—taunted as an immigrant though American born—who's shot resisting such a raid. "An important story, inventively structured." (Xpress Reviews, 2/15/19)
Ridker, Andrew. The Altruists. Viking. Mar. 2019. 320p. ISBN 9780525522713. $26; ebk. ISBN 9780525522720.
After the death of his wife, hapless ­Arthur Alter schemes to wrestle money from his children, who inherited every­thing. "At once humorous and poignant." (LJ Winter 2018).
Rothman, Andrea. The DNA of You and Me. Harper. Mar. 2019. 256p. ISBN 9780062857811. $26.99; ebk. ISBN 9780062857835.
Graduate student Emily falls for lab mate Aeden, whose decision to leave makes her rethink her life. "A surprisingly literary love story set against the…cutthroat environment of an academic research lab." (LJ 2/19)
Somers, Erin. Stay up with Hugo Best. Scribner. Apr. 2019. 272p. ISBN 9781982102357. $26; ebk. ISBN 9781982102371.
A writers' assistant on the late-night comedy hit Stay up with Hugo Best loses her job when Hugo folds the show, then gets invited to his Greenwich, CT, estate for a revelatory weekend. "Poignant, especially [for] young people trying to make it in a confusing world." (LJ 3/19)
Grames, Juliet. The Seven or Eight Deaths of Stella Fortuna. Ecco: HarperCollins. May 2019. 464p. ISBN 9780062862822. $27.99; ebk. ISBN 9780062862846.
Grames started by trying to understand her Italian immigrant grandmother and ended by creating a wholly persuasive new character, born in early 1900s Calabria and always battling patriarchal abuse. "Kudos to an author who can evoke such a strong reaction." (LJ 2/19)
Kim, Angie. Miracle Creek. Farrar. Apr. 2019. 368p. ISBN 9780374156022. $27; ebk. ISBN 9780374717988.
Immigrants Pak and Young Yoo live in Virginia, where they practice hyperbaric oxygen therapy until an accident blamed on a client proves deadly. "Kim's promising debut will...have readers looking forward to her next offering." (LJ 3/19)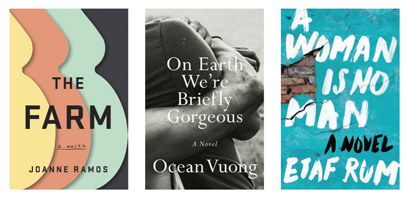 Ramos, Joanne. The Farm. Random. May 2019. 336p. ISBN 9781984853752. $27; ebk. ISBN 9781984853769.
The surrogate mothers at Golden Oaks live luxuriously but cannot leave or contact outsiders, and Filipino immigrant Jane, though desperate for the surrogacy fee, is having doubts. "An exciting read about the politics of motherhood and female autonomy." (LJ 3/19)
Rivero, Melissa. The Affairs of the Falcons. Harper. Apr. 2019. 288p. ISBN 9780062872357. $26.99; ebk. ISBN 9780062872371.
Having left chaotic Peru for New York in the 1990s, Ana Falcón and her family are barely surviving. How far will she go to save her family and remain in America? "Book groups will thoroughly enjoy this vivid, inspired debut." (LJ Winter 2018)
Rum, Etaf. A Woman Is No Man. Harper. Mar. 2019. 352p. ISBN 9780062699763. $26.99; ebk. ISBN 9780062699787.
Forced to leave 1990 Palestine for marriage to a stranger in Bay Ridge, Brooklyn, Isra must play the role of a traditional wife. But once daughter Deya is grown, she resists. "Well-developed characters and a wonderfully paced narrative…expose…[the burden] of shame, secrets, and betrayal…across generations." (LJ 2/19)
Vuong, Ocean. On Earth We're Briefly Gorgeous. Penguin Pr. Jun. 2019. 256p. ISBN 9780525562023. $26; ebk. ISBN 9780525562030.
A young man named Little Dog writes a letter to his mother, who cannot read, about a family history that began in Vietnam before his birth. Paralleling the life of multi-award-winning poet Vuong; "fearless, revelatory, extraordinary." (LJ 3/19)

The World at Large
Bourdeaut, Olivier. Waiting for Bojangles. S. & S. Mar. 2019. 176p. tr. from French by Regan Kramer. ISBN 9781501145919. $25; ebk. ISBN 9781501145919.
The young narrator's parents lead a wildly unconventional life, dancing endlessly to Nina Simone's "Mister Bojangles," until the mother becomes mentally ill. An international best seller; "at once delightfully whimsical and hugely touching." (LJ 3/19)
Ehirim, Nnamdi. Prince of Monkeys. Counterpoint. Apr. 2019. 288p. ISBN 9781640091672. $26; ebk. ISBN 9781640091689.
Middle-class Nigerian teenager Ihechi enjoys life with his friends during the late 1980s–early 1990s until antigovernment riots compel his parents to send him abroad for safety. "A harrowing coming-of-age story." (Xpress Reviews, 2/15/19)
Griffin, Anne. When All Is Said. St. Martin's. Mar. 2019. 336p. ISBN 9781250200587. $26.99; ebk. ISBN 9781250200594.
On a July evening, County Meath octogenarian Maurice Hannigan sits at a hotel bar toasting five people who aren't present yet who have significantly influenced his life. "Rich and evocative; unforgettable." ( LJ Winter 2018)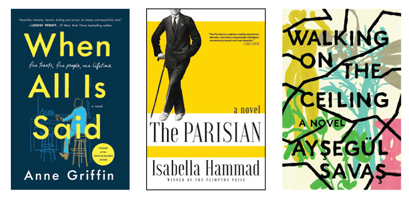 Hammad, Isabella. The Parisian. Grove. Apr. 2019. 576p. ISBN 9780802129437. $27.
A young man intent on studying medicine travels from Ottoman Palestine to France, finds and loses love, then returns to a Palestine in tumult under British rule. "Finely plotted, big-hearted...explores the origin of Mideast tensions."
(LJ 2/19)
Savas, Aysegül. Walking on the Ceiling. Riverhead. A pr. 2019. 224p. ISBN 9780525537410. $26; ebk. ISBN 9780525537434.
Having arrived in Paris from Istanbul, a young woman shares memories of her family and her city with an older British writer, helping inspire his new work "Poetic yet intellectual; highly recommended." (LJ 3/19)
Würger, Takis. The Club. Grove. Mar. 2019. 224p. tr. from German by Charlotte Collins. ISBN 9780802128966. $26.
Orphaned Hans is compelled by his aunt to attend St. John's College, Cambridge, and gain entrance to the elite Pitt Club, ingratiating himself with its boxers to uncover dark events. "[The] terrible secret…won't surprise even as it shatters." (LJ Winter 2018)

Pop Fiction
Carty-Williams, Candice. Queenie. Scout: Gallery. Mar. 2019. 336p. ISBN 9781501196010. $26; ebk. ISBN 9781501196034.
Pounding the keyboard at a national newspaper, 25-year-old Jamaican British Queenie Jenkins is in crisis after breaking up with her white long-term boyfriend. "A charming read for fans of women's fiction." (LJ 2/19)
Gray, Anissa. The Care and Feeding of Ravenously Hungry Girls. Berkley. Feb. 2019. 304p. ISBN 9781984802439. $26; ebk. ISBN 9781984802453.
When Althea and husband Proctor are arrested for defrauding the community, Althea's sisters, sweet Lillian and Viola, who is back from Chicago and dealing with her own crises, step in to help. "Immersive and insightful." (Xpress ­Reviews, 2/15/19)
Guadagnino, Gina Marie. The Parting Glass. Touchstone: S. & S. M ar. 2019. 320p. ISBN 9781501198410. $26; ebk. ISBN 9781501198434.
Irish-born twins Maire and Seanin O'Farren flee to early 1800s New York and lead double lives even as they work for the Waldens in glittery Washington Square. "Well-researched historical details; a captivating work." ( LJ Winter 2018)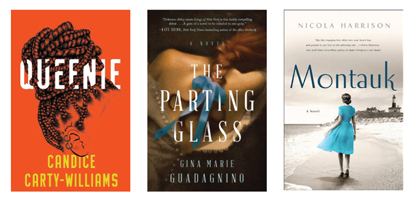 Harrison, Nicola. Montauk. St. Martin's. Jun. 2019. 400p. ISBN 9781250200112. $27.99; ebk. ISBN 9781250200129.
In 1938, surrounded by upper-crust ladies enjoying their fashionable Long Island summer, Beatrice Bordeaux struggles to surmount personal troubles and longs for something more. "Full of substance and delightful characters." (LJ 3/19)
Scharer, Whitney. The Age of Light. Little, Brown. Feb. 2019. 384p. ISBN 9780316524087. $28; ebk. ISBN 9780316524094.
Scharer portrays the fraught relationship between Vogue model–turned–photographer Lee Miller and artist Man Ray, with 1930s Paris and World War II as backdrop. "Both engrossing and cinematic." (LJ Winter 2018)
Velton, Sonia. Blackberry and Wild Rose. Black Stone. May 2019. 352p. ISBN 9781538507759. $27.99.
In 18th-century England, a young woman escapes prostitution to become a lady's maid to the wife of a master silk weaver. "Atmospheric, historically rich drama, and forbidden romance." (LJ 3/19)
Yellin, Jessica. Savage News. Mira: Harlequin. Apr. 2019. 384p. ISBN 9780778308423. $26.99.
Former chief White House correspondent for CNN, Yellin gives us journalist Natalie Savage, thrilled that she's finally been assigned to cover the White House but aware that it's a test run. "A satirically deft, accurately chilling debut." (Forthcoming LJ review)
Zgheib, Yara. The Girls at 17 Swann Street. St. Martin's. Feb. 2019. 384p. ISBN 9781250202444. $27.99; ebk. ISBN 9781250202468.
A former ballerina moves from Paris to St. Louis and eventually enters a special facility at 17 Swann Street when anorexia whittles her down to 88 pounds. "Gripping; [gives] a clearer understanding…of this terrible disease." (LJ 11/1/18)

Sf/Fantasy
Duckett, Katharine. Miranda in Milan. Tor. Apr. 2019. 208p. ISBN 9781250306326. pap. $14.99; ebk. ISBN 9781250306319.
In this queer, dark-eyed rethinking of Shakespeare's The Tempest, Miranda is virtually a prisoner when she returns home to Milan until she's befriended by a maid named Dorothea. "Duckett turns this secondary character into a heroine on her own journey for truth." (LJ 2/1/19)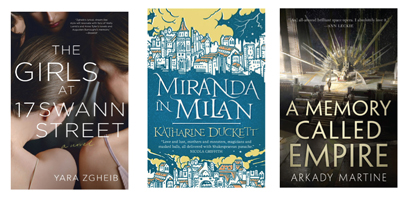 Fried, Seth. The Municipalists. Penguin. Mar. 2019. 272p. ISBN 9780143133735. pap. $16; ebk. ISBN 9780525505587.
In the near-future, agent Henry Thompson of the U.S. Municipal Survey and OWEN, the company AI/super­computer, face a cyberattack, terrorist threats, and more. "Explores issues likely to affect everyone…[while] attracting readers of darkly absurd science." (LJ 3/19)
Lyons, Jenn. The Ruin of Kings. Tor. (Chorus of Dragons, Bk. 1). Feb. 2019. 560p. ISBN 9781250175489. $24.99; ebk. ISBN 9781250175496.
Awaiting execution, Kihrin relates his life to a shape-shifting jailer, from his youth as an orphaned thief in the slums to being claimed as the son of a treasonous prince. "[This] stunning debut takes epic fantasy to a high level." (LJ Winter 2018)
Martine, Arkady. A Memory Called Empire. Tor. Mar. 2019. 464p. ISBN 9781250186430. $25.99; ebk. ISBN 9781250186454.
When Ambassador Mahit Dzmare arrives at the City, heart of the Teixcalaanli Empire, she finds the former ambassador dead and the alien culture overwhelming. "Politics and personalities blend with an immersive setting and beautiful prose." (LJ 12/18)
Moore, Scotto. Your Favorite Band Cannot Save You. Tor.com. F eb. 2019. 144p. ISBN 9781250314901. pap. $14.99; ebk. ISBN 9781250314895.
After presenting its first, hypnotic song, an unknown band called Beautiful Remorse keeps putting out music with strange, perhaps dangerous intent. "The clever, exciting story mixes weird fiction with an engaging and mysterious plot." (LJ Winter 2018)
Serpell, Namwali. The Old Drift. Hogarth: Crown. Apr. 2019. 596p. ISBN 9781101907146. $28; ebk. ISBN 9781101907160.
From Zambia-born, California-based Caine Prize winner Serpell, this saga follows three cursed families over three generations, starting with events in 1904 near the Old Drift colonial settlement. "[A] stunning cross-genre debut." (LJ 2/19)

Mystery/Thriller
Bartz, Andrea. The Lost Night. Crown. Feb. 2019. 336p. ISBN 9780525574712. $27; ebk. ISBN 9780525574736
Head fact-checker at a magazine, Lindsay is enjoying life in New York until a conversation prompts her to rethink best friend Edie's suicide. "Whip-smart and mysterious." (LJ Winter 2018)
Michaelides, Alex. The Silent Patient. Celadon: Macmillan. Feb. 2019. 336p. ISBN 9781250301697. $26.99; ebk. ISBN 9781250301710.
Why does celebrated painter Alicia ­Berenson shoot her equally celebrated fashion photographer husband in the face and refuse to explain why? "Dark, twisty, and compulsively readable." (LJ 11/1/18)
Ward, Annie. Beautiful Bad. Park Row: Harlequin. Mar. 2019. 368p. ISBN 9780778369103. $26.99; ebk. ISBN 9781488099595.
When an American travel writer living in Sofia, Bulgaria, visits her best friend in Macedonia, she falls for a British bodyguard. The rest is a heady tale of obsession, blasted friendship, and a family in danger. A big film deal; "keeps readers guessing." (LJ 3/19)
Books To Anticipate
Acampora, Lauren. The Paper Wasp. Grove. Jun. 2019. 304p. ISBN 9780802129413. $26; ebk. ISBN 9780802147080. LITERARY
Having abandoned her artistic promise, Abby envies former best friend and rising Hollywood star Elise, thinking to herself, "You were born to be seen, I was born to crouch in the shadows." But encountering Elise at their high school reunion changes Abby's life. Penny-bright, heartfelt, and compulsively readable; deeper than the average star/sidekick story.
Akers, W.M. Westside. Harper Voyager. May 2019. 304p. ISBN 9780062853998. $22.99; ebk. ISBN 9780062854032. FANTASY
In 1921 Manhattan, where a sturdy fence divides the wealthy Eastside from the criminal and sometimes fantastical Westside, private eye Gilda Carr addresses "tiny mysteries." But seeking a missing glove leads her to murder and more: "I will tell you that when tragedy strikes, only fools or cowards expect a simple explanation." Sharp characterization, propulsive plotting, and rat-a-tat language, as befits an award-winning playwright.

Arnett, Kristen. Mostly Dead Things. Tin House. Jun. 2019. 352p. ISBN 9781947793309. $24.95. LITERARY
After the suicide of her taxidermist father ("we pieced together life from the remnants of death"), Jessa-Lynn has more to worry about than body parts. Her brother withdraws, his wife (the object of Jessa-Lynn's secret passion) leaves, and Jessa-Lynn's mother starts posing the animals in ludicrous sex scenes. Literary Hub columnist Arnett offers darkly loony doings.
Collins, Sara. The Confessions of Frannie Langton. Harper. M ay 2019. 384p. ISBN 9780062851895. $26.99; ebk. ISBN 9780062851819. LITERARY/HISTORICAL
Accused of killing her employers in Georgian London, so-called Mulatta Murderess Frannie Langton recalls nothing about the event ("What frightens me is dying believing that it was me who killed her") but everything about her enslaved childhood on a Jamaican plantation and her secret shames. Both elegant and wrenching.
Dalton, Trent. Boy Swallows Universe. Harper. Apr. 2019. 464p. ISBN 9780062898104. $26.99; ebk. ISBN 9780062898135. COMING OF AGE
In 1980s Australia, 12-year-old Eli navigates life in a rundown Brisbane suburb with a jailbird mom, heroin-dealing stepdad, and sort-of guardian who's a legendary felon. ("The papers have always called Slim 'the Taxi Driver Killer'. I just call him my babysitter.") Scarily, this is auto­biographical fiction, yet Eli's tough life story is enlivened by his sass, smarts, and fast-paced narration.
Davies, Kate. In at the Deep End. Houghton Harcourt. Jun. 2019. 336p. ISBN 9781328629678. $25; ebk. ISBN 9781328628657. WOMEN'S
Disappointed in her going-nowhere job and nonexistent sex life ("To be honest, I'd always preferred the idea of sex to sex itself"), London-based Julia perks up when she meets a female conceptual artist. The result is frank and energized, erotic yet not salacious, as Davies plumbs Julia's shifting sense of self.
Escoria, Juliet. Juliet the Maniac. Melville House. May 2019. 320p. ISBN 9781612197593. pap. $16.99; ebk. ISBN 9781612197609. COMING OF AGE
Escoria's auto­biographical debut novel features Juliet, who was aiming for Berkeley until her life started unwinding ("I was a slow burn that eventually imploded"). In the end, she self-harms, and the book crescendos toward understanding. Achingly accurate language, stripped down but beautiful, makes this story fresh and forthright.
Lin, Chia-Chia. The Unpassing. Farrar. May 2019. 288p. ISBN 9780374279363. $26; ebk. ISBN 9780374719456. LITERARY
"My father liked to declare that he had moved us to Alaska so we could be closer to the stars," confides 11-year-old Gavin, but his Taiwanese immigrant family does not find home. Instead, when Gavin and younger sister Ruby contract meningitis, only Gavin survives, and his grieving father makes mistakes that lead to further tragedy. Pointed and heart-wrenching, this story immediately draws in readers.
Lombardo, Claire. The Most Fun We Ever Had. Doubleday. Jun. 2019. 544p. ISBN 9780385544252. $27.95; ebk. ISBN 9780385544269. LITERARY
Marilyn Connolly and David Sorenson fall madly in love in the 1970s ("two people who emanated more love than it seems like the universe would sanction") and stay in love through several tumultuous decades of raising four daughters and a shattering family secret. A saga that's absorbing and incisively told.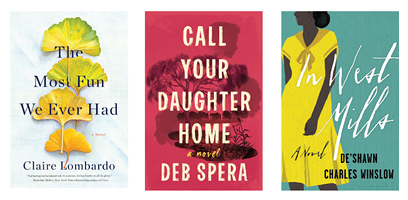 McLean, Felicity. The Van Apfel Girls Are Gone. Algonquin. Jun. 2019. 304p. ISBN 9781616209643. pap. $15.95; ebk. ISBN 9781616209667. THRILLER
Sisters Ruth, Hannah, and beautiful ringleader Cordelia vanish from their home in Australia, "slip[ping] away like the words of some half-remembered song." Were they kidnap victims? Runaways? Their disappearance has a decades-long impact on the community, especially their narrator friend. An intriguing, charge-ahead work with real pathos at its center.
Phillips, Julia. Disappearing Earth. Knopf. May 2019. 304p. ISBN 9780525520412. $26.95; ebk. ISBN 9780525520429. LITERARY
Two young sisters are abducted as they wander the shoreline of Russia's Kamchatka Peninsula, and the consequences for the tight-knit if ethnically tense populace unfold in brisk, luminous prose. ("After those girls got lost, Olya and Diana saw each other just about never.") Seething tensions beneath a story of individuals and their ongoing lives.
Spera, Deb. Call Your Daughter Home. Park Row: Harlequin. Jun. 2019. 384p. ISBN 9780778307747. $26.99; ebk. ISBN 9781488095443. LITERARY/HISTORICAL
Three women battle familial and small-town injustice in 1924 South Carolina, where the boll weevil pushes many toward starvation. Gertrude deals decisively with an abusive husband, while Retta works for Annie Coles, whose family once owned hers. "It's easier to kill a man than a gator, but it takes the same kind of wait," mutters Gertrude, as this affecting chronicle moves forward with engaging, sharp-as-glass immediacy.
Winslow, De'shawn Charles. In West Mills. Bloomsbury USA. Jun. 2019. 288p. ISBN 9781635573404. $26. LITERARY
In an African American community in 1940s rural North Carolina, ­Azalea "Knot" Centre loses the love of a good man and the respect of her neighbors because of her moonshining, man-chasing, put-herself-first ways. ("I'm twenty-six-years old. I can be selfish if I feel like it.") Efforts by kindly Otis Lee to put Knot straight reveal how friendship works. A ­gracious, heartening read.
---
This article was originally published in Library Journal's March 2019 issue