Unexpected worlds from Ausubel, Kang, Slocumb, Yehoshua, and others.
Click here for additional new Prepub Alert columns
Appanah, Nathacha. The Sky Above the Roof. Graywolf. Apr. 2023. 144p. tr. from French by Geoffrey Strachan. ISBN 9781644452257. pap. $15. LITERARY
Mauritian-born, French-based Appanah follows up her LJ best-booked Tropic of Violence with what promises to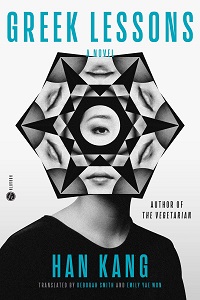 be another sterling study of personal and familial crisis. When unlicensed 17-year-old Wolf steals his mother's car and heads out in search of his estranged sister, he causes an accident that lands him in jail and brings together his mother and sister in an effort to heal. Multiple voices and multiple stories merge to create the whole; with a 10,000-copy first printing.
Ausubel, Ramona. The Last Animal. Riverhead. Apr. 2023. 288p. ISBN 9780593420522. $27. LITERARY
In Siberia with their scientist mother, Jane, who's part of a team intent on bringing back the woolly mammoth from extinction, teenagers Eve and Vera discover the body of a 4,000-year-old baby mammoth, pristinely preserved. Their discovery upends the contentious team, with Jane suddenly in opposition to her colleagues and deciding to strike out on her own. From PEN Literary/VCU Cabell First Novelist award winner Ausubel, writing on the cutting edge of science.
Geary, Karl. Juno Loves Legs. Catapult. Apr. 2023. 304p. ISBN 9781646221134. $27. LITERARY
Whip-smart Juno is scorned by her peers for her empty pockets, while "Legs" is scorned for his sexuality; they've grown up on the same housing estate in 1980s Dublin, bonding over their outsider status. Their story unfolds from the perspective of Juno, who's beginning to see the possibilities of a life lived differently as Ireland shrugs off the stranglehold of rigid Catholicism. Geary follows up his debut, Montpelier Parade, an Irish Times Book of the Year.
Harding, Lisa. Cloud Girls. HarperVia. Apr. 2023. 400p. ISBN 9780063270282. $27.99. LITERARY
Failed by her alcoholic mother and miserable at school, rebellious Dublin-based teenager Sammy is looking for comfort; the Eastern European family of beautiful 13-year Nico is so impoverished that they agree to her marriage to a friendly stranger. The two girls end up at a suburban Irish brothel, where they become fast friend. This is Harding's Kate O'Brien Award–winning first novel; her second work, Bright Burning Things, received U.S. publication—and multiple raves—in 2021. With a 40,000-copy first printing.
Kang, Han. Greek Lessons. Hogarth: Crown. Apr. 2023. tr. from Korean by Deborah Smith & Emily Yae Won. 144p. ISBN 9780593595275. $26. Downloadable. LITERARY
A teacher of Greek in Seoul and one of his students are bound together by sadness. She can no longer speak, having lost both her mother and custody of her nine-year-old son, while he is losing his eyesight and possibly his independence even as he struggles with having grown up between the cultures of the two countries, Korea and Germany, where he was raised. From the author of the International Booker Prize–winning The Vegetarian.
Lichtman, Johannes. Calling Ukraine. Marysue Rucci: Scribner. Apr. 2023. 240p. ISBN 9781982156817. $26. CD. LITERARY
Escaping his messy life by taking a job in Ukraine teaching custom service agents to sound as if they came from the United States, thirtyish John Turner finds that his students are perfectly fluent but don't get small talk. Meanwhile, he doesn't understand the Ukrainian language or culture, and hearing his next-door neighbor beating his wife puts him in an ethical quandary. From National Book Foundation 5 Under 35 honoree, author of Such Good Work.
Prentiss, Molly. Old Flame. Gallery: Scout: S. & S. Apr. 2023. 320p. ISBN 9781501121586. $17.99. CD. LITERARY
Stuck scribbling for women's catalogs rather than writing her own books and uncertain of her future with her handsome photographer boyfriend, Emily is further upended by an unplanned pregnancy. Should she keep this new life, and how will her life change if she does? From the author of Tuesday Nights in 1980, long-listed for Center for Fiction and PEN/Robert W. Bingham honors for first fiction.
Slocumb, Brendan. Symphony of Secrets. Anchor. Apr. 2023. 320p. ISBN 9780593315446. $28. lrg. prnt. LITERARY/THRILLER
Asked to authenticate a recently unearthed work thought to be by the distinguished white 20th-century composer Frederick Delaney, Delaney expert Bern Hendricks makes an uncomfortable discovery. Delaney apparently lifted much of his music from gifted Black jazz singer Josephine Reed, whom he befriended in 1920s Manhattan. Following Slocumb's attention-getting debut, The Violin Conspiracy.
Smith, Katy Simpson. The Weeds. Farrar. Apr. 2023. 320p. ISBN 9780374605476. $27. LITERARY
In contemporary times, a woman from Mississippi conscientiously catalogs plants in the ruins of the Roman Colosseum while looking for meaning in her own life. In 1855, an Englishwoman indentured to botanist Richard Deakin after having been caught stealing also searches the Colosseum for plants, knowing that the woman she loves is far, far away. As with her luscious The Everlasting, a New York Times Best Historical Fiction Book of 2020, Smith parallels time frames to illuminate human desire.
Smith, Michael Farris. Salvage This World. Little, Brown. Apr. 2023. 272p. ISBN 9780316413633. $28. Downloadable. LITERARY
In hurricane-drenched, job-scarce southern Mississippi, a zealous preacher promises salvation to her flock while encouraging violence on the side. Meanwhile, Jessie and toddler son Jace head desperately toward her childhood home as Jace's father runs from an angry mob. It's a savage world; can it be salvaged? From the author of attention getters like Desperation Road and the multi-best-booked Blackwood; with a 45,000-copy first printing.
Yehoshua, A.B. The Only Daughter. HarperVia. Apr. 2023. 208p. tr. from Hebrew by Stuart Schoffman. ISBN 9780358670445. $26.99. LITERARY
At age 12, Rachele Luzzato of Padua, Italy, heartbrokenly learns that her father is seriously ill, even as she prepares for her Bat-Mitzvah—and her role as the Madonna in her school's Christmas play. She's helped by her Jewish grandfather, her maternal Catholic grandparents, and a teacher who believes that literature will bring her solace. From Israeli award winner Yehoshua, author most recently of The Tunnel.