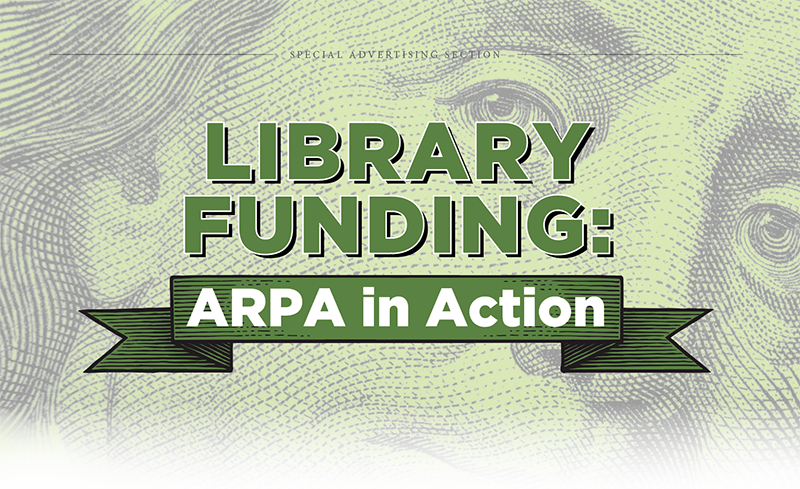 The $1.9 trillion pandemic relief legislation passed by Congress in March contains a significant amount of money for libraries to help their communities. In response, many companies are highlighting products that can be purchased with recovery funding.
The American Rescue Plan Act (ARPA) includes $200 million for the Institute of Museum and Library Services (IMLS), making it the largest single investment in the agency's 25-year history. It also designates billions of dollars in funding for other library-eligible programs, like the Emergency Connectivity Fund to help libraries bridge the digital divide.
The ARPA page on the American Library Association (ALA) website includes funding information, as well as resources to help libraries convince elected officials that the money is critical to their communities.
"Libraries are a lifeline for millions of people," said ALA president Julius C. Jefferson Jr. in a press release. "Because libraries stepped up, people without home broadband have been able to keep their jobs, students and teachers have continued to learn in a remote context, and seniors and other vulnerable people have safely connected with doctors and maintained contact with loved ones."
Of the $200 million for IMLS, $178 million will go to state library administrative agencies on a population-based formula, with a $2 million state minimum. State agencies will distribute the funding to local libraries according to their own priorities, with the goal of maintaining and enhancing library services.
Besides IMLS funding, ARPA includes $7.17 billion for an Emergency Connectivity Fund, which will reimburse libraries for the cost of Wi-Fi hotspots, network cards, laptops, tablets, and other connectivity solutions for patrons. There's also more than $360 billion for state and local governments to offset potential cuts to public programs.
Here's a look at some services that libraries can purchase with ARPA funding.

Findaway
The pandemic has shed light on disparities in home internet access, and one of the goals of ARPA funding is to help libraries bridge this digital gap. Findaway, an Ohio-based technology company, sells devices with preloaded content that libraries can use to achieve this goal.
"Schools and libraries have done so much to make remote learning accessible for everyone, such as lending Wi-Fi hotspots to families who need them," says marketing coordinator Allison Cartellone. "But in remote areas, there might not be the infrastructure needed to support Wi-Fi hotspots. Our products can be used as supplemental learning tools for people of all ages, with no internet connectivity necessary."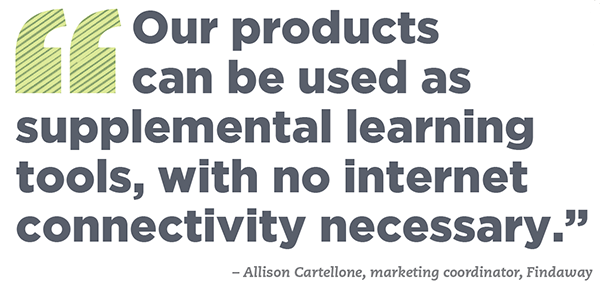 \]

The company's flagship product, Playaway®, is a line of listening devices that come preloaded with audiobook content, including new releases and best-selling children's, young adult, and adult titles. The devices, barely larger than a business card, run on a single AAA battery. They offer more than 30 hours of listening with no other technology needed, giving patrons the freedom to listen to content anytime, anywhere. Tens of thousands of titles are available, including a growing collection of diverse authors and #OwnVoices.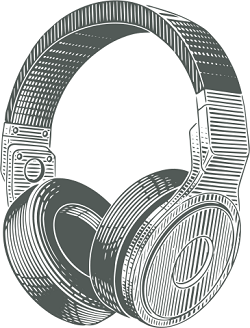 Wonderbooks from Findaway allow children to hear books read aloud while they follow along in the text. Every Wonderbook is a printed book with a ready-to-play audiobook permanently bound to the inside front cover, with easy-to-use, one-touch controls. Plus, a click brings up "learning mode," which asks a series of questions about each book to boost comprehension, recall, and fluency. The Wonderbook catalog features a diverse collection of read-alongs for children ages 3–13, including nonfiction and Spanish titles.
Touch screen tablets have revolutionized how we learn, and Findaway's Launchpad series of tablets come preloaded with educational apps, so users don't need connectivity to use them. Last year, Findaway released Launchpad Academy, guided learning tablets that combine apps, videos, and storybooks for young children. There are also Launchpads for teens and adults, with brain games, puzzles, test prep, and ESL learning content.
"The fact that Launchpads do not require connectivity makes them ideal learning devices," says Charles Mayberry, executive director of Florida's Panhandle Library Access Network.

Baker & Taylor
One of the largest distributors of print and digital content to libraries, Baker & Taylor has been around for nearly 200 years. The company's mission is to improve community outcomes through literacy and learning.
"We work with libraries as a partner to help them identify their needs and develop solutions to meet those needs," says Amandeep Kochar, executive vice president and general manager.
The company has put together a list of programs that qualify for ARPA funding. "We're taking this responsibility very seriously," Kochar says. "ARPA is a rescue act, and we're helping libraries apply these funds toward rescuing their communities."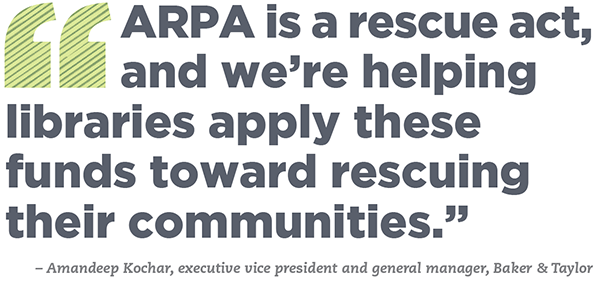 Baker & Taylor has grouped its ARPA-eligible solutions into three categories: services that drive community outcomes, expand access to print and digital content, and enhance library programming.
The first category includes the Pop Up Library, a small network outreach device that provides internet access and a library presence at strategic locations within the community, such as shopping malls and public parks. Patrons can borrow and download ebooks from their library's collection. The ebooks open instantly within the user's web browser without using special app or library card, and they disappear automatically at the end of the lending period.
Another service that matches ARPA requirements is the Community Sharing Program, which allows libraries to share age-appropriate content with local school districts, expanding students' access to critical resources.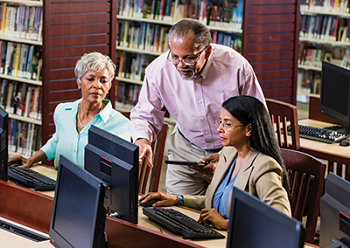 Baker & Taylor has also partnered with Kirkus Reviews on a curation service that helps librarians find diverse books that allow readers to see their experiences reflected in the material. The service, called Kirkus Collections, initially focuses on diversity in children's and young adult literature. To help librarians generate awareness of these diverse books, the program includes a community outreach campaign called "My Library. All Voices." The campaign offers direct-mail pieces, posters, bookmarks, and an array of free online marketing tools for libraries.
To align with ARPA's funding period, Baker & Taylor is offering metered purchasing options for digital content, as well as fund accounting to keep track of ARPA spending. In addition, the company has developed grant templates to help libraries apply for COVID relief aid.
Baker & Taylor services that enhance local library programming include virtual book club programs and Highlights Activity Bingo, a partnership with Highlights that aims to boost family engagement and address COVID learning loss. Through the Highlights Activity Bingo program, families receive simultaneous, unlimited access to nearly 200 ebooks for children ages 2–12, as well as related activities to do together at home. The activities are organized into 12 themes, such as Pet Pals, Ocean Life, Celebrations, and the Great Outdoors. After reading a book about marine life, for instance, children might create a poster to share information about protecting the oceans.
"Our goal is to help this gritty profession shine and serve their community effectively," Kochar says.

Brainfuse
Founded in 1999, Brainfuse began as a provider of live online tutoring services for schools. About 15 years ago, the company started offering its services through public libraries as well. Brainfuse supplies tutoring and mentoring services that can help students overcome COVID-related learning loss, out-of-work adults find meaningful employment, and veterans transition effectively to civilian life.
"We consider ourselves an extension of the library," says Jack Rothstein, director of library services. "Many people turn to their library when they need expertise, like finding a job or help with their homework. If librarians don't have 30 minutes to sit down and go over a résumé with someone, they can subscribe to our service, which is available from any internet-connected device."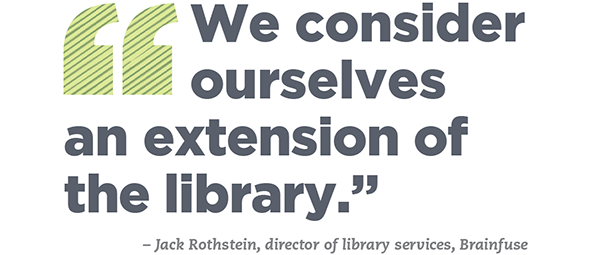 The company's flagship service is HelpNow, which provides live online tutors for kindergarteners through adult learners. Library patrons access the service through a link on the library's website, which takes them to the HelpNow home page. Using a drop-down menu, patrons indicate the grade level and subject area they seek help in, and they are matched with a live tutor with expertise in that subject. The tutoring takes place in a virtual whiteboard environment, and the tutor and library patron communicate via real-time chat.
The service also includes a writing lab. Patrons can work with a writing tutor in real time to brainstorm ideas or revise their work, or they can submit a paper and receive thoughtful analysis within 24 hours. There is also a comprehensive library of practice tests for the SAT, ACT, GED, U.S. Citizenship Test, and other exams, as well as an Adult Learning Center where patrons can get Microsoft Office support and more. In addition, Brainfuse recently added chess tutoring in response to the popularity of the Netflix series The Queen's Gambit, as well as help in filling out the Free Application for Federal Student Aid (FAFSA).
Another service, JobNow, provides live assistance for all stages of the job-seeking process. The service connects users with experienced career coaches to get help with their résumés, brush up on interview skills, navigate unemployment benefits, and more. Like HelpNow, JobNow includes online resources as well, such as a résumé-building tool with access to dozens of templates for different careers. Through a partnership with eParachute, an online resource created by What Color Is Your Parachute? author Richard Bolles, patrons can see recommended careers based on their likes and experiences.
VetNow is designed to support veterans and their families. It connects patrons with live assistance and online resources to help them understand and apply for the benefits they are eligible to receive from local, state, or federal programs, including housing, health care, education, and mental health services. Veterans can also get help in transitioning from the military to civilian careers.
These subscription-based services are offered individually or can be bundled at a discount. Live tutoring is typically available nine hours a day, seven days a week, but libraries can request customized plans. The services qualify for federal COVID relief aid; for example, the New Jersey State Library used CARES Act funding to provide HelpNow to its local branches, Rothstein says.

Kajeet
Virginia-based Kajeet has been working to solve the digital divide for more than a decade. The company provides schools and libraries with Wi-Fi hotspots, LTE-enabled mobile devices, and solutions for equipping buses and bookmobiles with Wi-Fi access. Libraries can use federal Emergency Connectivity Fund (ECF) dollars to purchase most of these products.
"Libraries are central locations for providing shared community access to critical resources, and broadband is one of those resources that libraries know their patrons need," says Michael Flood, senior vice president for education.
Created by ARPA, the $7.17 billion ECF provides one-time funding to help schools and libraries close the "homework gap" by helping low-income families acquire home internet access. Laptops, tablets, and modems are among the equipment that is eligible for funding, as is broadband connectivity.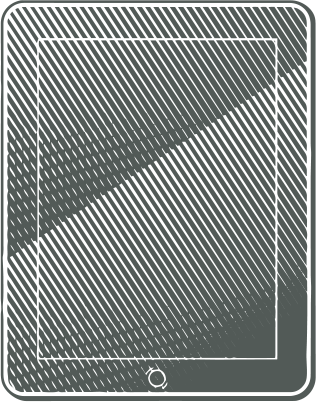 Kajeet's LTE-enabled mobile devices qualify for this funding. Libraries can choose from an Evolve III Maestro notebook computer running Windows 10 or a Chromebook. The devices come with a customizable or an out-of-the-box web filter, and libraries can choose a data plan that works best for their needs.
Kajeet SmartSpots® also qualify for up to $250 in ECF funding for every Wi-Fi hotspot that libraries purchase for families to use at home. Like the company's LTE-enabled mobile devices, these Wi-Fi hotspots include built-in web filtering capabilities and access to Kajeet's Sentinel® portal, which allows librarians to manage the device itself, the web filter, access controls, and data allocation.
Kajeet's SmartBusTM is a solution for equipping vehicles with Wi-Fi access. School districts can use ECF funding to purchase buses that come equipped with the solution or retrofit buses they already have for transporting students to and from school.
Only purchases made from July 1, 2021, through June 30, 2022, qualify for ECF funding. The 45-day window for filing applications is expected to open near the end of June.
"The need for broadband service has become even more pronounced," Flood says. "The connectivity gap affects minority and economically distressed communities more acutely. There is a huge social justice component to this issue."

OverDrive
As the leading distributor of ebooks and audiobooks worldwide, OverDrive provides access to more than six million titles for its 65,000 school and library customers in 84 countries, including 70,000 new front-list releases every month.
Libraries can use ARPA funding to expand their ebook and audiobook collections with help from OverDrive, to meet patrons' needs more effectively online.
"Whether a library wants to provide better access to social and emotional learning to help families deal with trauma, or to help people learn a new skill so they can find employment, we have content for that," says president and CEO Steve Potash.
OverDrive's shopping site for ebooks and audiobooks includes special lists curated by more than 80 on-staff librarians. One recent collection, "Smells Like Teen Spirit," featured books set in the 1990s.
A free app called Libby allows patrons to borrow ebooks and audiobooks from their library network, download them, format them, add bookmarks, highlight passages, and more. Libraries can also create their own ebook collections for users within Libby.
"We offer not only access to ebooks but to premium reading experiences for students and library patrons," Potash says.
Publishers set the prices for OverDrive content, and libraries can choose from among multiple licensing options that vary by publisher and title. Under ARPA rules, funds can be used for services running from June 1, 2021, to Sept. 30, 2022. To align with this period, OverDrive has reached agreements with Penguin Random House and Macmillan to offer prorated licensing for ebooks purchased with ARPA funding. "We expect other publishers to follow," Potash says.
OverDrive offers ARPA-specific purchasing, inventory, and tracking so that libraries can easily report on their use of grant funds. The company has also created a toolkit to help schools and libraries take advantage of Education Stabilization Fund (ESF) grants to champion literacy through ebooks and audiobooks.
Bibliotheca
For more than 50 years, Bibliotheca has been helping libraries worldwide streamline operations, improve service, and extend their reach within their communities.
The company serves 30,000 library customers in 22 countries with integrated hardware, software, and digital solutions that reinvent how libraries function. From automated materials handling (AMH) technology and radio frequency identification (RFID) tagging to self-service kiosks and digital content, Bibliotheca's solutions create a digital ecosystem that makes staff more efficient and gives patrons a modern experience.
With billions of dollars in ARPA funding available to libraries, Bibliotheca has posted resources on its website to help libraries navigate the application process. The company's consultative approach ensures that librarians understand how to leverage this funding when purchasing its solutions.
"If libraries are looking for guidance, we encourage them to reach out to us," says Chief Product Officer Oliver Martin. "We have some definitive examples of how our solutions can be implemented under ARPA guidelines."
Customers in Ohio and Pennsylvania, for instance, have used federal Library Services and Technology Act (LSTA) dollars to purchase remoteLocker units from Bibliotheca to enhance their community outreach. Of the $200 million that ARPA provides for IMLS, $178 million is allocated through LSTA.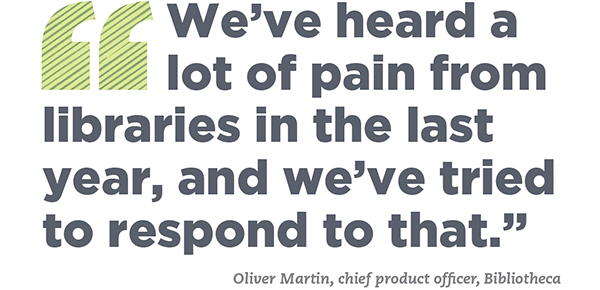 Designed to make a library's collection more accessible to patrons, remoteLocker enables self-service pickup, browsing, and returns. The modular locker system is customizable for any space, enabling libraries to offer curbside pickup or browsable collections in malls, community centers, or other public places. Bibliotheca's open+ reserve software enhances the user experience, letting patrons who can't get to the library reserve an item and pick it up at a locker at their convenience.
A Bibliotheca customer in Arizona whose branches faced closure due to budget cuts used ARPA funding to purchase AMH solutions from the company. "They realized they could remain open if they improved the efficiency of their operations through automation," Martin says.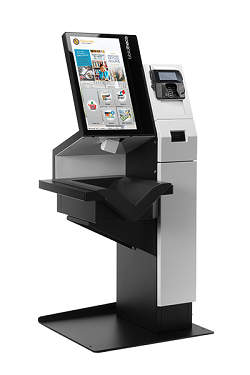 Libraries have also used IMLS funding to support digital transformation by switching from bar code scanning to RFID tagging. RFID technology is a more efficient way of checking items in and out and keeping track of materials—and Bibliotheca offers complete RFID-enabled solutions for streamlining the tracking and handling of library materials and powering self-service.
Other Bibliotheca solutions that are eligible for ARPA funding include open+ access, a complete solution for extending a library's hours, and cloudLibrary digital content such as ebooks, audiobooks, comics, and magazines, which includes a customizable reading experience and flexible sharing and licensing models.
If libraries cannot secure ARPA funding or otherwise afford to purchase Bibliotheca solutions outright, the company also offers an innovative "Solution-as-a-Service" model through which libraries can lease its hardware and software for a monthly fee. "We've heard a lot of pain from libraries in the last year," Martin notes, "and we've tried to respond to that."

"We've heard a lot of pain from libraries in the last year, and we've tried to respond to that."Martin, chief product officer Bibliotheca

SPONSORED CONTENT