First timers with important things to say.
Angel-Ajani, Asale. A Country You Can Leave. MCD. Feb. 2023. 320p. ISBN 9780374604059. $27. LITERARY
Living at the seen-better-days Oasis Mobile Estates, Black biracial Lara struggles to chart an escape route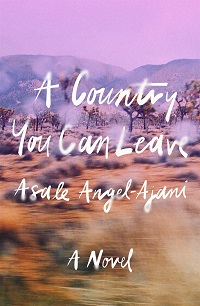 from her controlling white, Russian-born mother, who's tenacious of spirit but unwilling to share anything of her past. Then an act of violence rattles their relationship further, bringing out the burdens of inherited trauma that have marred it. From the author of two nonfiction titles, Strange Trade and Intimate.
Carr, Lakiesha. An Autobiography of Skin. Pantheon. Feb. 2023. 256p. ISBN 9780593316535. $27. LITERARY
By sending a young woman home to East Texas for a visit with the women in her family, Carr lays bare their long-held grief, unassailable bonds, and need for healing to create a portrait of Black womanhood. Meanwhile, readers meet characters from a hydrotherapist chasing away memories of violence by gambling and a mother trying to protect her infant from racial oppression by bleaching its skin. From Iowa Writers' Workshop graduate Carr.
Chukwu, J K. The Unfortunates. Harper. Feb. 2023. 256p. ISBN 9780358650263. $26.99. CD. LITERARY
At Elite University, Sahara is in despair as she enters her sophomore year. With bad grades, weight worries, no love life, and an unsympathetic family, she further mourns the deaths of several of the few Black classmates she has. But as she writes a thesis of sorts for a committee preparing to judge her, she finds hope, help, and redemption with a special support group of women. Lambda fellow Chukwu gets a 35,000-copy first printing.
Goddard, Kieran. Hourglass. Europa. Feb. 2023. 208p. ISBN 9781609458171. $25. LITERARY
A writer stumbling from job to menial job meets an editor who has published four modest titles on Restoration drama, and they fall chaotically in love until it's all over; she loses interest. Her lover's pain may feel uniquely unbearable but is something most of us have known, and he recovers. From British poet Goddard, structuring his debut novel with verse-like line breaks; long-listed for the 2022 Desmond Elliott Prize.
Guns, Priya. Your Driver Is Waiting. Doubleday. Feb. 2023. 320p. ISBN 9780385549301. $25. LITERARY
Scrambling from paycheck to paycheck and living in a basement apartment while caring for her widowed mother, Damani drives for an app that keeps cutting her take. Then she falls for a rider named Jolene, and their affair flames up dramatically despite Damani's worries about dating a rich, white girl. All's well until Jolene shocks Damani by doing something unforgiveable. From actor/educator Guns, born and raised in Sri Lanka.
Kelly, Jennifer Savran. Endpapers. Algonquin. Feb. 2023. 352p. ISBN 9781643751849. $27. LITERARY
In 2003 New York City, Dawn is having an identity crisis. By day, she works as a bookbinder at the Met and must present as female; by night, her partner (queer, as she is) seems to like her only at her most masculine. And her art is going nowhere. Then she discovers a queer love letter tucked behind the endpaper of an old book and seeks out the letter's author. Winner of a Barbara Deming Memorial Fund grant and a finalist for the James Jones First Novel Fellowship.
Koca, Nazli. The Applicant. Grove. Feb. 2023. 304p. ISBN 9780802160546. $26. LITERARY
Having failed her thesis at her Berlin university, Turkish student Leyla sues to get the failure reversed while watching as her student visa threatens to slip away—along with her dream of becoming a writer with a place she can call home. If the visa expires, she must choose between returning to a constrained life with her mother and sister in Turkey or moving to Sweden with the Volvo-salesman tourist she's been seeing, though his conservative political views are far from her own. From Turkish-born, U.S.-based Koca, who's published in journals like the Threepenny Review and the Chicago Review of Books.
McCauley, Jennifer Maritza. When Trying To Return Home: Stories. Counterpoint. Feb. 2022. 272p. ISBN 9781640095687. $27. LITERARY/SHORT STORIES
Ranging from Puerto Rico to Pittsburgh, Louisiana, Miami, and beyond, McCauley's stories limn Black American and Afro-Latinx experiences across a century. In 1930s Louisiana, a woman must face up to her troubled past after encountering an old friend in a bar, while a young woman in contemporary times realizes that she must break free from the mother she loves deeply, even as she struggles to spring her brother from foster care. From the author of the cross-genre collection SCAR ON/SCAR OFF.
Nardone, Mai. Welcome Me to the Kingdom: Stories. Random. Feb. 2023. 288p. ISBN 9780593498187. $27. LITERARY/SHORT STORIES
Using interlinked stories set amid the temples, slums, and wealthy estates of late 1900s Bangkok, Nardone investigates the lives of a Thai Elvis impersonator and his only daughter, a family deserted by their overweening white patriarch, and a tight-knit group of orphaned boys helping one another to survive. Bangkok-based Nardone has published in Granta, McSweeney's, and Ploughshares, among other venues.
Yarmysh, Kira. The Incredible Events in Women's Cell Number 3. Grove. Feb. 2023. 368p. tr. from Russian by Arch Tait. ISBN 9780802160737. $27. LITERARY
Wrongfully convicted after her arrest at a Moscow anticorruption rally, Anya is sentenced to a ten-day stretch at a special detention center, where her cellmates are five women from all walks of life, there on petty charges. Even as they bond over mediocre tea and conversation about politics, feminism, family life, and sexual desire, Anya begins to suspect that her cellmates are not as ordinary as they seem. Yarmysh knows whereof she speaks; she is Russian opposition leader Alexey Navalny's press secretary and has experienced both arrest and imprisonment. Yarmysh's appearance at the Moscow Book Fair was canceled after the book's well-received Russian publication in October 2020; rights have been sold to eight countries so far.