Horror wrought by viruses and "the twisted dead."
Click here for additional new Prepub Alert columns
Coates, Darcy. The Twisted Dead. Poisoned Pen: Sourcebooks. Feb. 2023. 304p. ISBN 9781728239231. pap. $14.99. HORROR
Keira can chat with ghosts, which has landed her in some messy situations (see the first two books in the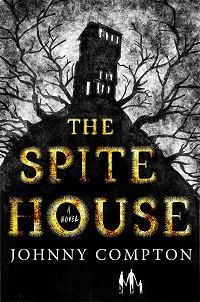 USA Today best-selling "Gravekeeper" series). She'd like to settle down to a relatively normal life as groundskeeper of a small-town cemetery, but no such luck. A man who once tried to kill her has invited her to his moldering ancestral estate to challenge the restless dead he claims are turning his life into a horror.
Compton, Johnny. The Spite House. Tor Nightfire. Feb. 2023. 272p. ISBN 9781250841414. $27.99. HORROR
On the run with his two daughters from some indeterminate terror in his past, Eric Ross lacks references and resources and is hence relieved to secure a job as caretaker of the Masson property in Texas—even if the house is supposedly haunted. The owner wants to prove that ghosts are flitting about and asks Eric to keep records of any mysterious events, but it's no easy task: the job has driven previous caretakers insane. A big-deal debut; with a 125,000-copy first printing.
Snyder, Lucy A. Sister, Maiden, Monster. Tor Nightfire. Feb. 2023. ISBN 9781250825650. pap. $17.99. HORROR
In this latest from the five-time Bram Stoker Award–winning Snyder, a virus has decimated the world, radically altering those who are infected as it upends humanity's settled truths. Three women have joined forces to survive, with Erin and Savannah readying themselves and others for a strange new world and Mareva facing a special task too terrifying even to name. With 100,000-copy first printing.
Click here for additional new Prepub Alert columns