From ancient times to World War II.
Click here for additional new Prepub Alert columns
Burdick, Serena. The Stolen Book of Evelyn Aubrey. Park Row: Harlequin. Nov. 2022. 352p. ISBN 9780778386865. $28.99; pap. ISBN 9780778333104. $17.99. CD. HISTORICAL
In 1898 England, Evelyn Aubrey manages to escape her marriage when her writer's-blocked husband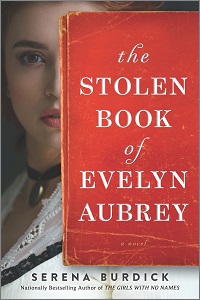 claims her writing as his own. A century-plus later, Californian Abigail is searching through her deceased mother's effects to discover her father's identity when she happens upon a collection of poems by Evelyn Aubrey and starts unraveling her family history. From the author of the best-selling The Girls with No Names; with a 100,000-copy paperback and 10,000-copy hardcover first printing.
Fredericks, Mariah. The Lindbergh Nanny. Minotaur: St. Martin's. Nov. 2022. 320p. ISBN 9781250827401. $27.99. HISTORICAL
Author of the Gilded Age–set "Jane Prescott" murder mysteries, Fredericks turns her attention to the kidnapping of the Lindbergh baby, retelling the story from the perspective of the baby's nanny. A Scottish immigrant, Betty Gow must prove her innocence when she's caught in the terrible glare of suspicion, even as she struggles to secure justice for little Charlie. A 50,000-copy first printing.
Miller, Madeline. Galatea: A Short Story. Ecco. Nov. 2022. 64p. ISBN 9780063280519. $12. HISTORICAL
Published nearly a decade ago in a hardcover-ebook combo and an instant Sunday Times best seller in the UK, this reimagining of the myth of Galatea and Pygmalion by the Orange-winning, New York Times best-selling author of Circe and The Song of Achilles comes with a new foreword and a 200,000-copy first printing.
Salazar, Noelle. Angels of the Resistance. Mira: Harlequin. Nov. 2022. 368p. ISBN 9780778333609. $28.99; pap. 384p. ISBN 9780778386797. $17.99. HISTORICAL
When the German army invades the Netherlands during World War II, Lien's older sister is drafted into the Dutch resistance, and Lien insists on joining, too, partly to assuage guilt over the accident that killed their baby sister. Soon they're leaning on their sweet-girl looks to move about easily as they collect information, hide Jewish families, and lure top German military to their deaths. With a 175,000-copy paperback and 10,000-copy hardcover first printing.
Stratton, Richard. Defending Alice: A Novel of Love and Race in the Roaring Twenties. HarperVia. Nov. 2022. 576p. ISBN 9780063115460. $28.99. CD. HISTORICAL
In 1920s New York, upper-crust Leonard "Kip" Rhinelander shocked high society by marrying working-class Alice Jones, then sued for an annulment when he discovered that she had at least one Black grandparent. This fictionalization of real events from author/filmmaker Stratton, whose Slam won prizes at Sundance and Cannes, has been optioned for film. With a 60,000-copy first printing.
Click here for additional new Prepub Alert columns