From 15th-century China to late 1700s India to World War II.
Click here for additional new Prepub Alert columns
Benedict, Marie, & Victoria Christopher Murray. The First Ladies. Berkley. Jun. 2023. 352p. ISBN 9780593440285. $28. CD. HISTORICAL
Harmel, Kristin. The Paris Daughter. Gallery: S. & S. Jun. 2023. 384p. ISBN 9781982191702. $28.99. CD.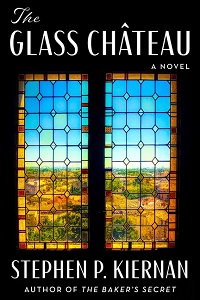 HISTORICAL
James, Tania. Loot. Knopf. Jun. 2023. 304p. ISBN 9780593535974. $28. HISTORICAL
Kiernan, Stephen P. The Glass Château. Morrow. Jun. 2023. 384p. ISBN 9780063227316. $30. lrg. prnt. HISTORICAL
See, Lisa. Lady Tan's Circle of Women. Scribner. Jun. 2023. 368p. ISBN 9781982117085. $28. HISTORICAL
Tsukiyama, Gail. The Brightest Star. HarperVia. Jun. 2023. 320p. ISBN 9780063213753. $32. HISTORICAL
Williams, Beatriz. The Beach at Summerly. Morrow. Jun. 2023. 368p. ISBN 9780063020849. $30. lrg. prnt. CD. HISTORICAL
From Benedict and Murray, the New York Times best-selling authors of the Good Morning America Book Club pick The Personal Librarian, The First Ladies assays the relationship between First Lady Eleanor Roosevelt and civil rights activist Mary McLeod Bethune, whose parents were once enslaved. In theNew York Times best-selling Harmel's The Paris Daughter, Elise must go into hiding when the Germans occupy Paris during World War II and entrusts her young daughter to friend Juliette—their two girls are close—only to discover at war's end that Juliette has vanished and only one girl (but which one?) survived a bombing. In lates 1700s India, 17-year-old Abbas works under French clockmaker Lucien du Leze to create a massive tiger automaton for Tipu Sultan (called the Tiger of Mysore), then returns to apprentice with du Leze in France and eventually heads to England to rescue his tiger, which British forces treated as Loot; James's The Tusk That Did the Damage was a San Francisco Chronicle best book. Wandering through devastated post–World War II France, Asher finds sanctuary (but hides his Jewish identity) at The Glass Château, where glass is being manufactured to replace the shattered windows of postwar France's cathedrals: award-winning journalist/novelist Kiernan was inspired by the life of Marc Chagall. In the New York Times best-selling See's Lady Tan's Circle of Women, Yunxian is trained by her physician grandmother in 15th-century China and works with a young midwife, but an arranged marriage threatens to confine her to a life of wifely subordination. Following Tsukiyama's much-praised The Color of Air, The Brightest Star reimagines the life of Anna May Wong, the only Asian American woman to achieve fame in Hollywood's early days. In the New York Times best-selling Williams's The Beach at Summerly, caretaker's daughter Emilia Winthrop is thrilled when charismatic role model Olive Rainsford arrives at Winthrop Island's Summerly estate in 1946, then is thrown into turmoil when she learns that someone at Summerly is transmitting secrets to the Soviets.