At this year's American Library Association (ALA) Virtual Conference, the well-attended panel "Breaking the Rules of Graphic Novels" touched on topics of defying taboos and how owning one's story can make familiar ideas feel utterly new.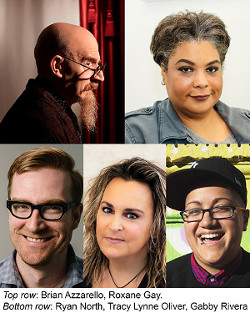 On Thursday, June 25, during the American Library Association (ALA) Virtual Conference, the midmorning panel, "Breaking the Rules of Graphic Novels," sponsored by comics publisher BOOM! Studios, drew a sizeable crowd and touched on topics of defying taboos and how owning one's story can make familiar ideas feel utterly new.
Moderating was Filip Sablik, president of publishing & marketing, BOOM! Studios. Presenters included Brian Azzarello (with Maria Llovet, Faithless; LJ 2/7/20); coauthors Roxane Gay and Tracy Lynne Oliver (with Rebecca Kirby & James Fenner, The Sacrifice of Darkness, Oct.); Ryan North (with Albert Monteys, Kurt Vonnegut's Slaughterhouse-Five, Sept.); and Gabby Rivera (with Royal Dunlap, b.b. free, Oct.).
Sablik opened by asking whether there were any rules or taboos to avoid when breaking into the industry. Azzarello, who has been writing comics for more than 30 years, stated emphatically, "there were no rules—nothing. Everybody was making it up as they went along. I don't think it's changed that much actually." For prose novelist–turned–graphic novelist Rivera, comics opened up a whole new world. "At first there were all kinds of rules. [I thought] that you had to use deep words and speak outside of your experience, to please people with your writing, to fit in. And I realized that wasn't working for me and I just wanted to write how I talk and tell the stories that matter to me. Now all the supersonic ideas I have are valued and appreciated," she said.
"Readers are interested in seeing things that are new," continued North. "Ideas that are pushing beyond these preconceived notions of what you can do." As for Gay, "the only rules they told me I had to follow were just sticking to the canon…. Of all the creative mediums, graphic novels are really expansive and they allow for different narrative styles, and it's the one genre I work in where people don't say you can't do that, instead they try to figure out how to make what I want to do work," she said.
On writing her first graphic novel—the adaptation of Gay's short story "We Are the Sacrifice of Darkness"—Oliver said she knew panel and page count, but her main concern was "to make sure the long format had the same impact as in the graphic novel format, to make sure I was conveying the message of the story."
Freedom To Create
All of the creators expressed a sense of feeling more freedom to explore their own stories in the graphic novel space. "[In b.b. free], I get to talk about a post–climate change America through the eyes of a young queer Puerto Rican 15-year-old girl," said Rivera, who noted that she was always interested in reading these kinds of stories growing up but didn't because these kinds of comics didn't exist. "This is a beautiful place to be storytelling and representational and all of that stuff," she said.
As the first writer to adapt Kurt Vonnegut's work into the graphic novel form, North explained his goal was that "if you read this comic book not knowing that Slaughterhouse-Five is a prose novel you wouldn't know it was an adaptation because it feels so at home in the comics medium."
Azzarello recalled his series "100 Bullets," co-created with artist Eduardo Risso for DC in 2013, "was a story that broke open the genre a little bit…and now anything goes." Indeed, as his latest work, Faithless, probes relationships and sexuality in a horror story revolving around a young woman who falls in love with Satan's daughter and Satan. Considering this plot, Sablik mused, "I know you are doing great work when I'm uncomfortable talking about it."
In adapting Gay's short story for the graphic novel The Sacrifice of Darkness, coauthors Gay and Oliver were able to build out the world exactly as they planned. Gay described the process of stepping back from her own creation to see what someone else could bring to her story, which tells of young protagonists Claire and Joshua after the light has left the world and they are shrouded in darkness. "What I wanted to explore," said Oliver, "was what happened before, when the light was still in the world and what drove this minor Hiram Hightower to be so devastated by the darkness, so that every day he had to go touch the sun. It was fun to develop his relationship and to go back and forth and look at Claire and Joshua's relationship, it was pure joy."
Concluding the program, Sablik asked each author to recommend one graphic novel every librarian should have in the collection. Here's what they recommended:
Azzarello: Love & Rockets by Gilbert & Jaime Hernandez
Gay: Monstress by Marjorie Liu (text) & Sana Takeda (illus.)
North: Asterios Polyp by David Mazzucchelli
Oliver: The Banks by Roxane Gay (text) & Ming Doyle (illus.)
Rivera: Bingo Love: The Jackpot Edition by Tee Franklin (text) & Jenn St-Onge & others (illus.)