The Pulitzer Prize winner offers exemplary literary historical fiction.
Click here for additional new Prepub Alert columns
Brooks, Geraldine. Horse. Viking. Jun. 2022. 416p. ISBN 9780399562969. $28. LITERARY/HISTORICAL
In this powerful story from the Pulitzer Prize–winning Brooks, an enslaved groom named Jarrett leads the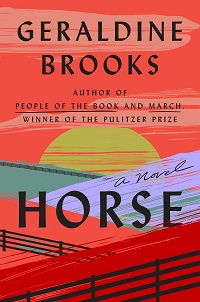 bay foal he's bonded with to record-shattering racing victories across the 1850s South. During the Civil War, the two meet up dangerously with an itinerant artist who's won fame with his many paintings of the stunning racehorse. A gallery owner in 1950s New York becomes fascinated with the paintings, but it's not until 2019 that a Nigerian American art historian uncovers the true story of the horse and groom and links up with a Smithsonian scientist who's studying the horse's bones to learn the secret of its extraordinary endurance. Based on the true story of a racehorse named Lexington and sure to attract a wide range of readers.
Click here for additional new Prepub Alert columns