Since its launch in 2015, Flame Con, the LGBTQ-themed comic convention created by nonprofit Geeks OUT, has had increasingly more to offer: a multitude of panels, several workshops, and an increasing number of vendors. Eager crowds from a variety of fandoms gathered on Saturday, August 17 and Sunday, August 18 for this year's event.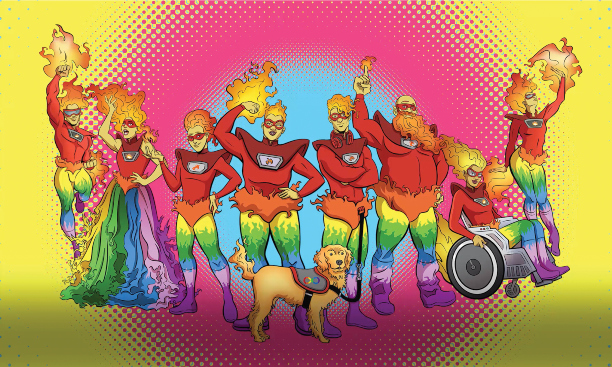 Photo © 2019 Geeks OUT
---
Since its launch in 2015, Flame Con, the LGBTQ-themed comic convention created by nonprofit Geeks OUT, has had increasingly more to offer: a multitude of panels, several workshops, and an increasing number of vendors. Eager crowds from a variety of fandoms gathered on Saturday, August 17 and Sunday, August 18 for this year's event, which was held at the Sheraton New York Time Square Hotel for the second year in a row.
Geeks OUT hosted the initial Flame Con at Brooklyn's Grand Prospect Hall while the 2016 and 2017 events were held at the New York Marriott at the Brooklyn Bridge. The move to the Sheraton New York Time Square Hotel was intended to meet growing demand. While 2019 attendance is still being calculated, approximately 7,000 people attended Flame Con in 2018.
This year's offerings included a Gaymer Lounge, featuring favorites such as Dungeons & Dragons, Magic The Gathering, and Pokemon, along with micro-mentoring workshops and professional development workshops for up-and-coming creators.
Meanwhile, the sessions offered a little bit of something for everyone:
Saturday, August 17
The Enchantment of Queer Witches
Joining moderator Aaron Reese to chronicle historical depictions of witches in pop culture were Princess Weekes (editor, The Mary Sue), Sade Adeyina (NFLUX Magazine), and creator Vita Ayala, author of the recent Dynamite revival of Xena: Warrior Princess.
The conversation ranged from the portrayal of witchcraft and magic in film and tv throughout the years—Charmed, The Craft, Buffy the Vampire Slayer, Sailor Moon, Chilling Adventures of Sabrina⁠—to the popularity of tarot and astrology in the past couple years.
Reese, Adeyina, Ayala, and Princess Weekes also touched on how witchcraft, along with alchemy, are often seen through the lens of white patriarchy, especially when it comes to comics. Comparing witchcraft to cooking, Reese mentioned that people can be the chef in control of the cooking and the heat, but that it's especially important to do research beforehand since the subject is often misinterpreted and misunderstood.
The Great YA Debate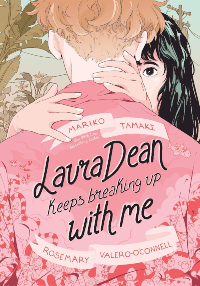 Writer and artist Mariko Tamaki (This One Summer), illustrator and cartoonist Rosemary Valero-O'Connell, and cartoonist Dana Simpson (Ozy and Millie, Phoebe and Her Unicorn) recounted the both the history of YA as a genre, and how works aimed at a teen audience are often stigmatized because of a perceived lack of immaturity.
Simpson added, "Teens aren't dumber than adults; they just have fewer reference points." All agreed that we should treat teens with respect, and be more receptive to their thoughts and ideas.
Tamaki and Valero-O'Connell, who collaborated on Laura Dean Keeps Breaking Up with Me (2019), agreed that there are a lot of subjects that impact teens' lives that adults are hesitant to talk about. Specifically, they referenced living with mental illness and experiencing poverty. Valero-O'Connell illustrated parts of the hit series Lumberjames, which is popular among both teens and adults.
The Gay Animation Renaissance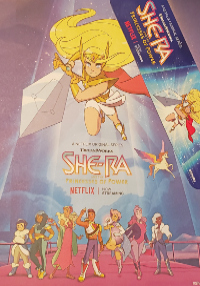 In the most well-attended panel of the weekend, animator Judith Fisch and writer Natalie Reichel gave a riveting overview of LGBTQ content and creators in Hollywood, beginning with the 1927 film Wings.
After showing stills from early Hollywood, Fisch and Reichel explained the enduring legacy of the Hays Code and the ongoing impact of the 1969 Stonewall Riots on American media and pop culture. They also relayed the history of queer coding in Disney films: "a storytelling device that's meant to include people without actually including them; for example, men appearing effeminate or women appearing butch." Notably, villains are often given queer coding, such as Ursula in The Little Mermaid or Jafar in The Lion King.
Bringing us up to the current day, Fisch and Reichel detailed the success of Netflix's She-Ra and the Princesses of Power, along with the impact of Rebecca Sugar, and her work on two critically acclaimed series: Steven Universe and Adventure Time.
I Yam Amphibious: Gender Queerness and Fluidity in Comic Classics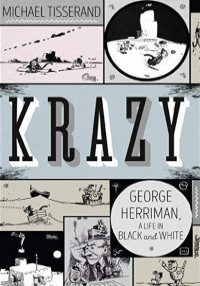 Continuing to expand on the history of comics, artist Ari Rose, writer Tea Berry-Blue, and illustrator Mady G. shed insight on Krazy Kat, a comic strip by George Herriman that appeared in Hearst-owned newspapers from 1913 to 1944. In reviewing panels from the original strip, the audience was able to see how Krazy Kat swaps pronouns, and was gender-fluid before the word was popularized.
Attendees were also treated to panels from political satire comic strip Pogo, which ran from 1948 to 1975; an overview of the comic strip Mandrake the Magician; as well as early panels of the comic trip Thimble Theatre featuring the character who would become the most popular: Popeye. After sharing the history of Thimble Theatre and its spin-off Popeye, Berry-Blue highlighted panels of the comic strip where Popeye alternates between wearing clothes designed for women and clothes intended for men.
The title of this session was borrowed from the 1933 short, I Yam What I Yam, featuring Popeye and Olive Oyl. (See LJ's review of Krazy: George Herriman, A Life in Black and White by Michael Tisserand.)
Sunday, August 18
Queerbrarians: Libraries, Pop Culture and the LGBTQ+ Community
Five Long Island-based librarians remarked on their own experiences with identity, and how that impacts their work. Derek Ivie explained how being out with coworkers might be different than being out with patrons: coworkers may approve while patrons may not, or vice versa. Nola Thacker addressed the tricky subject of collection development challenges from fellow staff. While some of the librarians discussed pertinent topics, this was the only session that did not include a person of color. Also, hearing the voices of librarians who are new to the profession, along with those who serve communities outside the region would have been a welcome addition.
Playing with Identity: Tabletop Role-Playing Games and the Queer Power Self-Definition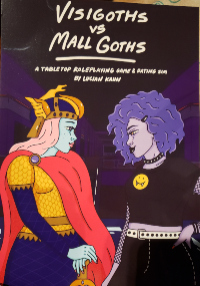 Tabletop games, especially board games, card games, and dice games, have always had a following. The same is true for tabletop role-playing games (RPGs), such as Dungeons & Dragons. Recently, more people outside traditional gaming communities are taking notice.
Game creators and designers—Lucian Kahn (creator of Visigoths vs. Mall Goths), Linda Codega, Clio Yun-su Davis, Sharang Biswas, Richard Ruane, and Crystal Frasier—talked about how their identities influence their design process and playing habits, asking the attentive audience for their input as well.
Codego stated, "All the boundaries people set for you don't matter. Games allow for playfulness without real-world consequences. We can play with who we are." All of the designers create with free-form play in mind, ensuring players don't have to define themselves. Speaking to designing games in an unjust society, Biswas reminded the audience that, "Art is inextricable from emotion, and games are inextricable from politics."