Click here for additional new Prepub Alert columns
Dean, Sunyi. The Book Eaters. Tor. Aug. 2022. 304p. ISBN 9781250810182. $26.99. FANTASY
Giddings, Megan. The Women Could Fly. Amistad: HarperCollins. Aug. 2022. 368p. ISBN 9780063116993.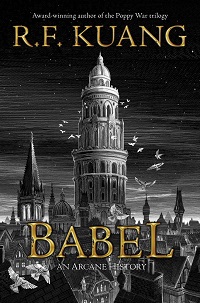 $26.99. DYSTOPIAN
Harris, Charlaine. The Serpent in Heaven. Gallery: Saga: S. & S. Aug. 2022. 304p. ISBN 9781982182496. $27.99. FANTASY
Jones, Stephen Graham. Don't Fear the Reaper. Saga: Gallery. Aug. 2022. 464p. ISBN 9781982186593. $27.99. HORROR
Kuang, R.F. Babel: Or the Necessity of Violence: An Arcane History of The Oxford Translators' Revolution. Harper Voyager. Aug. 2022. 560p. ISBN 9780063021426. $27.99. FANTASY/HISTORICAL
Modesitt, L.E., Jr. Councilor: A Novel in the Grand Illusion. Tor. Aug. 2022. 528p. ISBN 9781250814456. $29.99. FANTASY/GASLAMP
Owen. Lauren. Small Angels. Random. Aug. 2022. 400p. ISBN 9780593242209. $27. GHOSTS
Penelope, Leslye. The Monsters We Defy. Redhook: Hachette. Aug. 2022. 384p. ISBN 9780316377911. pap. $17.99. Downloadable. FANTASY/HISTORICAL
Valdes, Valerie. Fault Tolerance. Harper Voyager. Aug. 2022. 448p. ISBN 9780063085893. pap. $16.99. SF/SPACE OPERA
Virdi, R.R. The First Binding. Tor. Aug. 2022. 832p. ISBN 9781250796172. $29.99. FANTASY/EPIC
West, Joma. Face. Tor.com. Aug. 2022. 272p. ISBN 9781250810298. $26.99. SF/GENETIC ENGINEERING
In Dean's big, intriguingly premised debut, Devon is part of a venerable clan belonging to The Book Eaters—instead of food, they munch thrillers, romance, and, when they misbehave, dusty dictionaries—and she's terrified to learn that her son is born hungering not for paper, printing, and binding but human minds (150,000-copy first printing). In The Women Could Fly, a dystopian work from Rumpus features editor Giddings, the mother of a young Black woman named Josephine is long vanished—was she a witch? Was she murdered?—and if Josephine doesn't marry soon, she will be forced to enroll in a registry that will effectively blot out her freedom (75,000-copy first printing). In Harris's The Serpent in Heaven, a sequel to The Russian Cage, Felicia is set upon by her estranged family of Mexican wizards and discovers that she is the most powerful witch of her generation (75,000-copy first printing). In Don't Fear the Reaper, Jones's follow-up to the LJ best-booked My Heart Is a Chainsaw, an exonerated Jade Daniels returns home from prison just as convicted serial killer Dark Mill South arrives to avenge 38 Dakota men hanged in 1862 (100,000-copy first printing). In this latest from the multi-award-nominated Kuang, a Chinese boy orphaned in 1828 Canton (now Guangzhou) is brought to London and eventually enters Oxford's Royal Institute of Translation—called Babel—which doubles as a center for magic and compels him to work in support of Britain's imperial ambitions in China (125,000-copy first printing). Modesitt continues his newly launched "Grand Illusion" series with Steffan Dekkard joining the Council of Sixty-Six as Councilor—the first to be an Isolate, which makes him impervious to emotional manipulation but could lead to his assassination (100,000-copy first printing). Author of the Slate best-booked Quick, Owens has Kate planning to hold her wedding at a church called Small Angels in the town where she once found shelter with the Gonne sisters, little realizing that they've been tasked with keeping a marauding ghost from invading the village—and they're falling down on the job. Winner of a BCALA Self-Publishing EBook Award for Song of Blood and Stone, one ofTime's 100 Best Fantasy Books of All Time, Penelope returns with The Monsters We Defy, whose heroine pays off a debt to the Empress ruling the spirit world by agreeing to steal a wealthy woman's ring in 1925 Washington, DC (25,000-copy first printing). From Valdes, author of the LJ best-booked Chilling Effects, Fault Tolerance brings back Capt. Eva Innocente and the raucous crew of La Sirena Negra to counter an anonymous threat that could lead to the death of billions (50,000-copy first printing). Dragon/Nebula finalist Virdi launches a new series with The First Binding, featuring an Immortal disguised as a storyteller—and he's here to relate how he unleashed the First Evil on the world (175,000-copy first printing). The MMU Novella Award–winning West goes full length with Face, set in a genetically engineered society where the perfect profile buys fame, wealth, and power but not happiness for Schuyler and Madeleine Burroughs (60,000-copy first printing).