Otherwordly, magical, dangerous.
Click here for additional new Prepub Alert columns
Blake, Olivie. The Atlas Paradox. Tor. (Atlas, Bk. 2). Oct. 2022. 448p. ISBN 9781250855091. $27.99. CD. FANTASY
In this sequel to The Atlas Six, a viral phenomenon that's prompted nearly 20 countries to buy the entire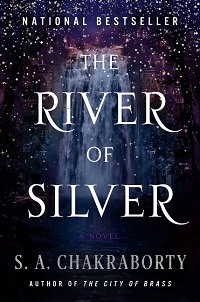 trilogy, rivalries continue to split a secret society of magical academicians called the Alexandrians that's baldly about power. Blake is the pseudonym of Alexene Farol Follmuth, author of several indie SFF and a forthcoming YA romcom.
Chakraborty, S.A. The River of Silver: Tales from the Daevabad Trilogy. Harper Voyager. Oct. 2022. 256p. ISBN 9780063093737. $27.99. CD. FANTASY/HISTORICAL
Originally published as an audio-first book in Winter 2022, this new work compiles stories surrounding Chakraborty's multi-award-nominated "Daevabad Trilogy." Some pieces come from the author's website, others are original, and jointly they are meant to keep fans satisfied until Chakraborty debuts a new series in 2023. With a 100,000-copy first printing.
Glück, Louise. Marigold and Rose. Farrar. Oct. 2022. 64p. ISBN 9780374607586. $18. FAIRY TALE
In a fairy tale cum literary excursion into language, time, and the act of discovery that is life, Nobel laureate Glück tells the story of twin girls in their first scrambling and sad-funny year of life. Not poetry but surely poetic; with a 30,000-copy first printing.
Hairston, Andrea. Will Do Magic for Small Change. Tordotcom. Oct. 2022. 464p. ISBN 9781250808738. $27.99. FANTASY/HISTORICAL
Cinnamon Jones wants to perform onstage like her theater-star grandparents, the eponymous protagonists of Hairston's multi-award-winning Redwood and Wildfire, but she's still sorting through a messy family life. Then her brother gives her a book about a Dahomean warrior woman and an alien from another dimension who performed at the 1893 Chicago World's Fair, and she knows she has a connection to them. With a 75,000-copy first printing.
Howey, Hugh. Across the Sand. Harper Voyager. (Sand Chronicles). Oct. 2022. 400p. ISBN 9780358670452. $27.99. CD. SF/POSTAPOCALYPTIC
In a land of nothing but sand, sand, sand, four siblings scrabble to survive after the disappearance of their father and oldest sister, both legendary sand divers. Meanwhile, Anya has grown up near the mines and expects to spend her life toiling for the Empire of the East, but the destruction of her entire community sends her to the dunes in search of vengeance. In 2020, Howey triumphed with Wool, and the intervening years have seen the reissue of his self-published backlist, but this is his first original work in six years; with a 50,000-copy first printing.
Kalfar, Jaroslav. A Brief History or Living Forever. Little, Brown. Sept. 2022. 320p. ISBN 9780316463188. $28. SF
In this edgy, politically informed follow-up to Kalfar's multi-finalist debut, Spacemen in Bohemia, a young woman in surveillance-heavy 2029 America must convince the Czech brother she's never met to help her find the remains of their mother, buried in mass grave for immigrants. Originally scheduled for July 2021; with a 35,000-copy first printing.
Maguire, Gregory. The Oracle of Maracoor. Morrow. (Another Day, Bk. 2). Oct. 2022. 288p. ISBN 9780063094017. $28.99. lrg. prnt. CD. FAIRY TALE
Having sent readers spinning back to the Wicked world with The Brides of Maracoor, which introduced Elphaba's green-skinned granddaughter, Rain, Maguire continues Rain's story with Maracoor facing invasion. Rain escapes from prison with young Cossy, but they remain in danger—not just because of war but because cracks in reality are letting in blue wolves, harpies, and giants. With a 125,000-copy first printing.
Moore, Alan. Illuminations: Stories. Bloomsbury. Oct. 2022. 464p. ISBN 9781635578805. $30. FANTASY
For the first time in a four-decade career that embraces V for Vendetta and the Hugo Award–winning Watchmen, Moore publishes a short story collection. The characters range from the four horsemen of the apocalypse to theoretical Boltzmann brains dreaming up the universe at the big bang, and a big novella covers the twisty history of the comics industry. With a 150,000-copy first printing.
Nethercott, GennaRose. Thistlefoot. Anchor. Sept. 2022. 448p. ISBN 9780593468838. $28. Downloadable. FANTASY
A folklorist and National Poetry series winner for The Lumberjack's Dove, Nethercott draws on eastern European and Jewish folklore for her fiction debut. The estranged Yaga siblings—woodworker Bellatine and street performer Isaac—are brought together by a surprising inheritance from Russia: a sentient house on chicken legs. Alas, the Longshadow Man has followed the house to the United States and is now tracking down its new owners with evil intent.
Pokwatka, Aimee. Self-Portrait with Nothing. Tordotcom. Oct. 2022. 304p. ISBN 9781250820846. $26.99. SF/MYSTERY
Abandoned as a baby and raised by two caring mothers, 36-year-old Pepper Rafferty hides a secret: she knows that her biological mother is controversial artist Ula Frost, who insists that her portraits call forth their doppelgangers from a parallel universe. But wait: is there a parallel universe where Pepper would have not been abandoned and could feel worthy of love? A debut with a 50,000-copy first printing.
Roth, Veronica. Poster Girl. Morrow. Oct. 2022. 288p. ISBN 9780358164098. $26.99. lrg. prnt. CD. DYSTOPIAN
"Poster girl" for a totalitarian regime in the Seattle-Portland region that has since fallen, Sonya has been imprisoned for ten years but could earn her freedom if she can find a missing girl taken from her parents under the previous regime. Successful YA author Roth's first adult novel, Chosen Ones, hit the New York Times best sellers list.