School and public librarians are joining forces to help socially distanced kids finish the school year and stay strong through summer.
School and public librarians join forces to help socially distanced kids finish the school year and stay strong through summer
---
In a survey of school librarians conducted by School Library Journal (SLJ) at the beginning of April, about one third of respondents said they'd been unprepared for their school's closure because of COVID-19. Thirty-one percent said they'd received no notice prior to the shutdown orders, and 30 percent said they were not prepared for the shift to online distance learning.
However, three-quarters did receive training to provide online services. And, prepared or not, the school librarians who responded stepped up to continue supporting teachers and students through the shift to remote learning.
THE CORE CURRICULUM
Book suggestions/readers advisory, helping with research projects, and story time are the top three services school librarians continue to provide. Beyond that core, 20 percent say they are still doing booktalks online, almost 18 percent are holding virtual book clubs, and 11 percent are connecting their patrons with virtual author visits. For the full scope on how American school librarians rose to the challenge, see "What Librarians Are Doing to Support Students and Teachers in the Shutdown | SLJ COVID-19 Survey."
IN THIS TOGETHER
School librarians are not the only ones challenged to support K–12 students in their surprise transition to remote learning. Public librarians, too, are fulfilling their traditional roles in new, virtual ways—and helping kids and families grapple with new technologies and the digital divide on top of anxiety, health concerns, and economic stress.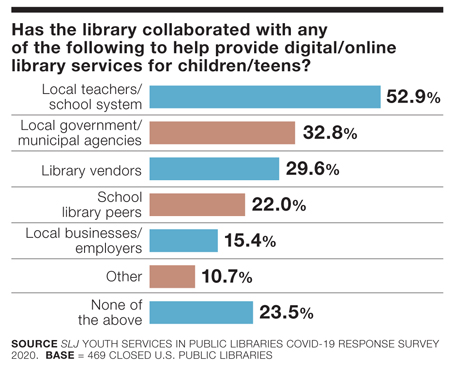 In a second survey by SLJ, whose results were not yet published at press time, the vast majority of public libraries—a nearly universal 99.6 percent of respondents—were closed to the public. But the majority of staff were still working, and stretching to make sure that kids deprived of their in-person library visits were still getting the help they need.
Over half of the public librarians surveyed (52.9 percent) are joining forces with schools and/or teachers to provide digital library services to kids and teens. One in five are working directly with their school library peers. And approximately one in three librarians are collaborating with local government (32.8 percent). Nearly a quarter of librarians are actively helping parents manage online learning.
PANDEMIC PROGRAMMING
Of public librarians responding, 78 percent are recording virtual programming. Two thirds of them are expanding their virtual offerings. But those offering virtual programming aren't blind to its limitations: Some common themes were the drawbacks to offering virtual programming when not all families have access to the internet or when there were not enough digital resources in Spanish to offer to Latinx patrons.
Another commonly expressed worry is not wanting to overburden already-stretched students and parents with yet more digital resources. "Currently we are seeing virtual overload for kids and parents," wrote one librarian. "While this is the primary way we can reach people, they are bombarded with literally everything online—school, books, work, everything. How do we cut through being one more thing?" Wrote another: "Worried about screen fatigue, overwhelmed caregivers with no energy to search us out, all of the families we can't reach."
One solution to this screen-time overload: Offer more passive programs that patrons can do on their own time. An example came from a library that moved its annual writing competition online. "The theme was already FREEDOM so we thought it was fitting and it might give kids a way to express themselves during this difficult time. So far we have received over 300 entries!"
VIRTUALLY SUMMER
Nearly 83 percent of respondents are planning summer reading programs. Nearly two-thirds are planning for those summer reading programs to be held online rather than in person. ("All virtual programming only. My heart is broken over it," noted a respondent.) For those holding online programs, Beanstack, the web-based reading and reward system, is helpful. Many libraries are opening up accounts for the first time.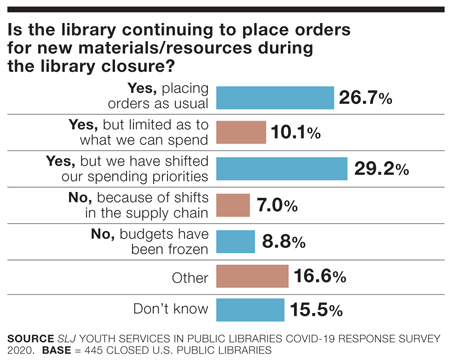 Others are making multiple plans (one online, one in person, one mixed) and waiting to decide which one to implement as they see how the pandemic progresses. Others are thinking up grab-and-go programs (like Summer Reading in a Bag—an all-in-one-experience with the logs, bookmarks, free tattoos, and prize book in a bag for families to pick up curbside) and holding some events in parks, where attendees can maintain social distance and have the benefit of airflow and sunlight.
Finally, some public libraries are still planning for in-person programming, but pushing back the dates a bit—starting in July or doing the program over four weeks instead of the usual seven.
SPENDING SHIFTS
While 27 percent of public librarians are still placing orders for new materials as always, nearly 30 percent say that what they're buying has changed—and digital media rules. Most are focusing on e-books, audio books, and streaming services. If libraries are spending money on physical books, they're concentrating on best sellers and other "high-interest" print materials. In the meantime, they're making the most of what they have: three-quarters are promoting their kids' and teens' collections via social media.
Nearly 54 percent expect their budgets will decrease, though no one knows by how much. "I don't know but it doesn't look good," wrote one librarian. Another said, "I have no idea but we've been told to expect budget cuts." But 45 percent of survey respondents remain optimistic that there will be no change.
Despite the worries, respondents expressed hope for the future—and that others might value the work they are doing today. "So much of what we as librarians are doing during this health crisis is not seen. But we hope our patrons feel our impact and are helped by our work and our efforts," wrote one. Commented another: "I…hope that this situation will help others see that librarians provide a myriad of services that go beyond what's expected."
---
Linda Rodgers writes about health and education for a variety of magazines, including Working Mother.