The literary world lost a legend this week with the passing of Clive Cussler at age 88. When librarians and readers alike thought of action-adventure novels, his name and works were at the top of the list.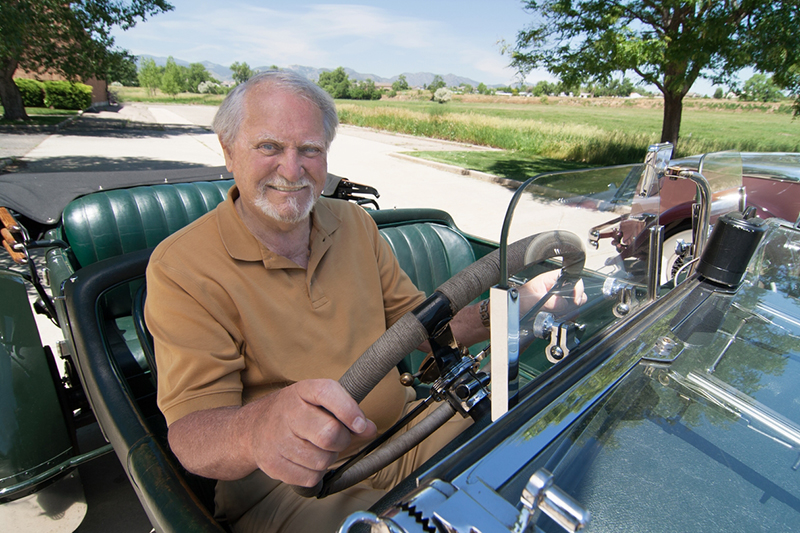 Photo by Ronnie Bramhall © The Cussler Museum
The literary world lost a legend this week with the passing of Clive Cussler at age 88. When librarians and readers alike thought of action-adventure novels, his name and works were at the top of the list. His first novel, featuring the first appearance of iconic hero Dirk Pitt, The Mediterranean Caper, came out in 1973, but it was the release of his third book, Raise the Titanic, in 1976 that made Cussler king of the genre. His work opened my eyes to the world of reading at a young age and led me to work in libraries for my entire career.
Cussler's works blend the best elements of a James Bond–style adventure with a dash of oceanography and history. The fictional government agency Pitt worked for, the National Underwater and Marine Agency (NUMA), actually become a real nonprofit organization, and Cussler used proceeds from his books to search for sunken vessels and historical artifacts. His efforts resulted in the discovery of missing ships such as the RMS Carpathia and many others.
Shortly after the turn of the century, Cussler agreed to work with coauthors so he could release more books. In addition to continuing to tell Pitt tales by collaborating with his son, Dirk Cussler, his other series include "The NUMA Files" (currently with Graham Brown), "The Fargo Adventures" (now with Robin Burcell), "The Oregon Files" (currently with Boyd Morrison), and "The Isaac Bell Adventures" (currently with Jack DuBrul).
Cussler's editor at Putnam, Mark Tavani, said, "Working with Clive Cussler was an honor and a challenge and a thrill. It would be hard to explain how intimidating it was to step into the office of an author so unfathomably successful, a man who is almost a monument, not to mention an adventurer who traveled the globe and pulled sunken ships from the bottom of the sea. But he welcomed me in from the beginning. In the time that I was his editor, I saw in Clive these great contradictions: grandly ambitious but ruthlessly attentive to detail, confident but chivalrous, proud of his accomplishments, but always able to laugh at himself. It takes a big personality to hold all of it, and he had that. It's a familiar phrase, but it's true: the man was one of a kind."
Graham Brown published eight novels in "The NUMA Files" with Cussler during his lifetime. The ninth collaboration, Journey of the Pharaohs, publishes in early March. He commented, "It's been an honor writing with Clive. And a damn good time on top of that. He made it fun. He made it feel like you were on an adventure as much as you were writing one. I'll never forget him taking me to lunch in a 1931 Model A, and somehow, we almost got a speeding ticket. I told him I didn't think the old car could go that fast. He said it couldn't—until he had a mechanic put in a four-barrel carburetor designed for a much larger engine. No one else would do that, but Clive lived the motto of 'Why not?'"
Robin Burcell has published four novels in "The Fargo Adventures" with Cussler. The fifth, Wrath of Poseidon, will be out at the end of May. She said, "I come from a police procedural background. My last book that he read before taking me on was The Kill Order. FBI, spies, cops stuff. So, in Pirate, Sam and Remi are rescuing a kidnap victim. The bad guys come racing out of a nearby warehouse and start shooting at them. Sam, Remi, and their friend go speeding off, barely escaping in time. They did not have any guns to shoot back as they were on a plane. Clive told me that the Fargos would keep guns on their private jet. He rewrote the entire scene so that the bad guys come bursting out the door, and Sam pulls out a gun, shoots the first guy dead, injures the second guy, and then the Fargos make their escape. So, being a retired cop, I tell Clive that Sam can't just shoot a couple of guys running out the door before he even knows if they really are the bad guys or even have guns. Clive looks at me with that sparkle in his eye, the same one in all his photos. It's real. So, I tell him I'll make it work. Now, fast-forward to the next book, The Romanov Ransom. Sam gets in a shootout with the bad guys, taking the first guy out before he can even fire. Clive looks at me and tells me he's proud of me for having Sam shoot him right in the head."
When it came to recommending books to reluctant readers and those seeking page-turning action, Cussler was a go-to. David Wright, Reader Services Librarian for the Seattle Public Library, said, "There's something so ageless about Cussler—and his readers. They're big kids, really. I've known Cussler fans who thrill to Edgar Rice Burroughs, Alexandre Dumas, and Homer. That sense of adventure—of wind in the sails—never gets old."
Cussler will be missed by not only his readers, but his family, friends, and the people who worked with him. Boyd Morrison, co-author of five novels in "The Oregon Files" series, plus a sixth one coming out in late October, said, "Clive's phenomenal storytelling inspired me to become an author myself, so it was a true honor and privilege not only to collaborate on "The Oregon Files" series with him but also to be able to call him my friend."
Burcell said, "Clive had an amazing memory. I'd throw out some idea only to find out, 'no, can 't use that. We did that in' (insert name of a book—often from many years ago). For me, when I sat down to write each day, I would ask myself what Clive would do. He was very proud of his books, but he especially loved his readers, telling me that they were the reason he wrote."
Brown said, "In life and as a writer he had fantastic instincts. There were times we'd be working on a new book and brainstorming and trying to top each other's ideas. Often, when I thought I'd hit a home run, he'd sit back, nod his head, and then he'd say, 'That's good but what if we did this?' And it was usually a better idea than mine. But then that's why he was Clive Cussler. And it's one of the many reasons we loved both the man and his writing. I will miss him dearly. And I'll be endlessly thankful for the chance I had to work with him, to get to know him, and for the honor of being numbered among his friends."
Tavani recalled, "Clive talked plenty of times about how much he hated school because he was always so hungry to see the world. And yet he spent a life spinning tales full of adventure. That boy who hated school became a man who taught millions of people what great fun reading can be. If that's not a librarian's dream, I don't know what is."
Rest in peace, Mr. Cussler. Thank you for making the world, not only the literary one, a better place, and for introducing this shy kid to a world of adventure through reading.