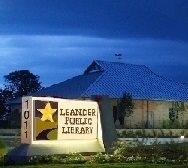 The Leander Public Library (LPL), TX, has drawn criticism for proposed changes to meeting room and speaker policies—instituted not by the library, but by city government of this suburb north of Austin. LPL has been run by private library administrators Library Systems and Services (LS&S) since it was established as a city department in 2005. In the wake of several recent instances of programming deemed "controversial" by city leadership, amendments to library policy have drawn the attention of residents, city council members, and library and civil rights associations.
On July 9, comic book author Lilah Sturges was scheduled to give a talk at LPL as part of the library's weekly graphic novel book club. Sturges, a professional graphic novel writer since 2006, is well known and respected in the industry for her work on the "Lumberjanes" series, as well as Thor, House of Mystery, and, with coauthor Bill Willingham, the Eisner Award–nominated "Jack of Fables" series.
Her talk was booked on May 7, and, other than a confirmation email the day before she was to appear, she received no other correspondence from the library. Sturges had planned to talk about writing and the importance of stories, she told LJ, and discuss her work on "Lumberjanes" "because that's usually what kids want to talk about."
Three hours before her appearance, Sturges received an email from LPL's youth services librarian informing her that the event had been canceled "due to unforeseen circumstances." When she responded to ask for a clarification, Sturges, a transgender woman, was told that it was because she did not have a background check. The Austin-based writer has spoken at schools, bookstores, and libraries across the country, she said, and has never before been asked for a background check—although, had she been informed of the policy ahead of time, she would have submitted to one.
According to Hill Country News, City of Leander spokesperson Michael Neu portrayed the issue as a communication lapse between the city and library programming staff. "As soon as we became aware of it," he said, "we reviewed it the same way we reviewed previous events and said 'this is not something we would have moved forward with had we known about it at the time.'" According to Neu, library speakers must be on list of recommended performers provided by the Central Texas Library System (CTLS).
However, in a July 19 article, Hill Country News stated that several library staff members claimed that "city staff members—including Neu and Parks and Recreation Director Mark Tummons—gave explicit approval for going ahead with the Sturges event, which they had been asked for guidance on." Library staff noted that, during those conversations, it was not mentioned that Sturges was a transgender woman; city officials were only concerned with the number of people attending.
Although the city and library did not comment further, many members of the public have expressed the belief that viewpoint and gender bias were behind the cancellation. Sturges's supporters on social media, as well as Leander residents who had been looking forward to her appearance, were vocal in their disappointment and dismay at the library's previously unannounced oversight policy. The Comic Book Legal Defense Fund reached out to her immediately to schedule a meeting, and the National Coalition Against Censorship (NCAC) sent an open letter to the library and Mayor Troy Hill, pointing out possible First Amendment violations.
Although the library's email to Sturges added that it would like to schedule her again in the future—presumably if she were to be added to the CTLS list or were the requirement waived—she has not decided whether she would appear if asked, although, she said, she would love to do it for the local kids. "I think it's incredibly important that young readers are exposed to all different types of media [and] a diverse range of books, and that they should be exposed to a diverse range of creators and people in general," Sturges told LJ. "That makes us a better and more well-rounded society."
Whatever happens with the library's policy, she added, "I hope that this can raise awareness about the issues that transgender people face, if nothing else."
LGBTQ PROGRAMMING DRAWS FLACK
This was not the first time that the city intervened to stop planned LBGTQ-related library programming. In late May, after a number of complaints about a Drag Queen Story Time event scheduled at the library, the program was canceled—a decision "made collectively among city and library management staff," according to the library's webpage.
At the time, in a post on his Facebook page that has since been taken down, Mayor Hill objected to what he perceived as the controversial nature of the programming. "Our library, which is run by a company contracted by the City, chose to wade into social issues water without approval from City Staff. Since then it has led to the predictable outrage and divisiveness that is the reason to avoid these issues…. I propose we designate areas where we don't wade into politics, social issues, or divisive discussions. Schools, music venues, churches, and yes libraries are a great start."
Open Cathedral, a local LGBTQ-friendly church, stepped in to host the event on June 15 at the library's meeting room instead, renaming it the "Leander Family Pride Festival and Story Time" and inviting parents of LGBTQ families to read. The ticketed event quickly sold out.
As the date neared, threats and rumors of pushback began to roll in on social media. "Pro-family," anti-LGBTQ groups such as MassResistance announced planned protests on their Facebook pages. At least one liberal group, ATX Resistance Action, stated that it would hold a counter-protest. Leander officials called for additional security and closed the rest of the library to the public on the day of the event.
The Family Pride Festival drew the expected 130 attendees and some 275 supporters and protesters, who rallied outside. No violence or arrests were reported, and inside the library the 45-minute event went on as planned, with community members reading books to children.
MEETING ROOM RENTALS CANCELED
In addition to cancelling the original Drag Queen Story Hour, at the end of May the city elected to stop accepting rental requests for meeting space at the library. A notice on the library's webpage stated, "Since June 1…. Meeting rooms have been temporarily withheld from private use while the city conducts a review of library rental policies, procedures and activity programming." The new policy was to be evaluated at a July 18 city council meeting, along with the results of an online survey issued to library users in May. Events that had been previously booked were allowed to proceed as planned.
According to the proposed policy, if an event were deemed to be controversial, the library could refuse to rent the space outright or could require an insurance bond to be paid in advance for security.
It reads, in part, "If the event or use by its activities creates a disruption, becomes a source of contention or divisiveness to the extent that it becomes a safety hazard or is determined by the Library Director for any other reason to create an interference with the use of and access to the main Library building and facilities, such event or use may be cancelled and not be allowed or shall require the event organizers to undertake, coordinate, and pay for all special precautions, including security, police or other emergency services or other forms of protection such as barricades."
Leander City Council member Christine Sederquist, a former youth services library associate at LPL, has been a vocal opponent of the new policy, as well as the requirement that speakers be accredited through CTLS—measures, she says, designed to silence people and organizations whose viewpoints don't align with that of the city.
"This is not necessarily a gay or straight issue," Sederquist told LJ. "It's a freedom of speech issue." The city's policy, she added, is effectively "saying if we can't control the content of your speech, then nobody gets to rent the room."
ASSOCIATIONS SPOTLIGHT FIRST AMENDMENT
A number of civil rights and library organizations agreed, and spoke out.
In a letter addressed to Leander City Council, Deborah Caldwell-Stone, interim director of the American Library Association (ALA) Office for Intellectual Freedom, noted that several provisions in the proposed policy changes "may be of concern due to the potential for incurring legal liability."
Among other points, Caldwell-Stone noted, "Under the First Amendment, public libraries that have opened their meeting rooms to the public may only impose reasonable time, place, and manner restrictions on the use of the meeting rooms. They may not disadvantage or exclude speakers or groups because of a disagreement with their views or the content of their speech. Nor may the library exclude a group from its facilities to avoid controversy or public disapproval."
She also pointed out that, if the library does impose restrictions on meeting room rentals, "those requirements must be applied without exception to all users. Thus provisions that allow the library director to waive certain meeting room requirements at the director's discretion—such as the insurance bond requirement—could be perceived as a means for discriminating against particular groups or events, thereby raising the risk of a legal challenge." An attachment identified court opinions and past lawsuits filed to challenge meeting room policies.
A letter from the Texas Library Association (TLA) addressed similar concerns, noting that CTLS is not an accrediting association and does not conduct criminal background checks, but rather provides a list of performers who have received positive recommendations from member libraries. TLA recommended lifting or modifying the background check requirement. It also noted, "The proposed policy does not specify what standards will be used to determine if the event is to be rescheduled or cancelled, and if additional security will be needed; or include an appeal process. The language in this section [of the proposed policy], particularly— Providing a physical presence or any form of surveillance so as to deter or otherwise discourage something from happening or to provide protection or information if something does happen —is extremely vague. 'Something' might happen at any event, an attendee might have a heart attack, for example. Is this proposed policy consistent with those applied to other city venues where outside organizations host events?"
In its letter sent to Leander officials after Sturges's speaking cancellation, NCAC noted that while the library's temporary event policy, instituted in May, barred external groups from using library meeting rooms without approval by city staff, Sturges's event was scheduled to take place in the library itself and was not organized by an outside group.
The letter read, in part, "Since adopting temporary event policy, Sturges is the only guest speaker to be denied access to the library. Several youth events have been held in meeting rooms without city official review, including a Mad Science children's event during the week Sturges was scheduled to speak. Guest speakers unaffiliated with the library, like REPCO Wildlife, have since been allowed access to library spaces and young patrons without background checks or prior city approval. This capricious application of expanded restrictions strongly suggests a bias against Sturges's gender identity and a gross violation of First Amendment principles."
Brian Klosterboer and Adriana Piñon of the American Civil Liberties Union (ACLU) wrote as well, pointing out potential First Amendment violations: "By creating selective requirements for using library facilities—and giving the Library Director sweeping discretion to cancel events and charge security costs based on controversial speech—the proposed policy changes will likely stifle free expression, severely limit free assembly, and prevent Leander residents from equal access to public facilities."
The letter also pointed out that imposing security costs on presenters "inadvertently provides a mechanism for opposition groups to censor speech by inflicting monetary harm on organizers they dislike…. [I]f someone is angry that a Christian book club is reading the Bible in a library meeting room, then that person could organize a rally to protest the book club while forcing the book club to pay the bill." (According to city documents, security costs for the Family Pride Festival added up to $20,255.)
The new directives, Sederquist believes, did not originate with library leadership or with LS&S, but with city officials—who have never stepped into library affairs before now. "There is no precedent for this," she told LJ. "This has never happened. At the time that I worked at the library we used to joke that we were the red-headed stepchild of the city because the city took zero interest in what we did."
Hill had not responded to requests for comment at press time, but the library's website states, "Neither the Mayor nor members of Council order the city and library staff to perform any action directly." However, the city does periodically review library programs and staff procedures. "Since LS&S is hired by the city," the statement continues, "final direction in the event of disagreement would come from the city." Library Director Priscilla Donovan was unavailable for comment.
NO RESOLUTION AT COUNCIL MEETING
The marathon July 18 City Council meeting, which lasted more than six hours, did not resolve the dispute over policy changes—nor did it provide insight as to where the decision originated.
Parks and Rec Director Tummons presented it as one of capacity, stating, "We were pushing the seams," and proposed reserving meeting rooms for city, government, and library use only going forward. Sederquist noted that conference room revenue had doubled since July 2018, indicating that the community needs the space as well. When several council members appeared to be unaware of the proposed changes, she reiterated her request for more transparency.
"Let's find out, why were the room rentals halted to start with," she said. "It wasn't a council action; it wasn't because there wasn't enough space. Why are we currently not renting out rooms?"
Hill replied, "We ceased the rental of the library [meeting rooms] until we could get some better policies in place…. There is no policy [about them] in city code."
Sederquist had submitted a redlined version of the proposed policy that struck meeting room restrictions, but the mayor and other council members expressed their reluctance to decide the matter. Hill acknowledged, when questioned by Sederquist, that he had consulted with an attorney on the matter previously, but added, "I'm not comfortable making a decision. I've heard it go this way, I've heard it go that way." Council voted 5–1—with Sederquist the dissenting vote—to table the motion. No further action will be taken until the next City Council meeting.
After the meeting, Sederquist told LJ that she felt that "somebody—at least one person, maybe multiple people—is illegally stifling free speech because they didn't like what one group had to say. And nobody wants to come forward and own that." She noted that meeting room policies were last officially changed in February 2018, when they were expanded under the last mayor to allow rentals for political events. "But 16 months later, when it's a different [city administration], then we need to shut down all rentals if we can't control the speech."
At least part of the conflict, Sederquist added, can be traced to rapid demographic shifts in recent years; Leander has expanded from a small town to a booming suburb of Austin and was recently named the fourth fastest growing city in Texas by the U.S. Census Report. The town is "in transition from small-town government to big city," she said. "Most people who live here now did not grow up in Leander."
However, the conflict inherent in the policy changes goes beyond small town/big city disputes, or political divisions, and has implications for libraries in the region and beyond. "I'm a conservative, I'm a Christian, and I'm pro LGBT," said Sederquist. "This is a First Amendment issue. Other libraries in the area are concerned and watching what goes on here, because…it gives power to the people who want to silence anything that they don't agree with." She added, "It's basically banned book week writ large."