Whether you want to spot birds in your own backyard or make dedicated birding treks, these suggestions will help you get started.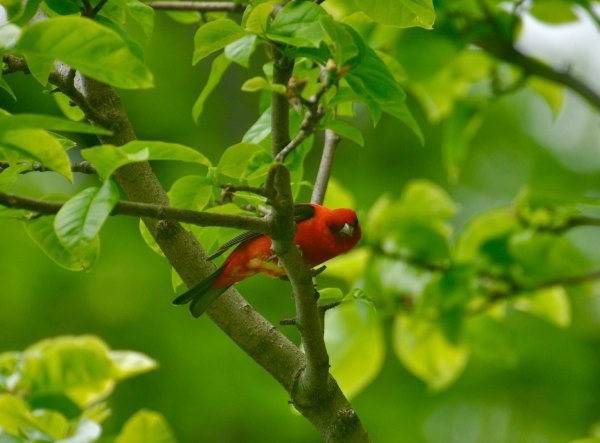 Scarlet tanager
Image courtesy of Mary Bakija
Connecting with nature can be a great escape. One way to engage more with your surroundings is by noticing the birds that may be outside. Birds are some of our most interesting neighbors; learning how to identify them by sight and by sound can be tricky, but also immensely rewarding. Whether you want to start simply in your backyard or make dedicated birding treks, these suggestions will help you get started (some updated to 2022 as we celebrate the wonder of birds this season).
Birding Guidebooks and Websites
Your library likely has a wide selection of introductory books like Sibley's Birding Basics by David Sibley, and birding field guides such as Peterson Field Guide to Birds of North America by Roger Tory Peterson, many of which are also available as ebooks. But there are also great websites. The Audubon Society is a helpful launching point, with tips on where to look for birds, and what characteristics to notice once you start seeing them. All About Birds from the Cornell Lab of Ornithology has an excellent database of bird species, plus tips for beginners. Finally, the National Park Service has site-specific information, so you'll know which birds you might see at any given national park across the United States.
Birding Apps
Whether you're out in nature or just looking out the window, having quick access to info on an app can be a big help when identifying birds. But they can also serve bigger purposes, like keeping track of your "life list," or all the birds you've ever spotted, or helping organizations know the changing migratory patterns of certain species. Merlin relies on citizen-scientists with the eBird project, and you can identify birds based on characteristics, or by uploading a photo. The Audubon Bird Guide is another good option that also utilizes eBird. Both are free.
Binoculars
Being able to see details of a bird can go a long way in identifying them. Since most birds won't let people get very close (and it's best for them if you keep some respectful distance, too), binoculars can be a useful tool. The Audubon Society, the New York Time's Wirecutter, and Popular Mechanics all have detailed information on specific models. Also consider Birdwatching Bliss and OpticsMag. However, you can still identify a lot of birds without them, so don't let that stop you.
Cowbird
Image courtesy of Mary Bakija
Bird Feeder
Much like binoculars, a bird feeder can be a tool in your birdwatching kit. There are a lot of options available for whatever space you might have, from a fire escape to a big backyard, and Wirecutter has an in-depth guide. If you're crafty, you can also make your own. Audubon has a quick and easy project for all ages, and another that is a bit more advanced. Gardeners' World also has a guide, which can be applied to U.S. suppliers. Bob Vila picks winners as well.
Sound ID
There's more than one way to identify a bird. Learning how to distinguish species by sound takes time and patience, but technology can also assist. BirdNET is a free app from Cornell that uses artificial intelligence to train computers to ID different birds—you record a bird song through the app, and it will attempt to name the bird and offer more information. If you want to test your skills, try out birbs.glitch.me, a fun tool that will play sounds of birds that are typical in your location and give you a chance to name them.
Live Bird Cams
Not seeing much bird action in your area? Take a peek at some birds around the world, right through your screen. Audubon and Cornell have several live cameras set up at feeders, nests, and other locations, so you can make a real-time virtual visit and learn more about species that are probably not stopping by your feeder (hello, Osprey!).