These free resources are a treasure trove of information for casual users, researchers, and librarians.
Though Calisphere (from the California Digital Library), a wide-ranging digital collection of images, texts, maps, recordings, and more that draws from 300 of the state's archives, libraries, and museums, may not be new, it did pass a significant milestone last year—the number of offerings available surpassed two million in August 2021.
Climate Change Laws of the World.
Climate Change Litigation Databases
Climate change remains one of the most pressing issues of the day, and these resources will help users make sense of legislation related to the topic. Climate Change Laws of the World, a compilation of laws, policies, and litigation, is produced by the Grantham Research Institute on Climate Change and the Environment. Climate Change Litigation Databases document lawsuits and claims directly related to climate change; it consists of two databases: U.S. Climate Change Litigation, from the law firm Arnold & Porter and the Sabin Center for Climate Change Law at Columbia University, and the Global Climate Change Litigation Database.
Digitizing Local History Sources.
Long Island University's digitization project makes publicly available more than 50,000 images from 40 Long Island historical societies. A wide range of local primary sources—the diary of a 1920s schoolgirl, materials documenting natural disasters such as fires and hurricanes, and pages from newspapers, among much more—are a delight to browse and a reminder of the importance of local history.
Juncture lets users transform text files into dynamic visual essays. Simple and intuitive, this resource from JSTOR Labs will help even novice users create a single essay or an entire website of visual essays.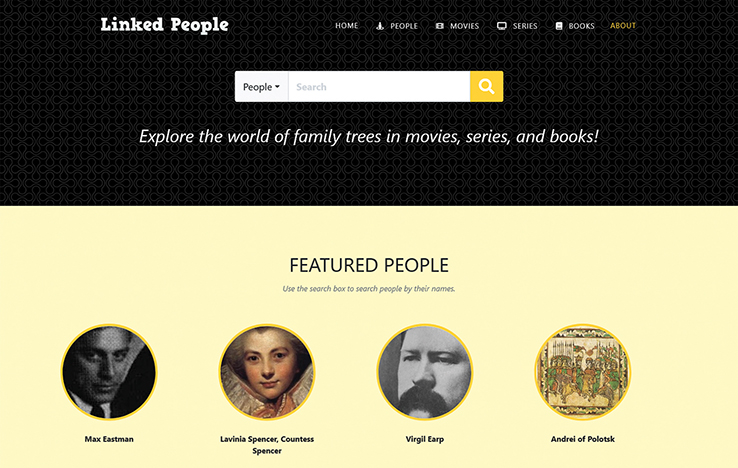 Fans seeking to make sense of the tangled familial relationships in Game of Thrones, The Sopranos, or Wuthering Heights will appreciate this site that draws information and images from Wikidata to build detailed family trees. Not just an entertaining rabbit hole, this is also a testament to the power of Wikidata.
Created by the University of Notre Dame, Marble (Museums, Archives, Rare Books & Libraries Exploration) digitizes paintings, photographs, sculptures, texts, drawings, toys, and other materials from the Snite Museum of Art, Rare Books & Special Collections, and the University Archives. Efficient organization (in addition to keying in search terms, users can browse by type or by date, from pre-1400 to the present) and attractive images make for a top-notch resource.
The Muhammad Ali Center, a Louisville, KY–based museum devoted to the life and career of the famed boxer, digitizes many of its holdings, including audio files of interviews, images, and more. The result is a rich testament to an American athlete and civil rights activist.
With the goal of furthering corporate transparency, this resource compiles data (such as registered address, directors, and jurisdiction) on millions of companies all over the world. Invaluable for anyone conducting business research.
Openly Available Sources Integrated Search (OASIS).
This search tool from SUNY Geneseo's Milne Library makes finding open content simpler. OASIS searches across 114 academic institutions, digital collections, and repositories, with more than 440,000 records, among them books in the public domain, audiobooks, videos, podcasts, and online courses— a wealth of freely available materials.
Part of the UK-based nonprofit Global Change Data Lab, this site leverages data to make complex issues—climate change, poverty, hunger—comprehensible. The site is accurate and reliable, with reports and well-designed charts, and draws on data from specialized institutes, statistical agencies, government sources, and research articles.
This site from the Allen Institute for Artificial Intelligence (which also provides Semantic Scholar) converts scientific papers into HTML to make them more easily read by screen readers. Though it's still a prototype, it continues to improve as more people upload files to be converted.
This search engine from Penn State's College of Information Science and Technology allows users to search more than 1.4 million private policies housed across the web, with the goal of making policies "transparent, discoverable, and searchable." The site offers valuable insight into the nature of privacy policies—something most users consider far too rarely.
Rev.
Though Rev offers transcription, captioning, and subtitling services for a fee, it also provides free transcripts for speeches, rallies, announcements, and other events—such as Amanda Gorman reading "The Hill We Climb," the debate between Georgia senator candidates Kelly Loeffler and Raphael Warnock, and a press conference by the White House COVID-19 Task Force on the Omicron variant. Users seeking to verify quotes or looking for information will find this public service invaluable.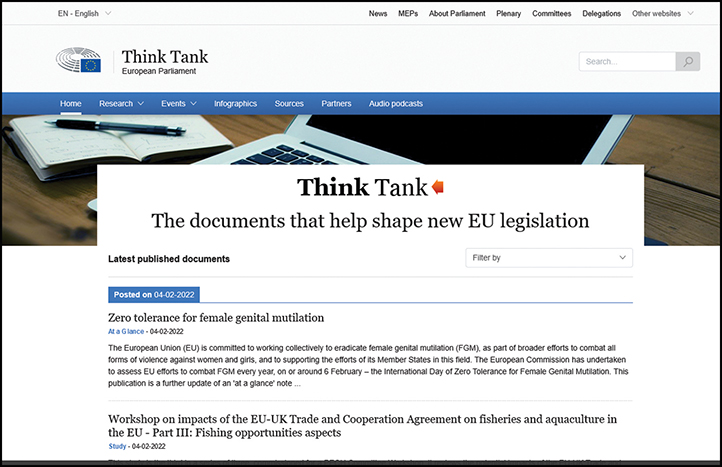 Think Tank European Parliament.
This site from the European Parliament Library gathers documents and reports that impact European Union legislation. Covering topics such as climate change, hunger, and the digital euro, the reports include robust references with links and offer much-needed perspectives from outside the United States.
Transactional Records Access Clearinghouse (TRAC).
Based at Syracuse University, TRAC provides information on the "staffing, spending, and enforcement activities of the federal government." In addition to mining government court filings for statistics on a variety of agencies—the IRS, the ATF, the FBI, etc.—and using that data to write reports, TRAC also offers users the tools to create their own reports.
This database from the Washington Post is the first to list every member of Congress who ever enslaved people. The list is searchable by name, and users can filter by state; the names link to biographies. Most notably, the resource is accompanied by an article explaining the database's creation and the importance of an unvarnished and accurate understanding of history.
Wikistream allows users to watch edits made to Wikipedia in real time. Users can also filter results by country and by namespaces (article, category, file, etc.).
This new digital collection from the Library of Congress compiles materials from the Office of War Information, which formed in 1942 to understand the dissemination of war-related rumors. Made up of two parts—rumors written down by librarians, dentists, beauty shop workers, and others, and rumors, jokes, and rhymes compiled by high school and college instructors—the resource offers insight into the nature of misinformation, a topic still all too relevant.
---
Gary Price aggregates LJ's INFOdocket, and Mahnaz Dar is Reference & Professional Reading Senior Editor, LJ & School Library Journal.
---
READ THE FULL SUITE OF BEST REFERENCE SELECTIONS: