A roundup of excellent subscription databases reviewed by LJ in 2018.
Bloomsbury's Food Library Bloomsbury
bloomsburyfoodlibrary.com
Bloomsbury's Food Library is a comprehensive database of food-related content covering history, sociology, agriculture, anthropology, cultural studies, culinary arts, food studies, nutrition, and sustainability. Clean and modern, the database features easy-to-read documents from Bloomsbury's print collection, along with images from New York's Metropolitan Museum of Art, the Culinary Arts Museum at Johnson & Wales University in Rhode Island, and more. Foodies, scholars, and students of culinary arts now have a high-quality source of contemporary and historical information to aid in the research of their favorite subject. (LJ 8/18) —RT
Financial Ratings Series Weiss Ratings & Grey House greyhouse.weissratings.com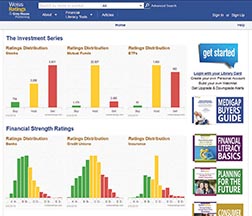 Reliable financial information is hard to find on the web. There's plenty of advice everywhere, especially for those willing to pay for it, but it can be biased and expensive. Subscription databases fill this gap but are often narrowly focused or data-heavy. This resource offers a welcome middle ground, providing solid info, balanced coverage, and a broad scope of easy-to-use financial products. Here, users will discover ratings for stocks, bonds, and mutual funds, as well as banks, credit unions, insurers, and consumer guides on prescription drug plans, health savings accounts, elder care options, debt management, and retirement savings plans. Those new to investing and finance will find this an inviting guide, while more sophisticated users will appreciate the detail and currency.
(LJ 11/1/18)—Brett Rohlwing, Milwaukee P.L.

Global Road Warrior World Trade
globalroadwarrior.com
Global Road Warrior tenders detailed profiles of 175 countries, including history, language spoken, music, holidays and festivals, and more. Information on travel essentials, such as immunization and visa requirements, is especially useful to those planning trips. An attractive and easy-to-use interface adds value.—MD
Political Extremism Gale
Cengage gale.com/c/political-extremism-and-radicalism-in-the-twentieth-century
Gale provides important historical content on extremism and radicalism from the early 1900s to the 2010s. Although the focus is primarily on the United States and the UK, there is also representative material about European and Australian movements and factions. Infamous groups such as the Ku Klux Klan and more peripheral sects, including anti-Catholics, anti-Semites, and new leftists, are well represented. Researchers interested in the nature, evolution, and contemporary state of extreme political thought from a variety of perspectives will be highly satisfied. (LJ 8/18) —RT
United Nations iLibrary United Nations
un-ilibrary.org
The UN iLibrary is the first digital resource created by the United Nations. Developed in partnership with the Organisation for Economic Co-operation and Development (OECD), it affords access to more than 3,500 reports, journals, and books from 33 UN departments and agencies, clearly demonstrating the organization's impact and influence on 20th-century history and beyond in a host of critical areas. The iLibrary occupies an important niche by making the UN's rich resources available in an accessible platform. A treasure for anyone interested in current and world affairs.
(LJ 8/18)—RT
U.S. Declassified Documents Gale Cengage
www.gale.com/c/us-declassified-documents-online
This full-text database includes previously classified documents that have been declassified by the federal government. It covers major international events and offers material in the fields of history, political science, international relations, American studies, U.S. foreign and domestic policy studies, journalism, and more. Users will find cabinet meeting minutes, CIA intelligence studies and reports, correspondence, diary entries, and FBI surveillance and intelligence correspondence and memoranda, among many other materials. The declassification of government documents can be slow and unpredictable, but this offering provides access to available items in a quick and organized manner. As the most comprehensive compilation of declassified documents from the U.S. executive branch, it is an important resource for researchers into American security and policy.
(LJ 4/15/18)—RT