These apps can help keep your body and mind in shape, and do not require equipment other than a mat, a chair, and a little dedication.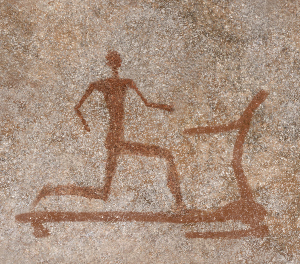 Exercised by Daniel Lieberman
This time last year, could you have imagined that your living room would also be your office, conference room, gym and, well, living room? Even though pandemic-related restrictions are relaxing a bit, leaving home to work out still might feel like something that isn't going to happen soon. But there are apps that can help keep your body and mind in shape. The following do not require equipment other than a mat, a chair, and a little dedication on your part. As with any new fitness regimen, check with your doctor first.
FitOn is free, or you can pay a fee for more in-depth fitness resources. Users fill out a questionnaire, and FitOn suggests targeted workouts. Moreover, the app provides advice on the total health picture of the user with advice on nutrition. It also allows you to set up daily reminders. If you choose the "Outside of the Gym" category, all workouts are equipment-free.
If you're looking for some Zen and really, and are unsure where to start, Yoga for Beginners is the app for you. Available for IOS and Android, it allows you to pick the practice that suits you at the moment, from Energy Booster to Bedtime Yoga and everything in between. Classes range from a mere nine minutes up to 45 for the Immunity Booster. Once you feel you're ready to move on, Lotus will allow you to continue your practice. Specific programs help you achieve your desired results.
Got seven minutes? The New York Times has you covered with two seven-minute workouts: The Scientific 7-Minute Workout and the Advanced 7-Minute Workout. Designed by Gretchen Reynolds, the newspaper's Phys Ed columnist, this app can be installed on a smartphone, tablet or laptop. With guided audio and animated illustrations, the bite-size routines are meant to make the most of your exercise time. If you have physical limitations, the kinder and gentler 7-minute Standing Workout could be a great option.
Many of us have been doing a lot of walking during the pandemic, and Map My Walk is the ultimate companion. This mobile app tracks distance, speed, pace and calorie burn. It also allows you to connect your wearable tracker to view your daily progress. Feel ready to take it to the next level? Map My Run offers the same benefits. If you decide to go with the premium version at $29.99 annually, you can design a personal training program to further your fitness.
Need a fear factor? Zombies, Run!, created by novelist Naomi Alderman (The Power) puts you at the center of an audio drama, allowing you to be the hero of your very own Zombie Apocalypse. While there is a $5.99 monthly charge, the first four missions are free, and you can earn an extra mission every week. The app also allows you to choose a custom playlist for extra incentive, just in case saving humanity isn't motivation enough.
Lastly, if exercise books are more of interest, we highlight several that are available digitally. Patrons wanting to start small might also be interested in Exercised by Daniel Lieberman, for an enjoyable history of getting moving.