This month, the New York Times bestselling author of The Light We Lost will delight her fans with a new novel, More Than Words. This heartbreaking and romantic new novel centers on a woman at a crossroads after the death of her father, and caught between the love of two men.

Jill Santopolo
Photo by © Charles Grantham
This month, the New York Times bestselling author of The Light We Lost will delight her fans with a new novel, More Than Words. This heartbreaking and romantic new novel centers on a woman at a crossroads after the death of her father, and caught between the love of two men.
The editors at Putnam had a chance to chat with the author about falling in love, writing her second novel, and the magic of New York City.

What inspired you to write More Than Words?
As with The Light We Lost, some events in my own life were catalysts for this story. My father passed away in January of 2015, and in the years afterward, I was thinking a lot about that—about what parents leave behind for their children and in their children. It also seemed, at that time, that a lot of people I cared about were fighting cancer, so I was thinking about that as well. And I volunteered for Secretary Clinton's 2016 election campaign, which had me thinking a lot about the reasons people decide to work on political campaigns and run for office. I also was falling in love while I wrote this book, which I think you might be able to tell from the pages (with the man I'll be marrying a few months after More Than Words is published!). My books tend to be the sum total of what I'm thinking about and what I'm feeling while I write them, so all of those things had to be going on in my life at once for this book to turn out the way it did.

This is your second novel. Was your process different than it was for your debut, The Light We Lost? Was anything harder for you? Easier?
The process was a bit different because from the start, I knew I was writing a novel. With The Light We Lost, I'd started by writing vignettes, not sure what they would become. But for More Than Words, I knew from the get-go that I was developing characters, finding a plot, figuring out pacing. That was both easier and harder—easier because I was thinking about the trajectory of the characters and their story right away, but harder because I was trying to shape as I wrote, and that didn't always work the way I wanted it to. Sometimes the characters veered off course, or notes I got early in the process from my editor changed the direction and made me rethink what I'd thought was going to be the plan. I learned a lot while writing this book—both about how I think as a writer and how I want to approach books I write in the future.

Do you see yourself in Nina? Why or why not?
I think there's probably a little bit of me in all the characters I write, but Nina and I are very different people. I think we both do care passionately, though, about the people we love and hope that the things we do add some goodness to the world.

How did you come up with Tim and Rafael? Did these men change as you were writing the story?
Rafael was pretty much Rafael from the get-go. I knew his deal and his backstory and his attraction to Nina from the start. Tim changed a bit as the story shifted and as Nina's character shifted. I built him almost as an extension of Nina—and as a marker of who she was and how much she changes throughout the story.

In the novel, New York City is so alive, it's almost its own character. What is your relationship to the city? Why did you decide to set the story here?
I grew up about fifteen minutes east of Kennedy Airport, but even when I was 6 or 7, I dreamed of living in Manhattan—the buildings, the shows, the stores, the museums, the food, the yellow cabs, I loved it all. I was one of the bridge-and-tunnel kids who came to the city in high school as much as I could, and then chose to attend college in Manhattan after high school graduation. Other than some time in Vermont for my MFA, I've lived in New York City ever since—just under two decades—and it still hasn't lost its magic. In The Light We Lost, I explored one circle of people in New York City, and in More Than Words, I got to explore another. Which is something else I love about the city: there are so many people, so many circles, and so many different worlds here. It's fun to peek into one that isn't mine.

The story deals very honestly with the process of grieving. Why did you want to explore this theme? Did Nina's journey change while you were writing it?
With The Light We Lost, I wrote about the agony and ecstasy of love, and discovered, as I was writing it and talking to people about it, how universal an experience that feels so intimate truly is. With More Than Words, I wanted to do the same thing for grief. When my father died, I spoke to so many friends who had lost parents, who reached out to me and had similar feelings and thoughts about death. It made what felt so personal about losing a beloved father feel more universal.

This story does not shy away from the power and the complications of love—the love of friends, of family, and, of course, romantic love. Why did you want to write about these very different kinds of relationships? Were there certain relationships that were easier for you to write about than others?
I think that the relationships we have with the people who mean the most to us are both the most rewarding and the most complicated relationships we experience, and I'm fascinated by the messiness of them and the conscious decisions we make to love someone in spite of or because of various behaviors. Female friendships are often the easiest for me to write—so I think Nina and Leslie's and Nina and Priscilla's relationships were probably the ones that came the most quickly when I was developing this story. And I felt Nina and Rafe's attraction quite viscerally, so that part of their relationship was easy to write. Tim was a little harder, because I wanted to find the right mix of friendship and romance for what he and Nina experienced.

What do you hope readers will take away from Nina's story?
I hope readers will think about their own relationships with their parents and other people they've loved and lost, and think about the impact that person had on their life. I also hope readers will take away the feeling that they can be whoever they want to be, no matter who their parents were or how they were raised.

Without giving anything away, did you always know how Nina's story would end?
I did, actually. I wasn't exactly sure where in the timeline it would end, but I always knew where she was going.

What's next for you?
I'm working on the first few fragile pages of a new novel right now. I've been thinking a lot recently about motherhood and about sisters and choices women can and do make about their bodies, so I think a lot of that will be woven into this story. I just need to sit down and write it.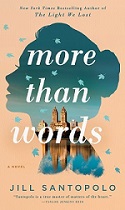 More Than Words is a moving and ultimately redemptive story of love and discovery that will delight readers of Jojo Moyes, David Nicholls, and Emily Giffin—and will give book clubs much to discuss!

Click to Read an Excerpt of More Than Words.
Click for a Book Club Kit for More Than Words.
Click for Book Club Recipe Ideas including Pineapple Sunrise Mimosas and Buttermilk Brunch Pancakes.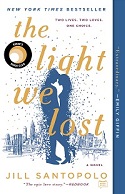 Click to Read an Excerpt of The Light We Lost.
Click for a Discussion Guide for The Light We Lost.
SPONSORED BY