The Tukwila Library, part of the King County Library, WA, is one of six winners of our New Landmark Libraries for 2019. Perkins & Will designed the branch to celebrate and support the diverse community, which was so engaged in the planning that it raised money to expand the building's footprint to 10,000 square feet. The building is the first phase of the town's mixed-use urban renewal project. Locally sourced materials, a negative-carbon footprint roof, and geothermal heating are used in the design, recognized by Sustainable Seattle.
"We were inspired by the city of Tukwila's rich cultural diversity, and set out to create a welcoming space that both services and celebrates it," said Ryan Bussard, design principal with Perkins+Will. Tukwila residents consider their town a global "gateway city," and wanted their library, part of the King County Library System (KCLS) in the Seattle region, to celebrate and support the diverse community as the city's "living room."
During a series of community design meetings with members of the Duwamish Tribe, Tukwila School District, and the Refugee Women's Alliance, and business owners and residents, it was clear that the community wanted more from their library than planned. Funding from the Capital Bond Building Program covered the costs of an 8,000 square foot new building; with the KCLS Foundation, locals raised $1 million to expand it to 10,000 square feet.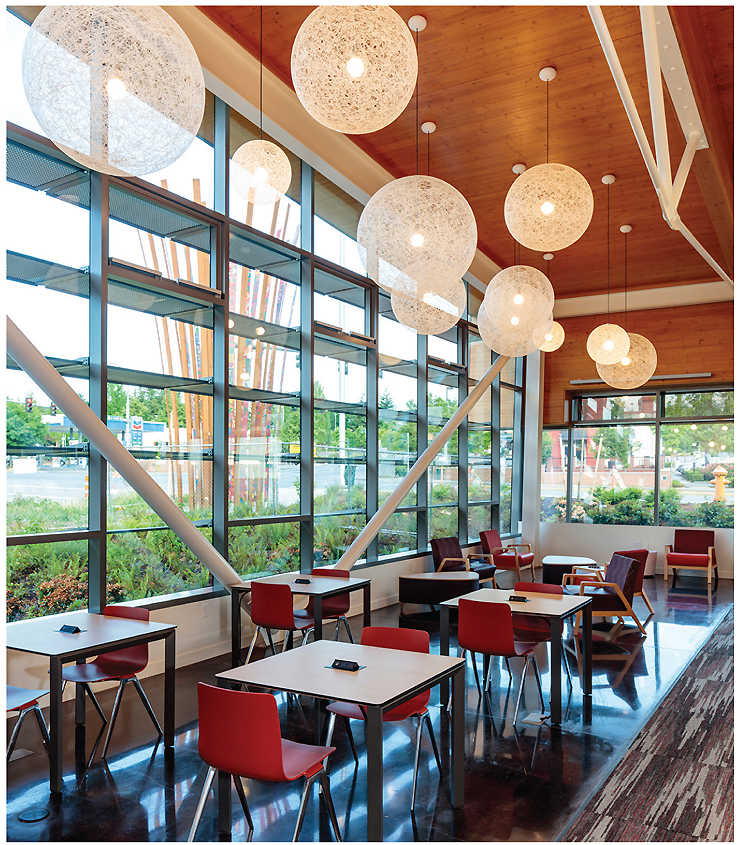 LOCAL CHARACTER

King County's Tukwila Library incorporated community input, materials, and art; locally sourced furniture enlivens flexible spaces (top). Photo ©Patrick Bennett
Local materials including charcoal terra cotta and zinc cladding make up the exterior, beside a row of hazelnut trees. Aluminum sun shades frame red-and purple-tone glass that reflect the "mosaic" experience that patrons will experience from the library's diverse programming and offerings. Even the hazelnut trees are symbolic: "Hazelnut" means "Tukwila" in Duwamish. Community input led to programming partnerships, unique design elements, and artwork. "Multiplicity," a tall steel-blade sculpture outside the library showcases designs created by community members in partnership with local artist John Fleming.
The library building serves as an anchor and the first phase of an urban renewal project for the Tukwila Village. The Village, a mixed-use development, comprises a community center, public plaza, farmer's market, police resource center, and senior housing. Students can come to the library for homework help. Making up one of the most diverse student populations in the country, high school students nearby speak more than 80 languages at home.
Abstract maps of the world and northwest Washington, a design generated through community input, flank each end of the community room. Glass doors allow "resonant" programs to take place, but also connect, when open, to the children's, teen's, and computer areas. All of the furniture, made from locally sourced and durable materials, can be moved. In standard configurations, aisles are wide and wheelchair accessible. The furniture can play multiple roles. Tabletops can be flipped up and used as screens for movie viewing or presentations. Patrons can use laptops, projectors, and headsets for audio, enabling the same space to host multiple activities.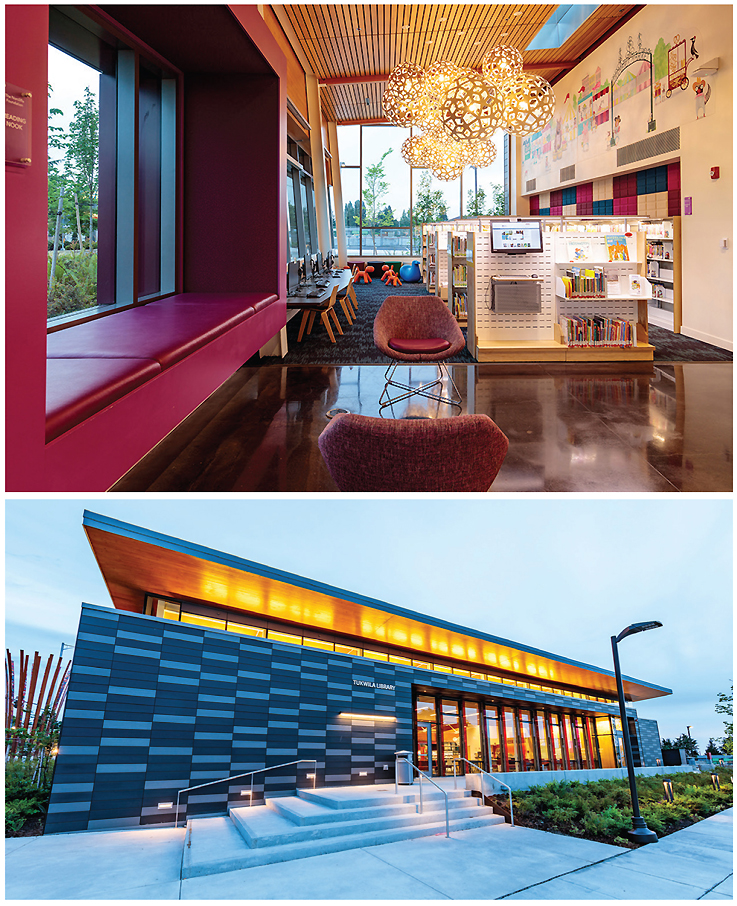 DESIGNED WITH SPIRIT

The children's area brings in natural light and colorful artwork (top), and regional exterior elements embody the library's "mosaic" spirit (bottom). Photos ©Patrick Bennett
The building is made of mass timber, including a cross-laminated timber roof deck and glue-laminated timber beams. This relatively new engineered wood product has environmental benefits, including a negative carbon footprint. LED lighting systems work alongside high-performance glazed windows and skylights. Natural ventilation and a geothermal radiant heating slab offer environmental comfort. A carbon-negative green roof, with native vegetation, recycles 60 percent of stormwater runoff. The sustainable design was recognized by regional conservation organization Sustainable Seattle.
"Perkins+Will created a beautiful, spacious design reflecting Tukwila's diverse culture and community—and we're thrilled to now serve as a welcoming destination and community space for access to the world of information and ideas," said KCLS Interim Director Stephen Smith.
---
VITALS
ARCHITECT

Perkins & Will
---
CATEGORY New build
---
COST $8,900,000
---
SIZE 10,000 square feet
---
DATE COMPLETED 2017
AWARDS Finalist for the 2018 Sustainability Leadership Award (Sustainable Seattle), Best of Tukwila Award 2017, city of Tukwila