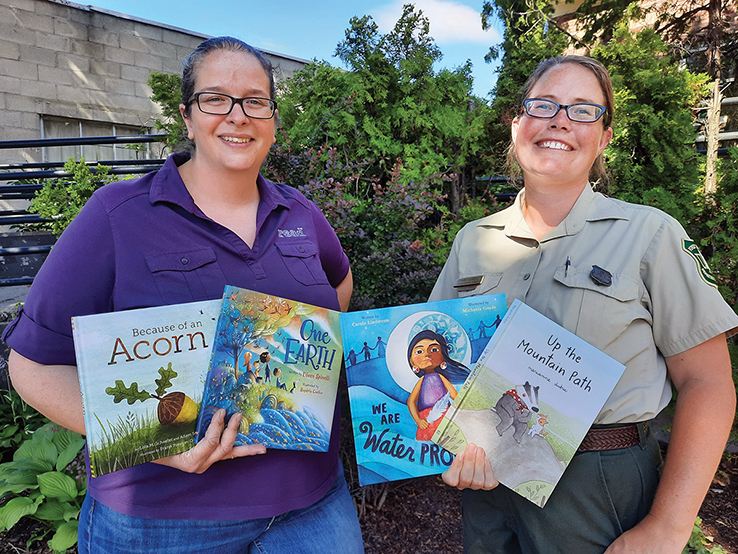 Libraries of Stevens County (LOSC), WA, was honored to create a community program called Trail Tales in partnership with two other rural library districts in Northeast Washington. LOSC, North Central Washington Libraries, and Pend Oreille County Library District joined with the Colville National Forest (CNF) and Upper Columbia Children's Forest to create a reading experience to be enjoyed in the great outdoors.
When the COVID-19 pandemic hit, many libraries focused on creating primarily virtual programming. LOSC put much effort in that direction, but in the process, it became evident that we had many patrons in our rural, economically challenged communities who were not able to connect with us virtually due to lack of technological devices and necessary internet service. In addition, many patrons in our service area have minimal or no digital literacy skills.
Starr Farrell, public affairs specialist for CNF (pictured, right, with the author), proposed the idea of a partnership to LOSC, which we eagerly accepted. We decided to reach out to neighboring library districts to form a partnership. Trail Tales thoughtfully displays the pages of a book along specifically selected hiking trails so that hikers can enjoy reading a story while they walk in the outdoors.
We have Trail Tales in four ranger districts of the Colville National Forest (Tonasket, Republic, Three Rivers and Newport-Sullivan). This passive program runs from Memorial Day through Labor Day. Books rotate every month, so each title will be on display in all four ranger districts during summer months. Trail Tales is also a perfect complement to this year's Summer Adventures programming for all library districts involved!
MATERIALS NEEDED FOR EACH TRAIL/BOOK
(Total cost is around $160 + tax for each trail)
200 pairs of waterproof Velcro dots ($11.99 + tax)
Three picture books (two for front and back of each page, one for spare parts) around 40 pages each. ($20/ each = $60 + tax)
20 12' x 18" vertically corrugated yard signs & metal H stands ($71.96 + tax)
80-100 lamination pages ($15.99 + tax)
SELECTION
Each book was chosen for its focus on nature. LOSC selected We Are Water Protectors by Carole Lindstrom for its cultural relevance and inclusion of the cultures and waters that shape where we live.
Hiking trails were selected by CNF, with at least one trail located in each participating library district. Criteria for choosing trail sites included being family friendly, popular with users, and easily accessible to surrounding communities. Our goal was to create a way for first-time visitors to feel welcome. Each library district picked out and purchased their desired book, waterproof Velcro dots, and plastic corrugated yard signs for the initial creation of Trail Tales. CNF purchased the third book for each trail to replace parts as needed, as well as laminating materials and extra Velcro dots.
CREATION
The four Trail Tales took 21 staff hours to set up, not including ongoing maintenance and rotation. To make switching the books between trails as seamless as possible, a template was created that placed the Velcro consistently on each page and yard sign. Using the template, two copies of We Are Water Protectors were laminated and attached to our signs with Velcro dots. This took approximately three hours. For the other three chosen titles, CNF and LOSC worked together to laminate the book pages, put the stories in order, and ready them for the trail. This part of the project took 10 staff hours. CNF is responsible for rotating the four books in the established cycle between the four trails.
PROMOTION
We also had to get the word out. CNF created a map with the four trails and GPS coordinates, followed by a press release. CNF and the partnering libraries have ongoing posts about Trail Tales on their social media platforms. Campground hosts and CNF employees encourage visitors to enjoy Trail Tales. One member from each partner group filmed footage to create a promotional video. LOSC compiled and edited the footage, which added eight hours of staff time.
LOSC created a landing page for Trail Tales on our website that includes the promotional video, trail information, map, logos, and links for our partners. We also designed simple flyers and added the program to our in-library slideshows. Information on Trail Tales was incorporated into other elements of LOSC's 2021 Summer Adventures programming as well, and featured in our newsletter, mailed to all Stevens County residents.
IMPACT
Trail Tales is an ongoing program and still being assessed. Initial quantitative measurements include the number of views for the promotional video, which shows a combined total of 797 views. Anecdotal reviews of Trail Tales have been positive and plentiful.
Our plan for 2022 is to add four more books and four additional trails, with a two-week rotation of stories. We would also like to consider improvements focused on equity, such as an ADA accessible trail and the incorporation of bilingual books.
---
Lisa Vos has worked in the Libraries of Stevens County since January of 2013, and now serves as Community Librarian for Colville Public Library, WA. She is the sister of LJ Group Publisher Rebecca Miller.