Smith College and Kansas State reopen libraries after extensive renovations and Brooklyn, East Asheville, and the Carnegie Library of Pittsburg unveil substantial remodels.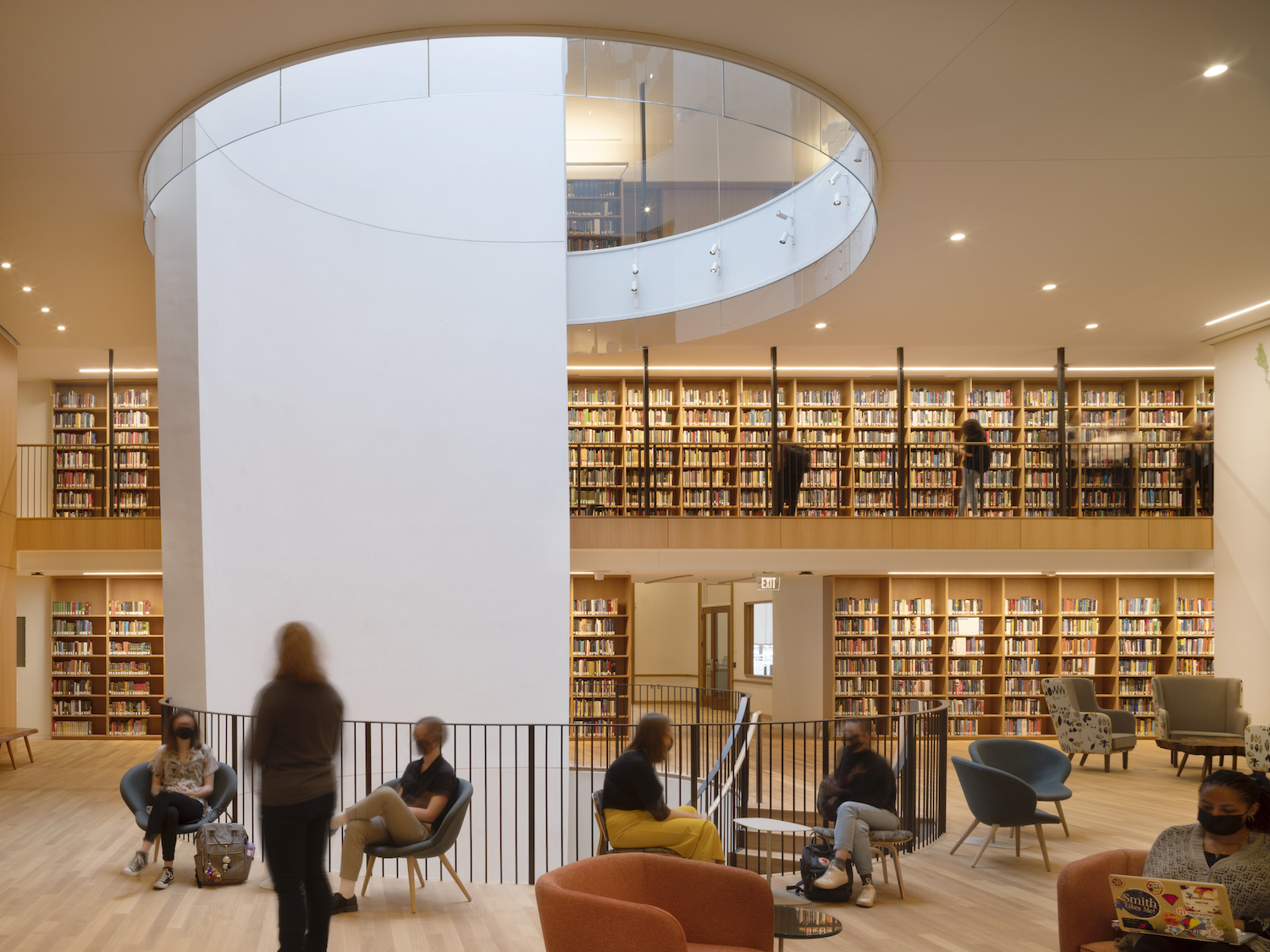 Neilson Library interior, Smith College
Photo by Nic Lehoux
The Neilson Library at Smith College, Northampton, MA, reopened to students and faculty on March 29 after an extensive renovation by architect Maya Lin in partnership with colleague William Bialosky and the firm of Shepley Bulfinch. Begun in 2018, the $120 million overhaul gutted the existing structure, replacing 1962 and 1982 additions with two new "jewel box" wings flanking the building for a total area of 153,865 gross square feet. With an emphasis on natural light, the new five-story interior is illuminated by a large oculus skylight. The central core is flanked by reading rooms, classrooms, and flexible learning areas. In addition, it houses the Jill Ker Conway Innovation and Entrepreneurship Center, named for Smith's first woman president, and the Neilson Browsing Room, which has been restored and updated. On the top floor, a Skyline Reading Room borders a new roof terrace. The new north wing features a digital media hub, study spaces, café, and sunken courtyard; the south wing holds the school's special collections. The new Neilson is designed to use 50 percent less energy than a typical library, contributing significantly to the college's goal of reaching carbon neutrality by 2030.
Nearly three years after the Hale Library at Kansas State University (KSU), Manhattan, suffered extensive smoke and water damage in a roof fire, the library celebrated a virtual grand reopening in mid-April. Some 85 percent of the building required renovation and repair; the KSU Foundation's Help for Hale initiative raised more than $330,000, with private donations totaling more than $6 million. Improvements include a new first floor entrance, new collaborative spaces, the restoration of the Great Room and extensive repair to the library's iconic murals, technology upgrades, a café, meditation space, a children's area, and a location for multicultural and community studies. The renovated first floor opened to students and faculty on January 25 and the remaining floors on February 15.
On May 10 the Brooklyn Public Library, NY, reopened its Central Library, unveiling the first phase of its $38 million remodel—the largest in the library's 80-year history. Designed by architect Toshiko Mori, the renovation of the Art Deco building includes a civic commons for community engagement such as city ID and passport services; a "new and noteworthy" book gallery with 2,000 titles curated by librarians, a custom-designed metal ceiling sculpture, and large windows overlooking Grand Army Plaza; and an enlarged and modernized business and career center with custom-designed wood counter seating, four private meeting rooms, seven conversation nooks, a coworking area with laptops for loan, and two large seminar rooms. This phase, which began construction in April 2018, is part of a larger five-year renovation funded by private donors and city and state officials, including Mayor Bill de Blasio, Brooklyn Borough President Eric Adams, the New York State Assembly, and the state Department of Education.
The East Asheville Library, NC, opened its doors again on May 1, welcoming back patrons to a revamped library with more than five times the space of the original 1965 building. The nearly $7 million, 13,906 square foot renovation includes rooms for study and small group meetings, a large community room, a dedicated space for art programming, a children's activity room, an updated community playground and basketball court, and a 1,402-square foot community room that can be divided into two areas, both equipped with projectors. The library is also Buncombe County's first LEED (Leadership in Energy and Environmental Design) certified building.
Just in time for the system's 125th anniversary, the Carnegie Library of Pittsburgh has reopened for limited in-person service after a $5.3 million renovation to its Downtown branch, designed by local architect Karen Loysen of AIA Loysen + Kreuthmeier Architects. Improvements to the 21,400 square foot building include a 68 percent increase in accessible areas, new dedicated children's space, TeenSpace, and adult areas with workspaces, partner engagement spaces, and a meeting room. The first floor features an open two-story foyer and seating area. Funding from foundations, individuals, corporations, and the Commonwealth of Pennsylvania through the Redevelopment Assistance Capital Program (RACP) supported the overall construction budget.