Eight years on, readers' advisory research shows that the service has grown in popularity and importance, but librarians need more time to read widely and practice skills.
Born out of the minds of librarians, readers' advisory (RA) service has become ubiquitous, growing from the service desk to the concern of mainstream media. Just browse through Entertainment Weekly, turn on Netflix, scroll through Instagram, or watch YouTube.
Data on RA (who provides it, how many patrons engage with it, how RA is offered, how RA is developing) does not match its ubiquity, however. In 2013, in an effort to provide actionable statistics, LJ partnered with NoveList and the RUSA/CODES Readers' Advisory Research and Trends Committee to survey the state of RA service (see the results at bit.ly/LJRA2013survey). This year, adding ARRT (the Adult Reading Roundtable) and LibraryReads to that group, we survey the field once more to see how far it has come, identify its current practice methods, and highlight what is needed for it to develop, grow stronger, and serve patrons even better. Download the topline results from LJ's 2021 survey on readers' advisory services in U.S. public libraries.
The 2021 survey proves that RA has become an embedded and expected service in libraries. Ninety-two percent of respondents state that RA is either very important (60 percent) or important (32 percent) in their work. This is up eight points from the 2013 survey. It is an offering that libraries promote to readers, as well as one that readers demand. It is a growing part of librarianship too, with more staff involved and more ILS education offered.

MORE COMPLICATED THAN "IF YOU LIKE A TRY B"
For all the positive news surfaced through the survey, RA librarians are also under stress and lack sufficient support to do their jobs well. The biggest challenges they reported are working with genres or authors that advisors do not personally read, not having enough time to give thoughtful suggestions, and keeping up with new titles. (These challenges were ranked first by 43.8, 18, and 17.6 percent of respondents, respectively.) These numbers are higher than our findings in 2013, indicating that these are ongoing and increasing issues at the heart of RA.
When librarians were asked, "What do you think would increase your confidence in providing RA?" some common concerns emerged. Lack of practice and experience conducting RA is clearly an issue faced by many librarians, echoing Christine Bellessis, Pendleton Community Public Library, IN, who writes about the need for more experience: "I've watched webinars and have a love for this question. We just don't get a lot of RA experience, unfortunately. When it does happen, it's a thrill to an avid reader!" This question is new since the 2013 survey, so we cannot track the trendline, but there has been a longstanding lack of opportunity to practice RA and gain needed experience and expertise, which was one of the driving reasons for the creation of form-based RA. Even as readers have grown accustomed to algorithmic recommendations and have access to multiple reading lists, it can still be difficult to make patrons aware of RA services to the point they routinely engage with advisors.
Another concern as RA becomes the job of all librarians is the need to work across age groups. Many librarians reported that they do not feel comfortable doing so. This is a critical friction point, and Elena Gleason, Hillsboro Public Library, OR, underscores the importance of knowing age groups well, in order to provide great service: "How kids choose books and talk about books seems very different from adults, and I sometimes have a hard time translating my adult techniques to work well for kids."

TIME, TRAINING, AND GUIDES
Some replies to the question "What do you think would increase your confidence in providing RA?" overlapped with answers to "What would make it easier for you and your coworkers to provide RA services?"; together, they highlight that librarians need more time to do RA work, more training to do it well, and more resources to support its provision. Advisors reported that they wanted more time to read, particularly in genres that they do not usually read on their own time. Answers also highlighted a need to become more familiar with the collection and keep up with current releases.
Librarians also want more resources and information, specifically ready-made booklists addressing series that are always checked out and a range of popular subjects. They also desire more read-alike lists and more time to discover title pairings and create these guides in-house. Some say that their other job duties crowd out RA-specific ones.
Other common threads were the need for larger material budgets to craft collections rich with backlist titles, series books, and titles in demand, and a desire for more display space and the ability to crowdsource RA knowledge across libraries. Those without form-based RA would like to start it, and many would like dedicated ways to promote RA to readers and to make its value clear to administration.
REACHING ALL READERS: SHARING ALL BOOKS
Respondents also report the necessity for multilingual RA resources, highlighting a void in RA tools. Other needs include improved discovery systems, especially those designed for better tagging in the catalogue, and meaningful indications of which titles accurately present underrepresented voices. This is a challenge for the entire publishing ecosystem; collecting author data, which would help elevate voices too often diminished, depends on an author's ability to safely provide demographic information without fear of career or personal harm. It also further exacerbates the burden on LGBTQIA+ and disabled authors. Finding titles by authors who are Black, Indigenous, or people of color (BIPOC) is also not straightforward. We are not yet close to a systematic solution to this challenge, which creates a void in service ability. Jade Valenzuela, La Quinta Public Library, CA, underscores the clear cost of not having enough data to do RA work fully and well, writing that advisors need "lists that feature read-alike authors of color for typical NYT best-seller authors."
As it stands now, RA is not meeting the needs of patrons from marginalized groups who seek representation of stories like their own, nor those of patrons from any background who want to read about a diverse range of experiences. Librarians are individually making change, however. Katy Jacob, Evanston Public Library, IL, has been running a "yearlong reading challenge…. We have suggested [lists of titles] for every month. That list is 100 percent books by authors from marginalized groups (LGBTQIA+, disabled, BIPOC, etc.)." Jacob's program ensures that titles by underrepresented voices are shared and featured in displays throughout the year.
Last year, Kristin Friberg, Princeton Public Library, NJ, created Reading Through Diverse Lenses, an initiative that was part of the library's staff RA training. Friberg took categories from LJ articles on diversity audits and from NoveList's categorizations, and staff were invited to read a book from each category. "The idea is for participants to read one title from each category. We meet bimonthly, and each person presents their book and addresses questions specifically pertaining [to] the lens through which the story is told. It's part of an effort to expand our staff's reading and suggestions beyond books from the white gaze and amplify a diversity of voices. We are making progress in terms of our own reading and what books we suggest our community members read." The library staff have a variety of lived experiences which contextualize the conversation, and Friberg tells LJ that in the ensuing discussion, "we learn more about each other, and how we see the world. I hope it's a small step to help create a safe space for us all to grow, and learn from one another."
ASSESSMENT: BETTER, BUT NOT ENOUGH
In 2013 libraries identified assessment as an issue; as of 2021, there has been marked improvement, but the data gathered is clearly not providing the information advisors need. When asked, "What, if any, RA measures do you wish your library tracked?" many still replied with some version of "anything." More specifically, advisors wish their libraries tracked the circulation of promoted books, especially those on display. Respondents also need a method to keep track of feedback from patrons and type of request, as Robin Bradford, Pierce County Library System, WA, sums up: "I wish the library tracked requests by author/genre, read-alikes offered, repeat requests, and feedback." Katie Killian, Fond du Lac Public Library, WI, highlights the need to gather "in-person/walk-up RA requests," while Sonia Reppe, Stickney-Forest View Public Library District, IL, points out the need to "track RA requests separately from reference transactions."
Data is needed from patrons too. Molly Bitters, Eisenhower Public Library, IL, states that better feedback would help instill confidence in RA work: "You so often send patrons off with material and rarely hear back from them what they thought of the items, positive or negative." Failing to generate robust statistics, and keep them distinct from informational requests, leaves advisors without strong data to support RA services and shape them to reader needs. It also, as one librarian pointed out, makes RA service feel undervalued.
ASK ABOUT MOOD
When asked, "What's typically the most useful question you ask a patron when conducting one-to-one RA?" most advisors answered with a range of queries designed to elicit appeal-based information; mood was by far the most specific appeal term used to open a conversation. Christopher Platt, Mono County Library System, CA, engages readers by asking, "What mood are you in? How do you want to spend some time in the next week?" Kaitlin Matesich, Benzie Shores District Library, MI, explains, "This is an open-ended question that usually prompts a lot of information and gives a lot of context for what the patron is looking for…. I have found it works wonders with the patron who comes in saying, 'Just give me something good.'"
Advisors say it is also important to ask directly about the appeal element of character. Cynthia Delanty, Molokai Public Library, HI, suggests, "To establish [a] starting point, ask what author they have read and how important the characters were to them."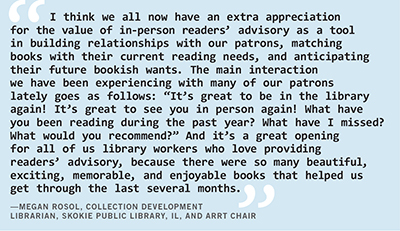 Advisors also find that asking about genre preferences works as an opener. Marya Kurwa, Richmond Public Library, CA, asks, "What genre do you like? What did you read last?" while a large number of librarians simply ask, "What type of genre do you prefer?"
The standard RA guidance, to ask about the latest books a reader enjoyed, continues to prove its effectiveness. Leslie Pearson, Estacada Library, OR, models a type of question that many advisors ask: "Tell me about the last book you read that you really liked, and what did you specifically like about it? I use this to see if they read for character development, plot, setting, or language." Advisors are also asking about books readers did not enjoy. "Tell me about a book you didn't like and why" is how Lynnette Hopwood, Fountaindale Public Library District, IL, starts with readers.
Likely influenced by form-based RA, many advisors ask questions similar to the one suggested by Autumn Hausman, Siouxland Libraries, SD: "What are the last three books you read and enjoyed?" Growing out of Whole Collection RA, advisors are also using multimedia to initiate conversations with patrons, acknowledging that film and TV often help readers identify what makes a work enjoyable. A model question might be, "What have you read/watched/listened to recently that you've really enjoyed?"
Some unique questions advisors might wish to consider include "What books have you read that you wish you could read again for the first time?" asked by April Lammers, Huntington Beach Library, CA, and "Tell me about the last book you couldn't put down," which is the opening salvo used by Wendy Bartlett, Cuyahoga County Public Library, OH. Sarah Palfrey, Morgantown Public Library System, WV, asks, "What's something you thought you would like but couldn't get into?"
Some librarians are asking about hobbies and other interests. Darcus Smith, Edmond Public Library, OK, opens the RA conversation with "What are your interests?" Melissa Sprenne, Richland Library, SC, asks, "What are some of your interests outside of reading?" Patricia Smith, Robert W. Rowe Public Library District, IL, frames this approach with "What type of genre do you enjoy? What are your hobbies?"
IDEAS THAT WORK
For all the changes the past year has brought, several key RA offerings continue to be mainstays; they've proven their effectiveness and even become more essential as libraries closed their doors. When librarians were asked to detail "an outstanding readers' advisory idea or program that worked for your library," some of the most frequently cited responses included form-based RA, which has clearly become a vital engine of RA engagement. Displays, whether multiformat and themed or single titles on shelf easels in the stacks, are another RA standard that proves how much readers want guidance as they browse and how much easier it is to encounter and consider a smaller, selected collection than the vast expanse of the stacks. Booklists, based on genre, themes, and staff picks, also remain constants.
What is new, or newish, are book bundles. While the idea of bundling books to be checked out as a group predates 2020, the pandemic changed the way advisors built them, marketed them, and provided access. Book bundles are one of the most cited and most popular ways RA is currently being offered. Advisors build bundles based on genre, subject, theme, material type, reading age, or even specific requests. Andrea Georgic, Northland Public Library, PA, says, "We have had a ton of interest from patrons. We use a form that asks for an amount [of books] (3–5, 7–10, etc.) and favorite genres, material types, and recent reads. The traffic to that part of our website increased, and the children's and adults' pages are number six and number eight, respectively, in the top 10 pages visited on our site. We've gotten a lot of positive feedback from patrons, and repeat requests." Barry Trott, Williamsburg Regional Library, VA, reports, "During the pandemic we started a program called teen book boxes, where teens can fill out a form and get two books a month, plus a bag and treats, for a three-month period. It has been very popular."
Book bundles, like form-based RA, give advisors the opportunity to practice RA in ways that build confidence; librarians can take more time thinking about and responding to an RA request with a book bundle, versus during an on-demand request at the desk. Bundles also prove that, even as material budgets have been diverted to digital materials, readers continue to want physical books in their hands. And it is not just drive-through, curbside, or grab-and-go service that are in demand. Sharon Coronado, County of San Luis Obispo Public Libraries, CA, reports that the idea even works via mail: "Our library by mail program that serves seniors 60-plus is a very popular RA service according to surveys returned, showing happiness and enjoyment for selections."
VIRTUAL RA
Even though social media is not the most common means of offering RA service, many libraries found it useful during the shutdown. Book clubs, virtual author events, unboxing videos, book talks, shelf tours, and virtual desk hours were frequently mentioned program offerings. Keiko Satomi, Cloquet Public Library, MN, says, "I created interactive virtual bookshelves to promote new children's books and posted them on social media. Each time patrons click on a cover of a book, it will navigate them to a catalogue page where they can read more information about the title and make requests if they choose to." Lorri Steinbacher, Ridgewood Public Library, NJ, notes, "Since we could not have people in to browse, we brought the shelves to them. On Tuesdays, two of our librarians walked patrons through the new shelf, highlighting their favorites of the week and then panning [the] camera over other titles available." Janice Sharp, Valley Center Public Library, KS, opens boxes of new books "via Facebook Live, [highlighting] all authors and book titles. We emphasize that all books are available for reserves during processing. Patrons can respond immediately if they want any titles. We do this about every two weeks." Corey Farrenkopf, Sturgis Library, MA, writes, "I host Zoom panels with four writers from specific genres and ask them questions about reading and writing in and around their genre. It attracts both readers and writers and is a lot of fun!"
The pandemic certainly changed how RA is offered, but it also illuminated ways readers want to partake. It turns out that the multiple costs of physical attendance, ranging from having to be fully engaged in person to finding and paying for parking to arranging childcare, were too high for many readers even before shutdown. Librarians gained participants when RA became virtual. As Becca Boland, Skokie Public Library, IL, puts it, "We have been doing Instagram Live as part of our monthly virtual book discussions—people really seem to like having an opportunity to listen to staff talk about books without the pressure of having to participate [or] read the book."
LOOKING AHEAD
The past eight years have proven critical for RA service, seeing it expand in two needed directions, with more experts on staff and with all staff involved in its provision, embedding RA in all library work. This evolution in approach matches the demand in readers' desire for more focused attention on the process of deciding what they read next. The 2021 survey brings positive news on many fronts. The need for more support to ensure that RA is consistently inclusive is clear, but so too are numbers that show the service is now a mainstay in the field. And, based on the feedback from advisors, there is real enthusiasm and pleasure in working with readers.