Expressly designed for librarians, LJ's Day of Dialog again takes place on May 29 at John Jay College in New York.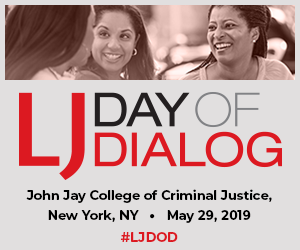 Expressly designed for librarians, LJ's Day of Dialog again takes place on May 29 at John Jay College in New York.
In "Thriller Quest," topnotch thriller writers Chris Pavone and Karin Slaughter will discuss their genre with an assist from folks like New York Times best-selling Riley Sager and Edgar nominee Catherine Ryan Howard, while major award winners Kalisha Buckhanon and Helen Phillips survey their leap into the genre.
In "Fiction Makes History," literary fiction gets a historical twist from hugely popular Dovekeepers author Alice Hoffman, Flaherty-Dunnan First Novel Prize winner and IMPAC short-listed Karl Marlantes, and Orange Prize winner and National Book Award finalist Téa Obreht, all New York Times best-selling authors, and Maaza Mengiste, a Flaherty-Dunnan First Novel Prize finalist whose debut received considerable best book attention.
Authors featured in "Top Fiction Debuts" ranged from the LJ-starred SF newcomer Cadwell Turnbull and quirky, anthropomorphizing fantasist Kira Jane Buxton to Andrea Bobotis, with a South Carolina–set James Jones First Novel Fellowship runner-up, and E.R. Ramzipoor, whose World War II–set novel is based on real events.
"Community Reads," stories of personal and familial relationships, range from newcomer Gabriel Bump to MacArthur Fellow Ben Lerner and include LibraryReads Favorite of Favorites J. Ryan Stradal and PEN American Robert W. Bingham Award winner Rion Amilcar Scott.
Book titles reveal the range presented in "Women Have Their Say," which includes Nefertiti Austin's Motherhood So White, Adrienne Brodeur's Wild Game: My Mother, Her Lover, and Me, Jaquira Díaz's Ordinary Girls, and Aarti Namdev Shahani's Here We Are: American Dreams, American Nightmares. Sarah M. Broom's The Yellow House chronicles her family through their house in New Orleans.
"In the News" includes MoveOn Chief Public Affairs Officer Karine Jean-Pierre's Moving Forward: A Story of Hope, Hard Work, and the Promise of America, award-winning novelist Dina Nayeri's The Ungrateful Refugee: What Immigrants Never Tell You, New York Times chief television critic James Poniewozik's Audience of One: Donald Trump, Television, and the Fracturing of America, and National Magazine Award winner Matt Taibbi's Hate Inc.: Why Today's Media Makes Us Despise One Another.
As always, the event will open with the popular Editors' Picks panel, with panelists including VP and executive editors Kathryn Belden (Scribner) and Jordan Pavlin (Knopf), Senior VP and publisher Ben Sevier (Grand Central Publishing), editorial director Tracy Sherrod (Amistad), and executive editor Lauren Wein (Houghton Mifflin Harcourt). VP and publisher Pamela Dorman (Pamela Dorman Books: Viking) joins Day of Dialog for a second time and Dan Zitt, a major force behind Penguin Random House Audio, for the third time.
The day closes with our first Graphic Novels panel, featuring GN movers-and-shakers Kim Deitch and Gary Groth from Fantagraphics Books and DC Comics powers Kelly Sue DeConnick and Sean Murphy for a discussion not just of individual titles but of the history, future, and wide range of this format. LJ's graphic novels columnist Tom Batten gives the panel a library spin. For more information, see https://www.libraryjournal.com/?event=lj-day-of-dialog.