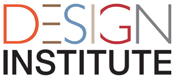 This fall, LJ expanded its previously semi­annual Design Institute professional development offerings to hold two autumn events in different parts of the country. The first, in Minneapolis, took place on September 21, but the learning didn't wait for the official kickoff: Thursday evening saw a NEXT Design forum hosted by MSR, one of the participating firms, which helped set the tone for the following day's focus on responsive design for equity. Hope Community executive director Shannon Smith Jones; Bernadeia Johnson, assistant professor in the Department of Educational Leadership, Minnesota State University, Mankato, and former superintendent, Minneapolis Public Schools; and LJ Editorial Director Rebecca T. Miller, along with MSR principal Traci Engel ­Lesneski, the panel's moderator, examined the connections between well-being and inclusive community spaces: not only reaching out to the community for input on what people want but thinking about the needs that don't get articulated. What message is sent when executives get the top floors and occupants or workers stay at street level? "Access is about invitation to participate in a space," noted Miller.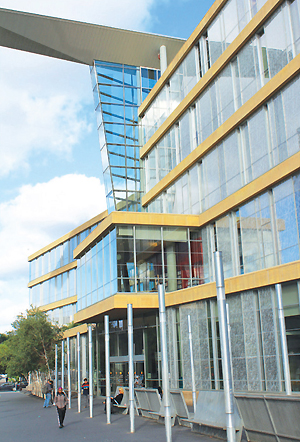 Host facility Hennepin County's soaring Minneapolis Central Library. Photo by Kevin Henegan
Many forms of that ideal were in evidence on Friday, as guests moved through Hennepin County Library's light-filled Minneapolis Central Library from talks to breakout design sessions to a speed session to ask specific questions of the invited architects.
BALANCING ASPIRATION, REALITY
The opening panel featured MSR senior associate Dagmara Larsen and Bentz/Thompson/Rietow principal Ann Voda in conversation with LJ associate news editor Lisa Peet. Larsen and Voda noted that even the most visionary libraries need to hew to a budget, and staging helps balance aspiration and reality. "We try to make sure the front end of the project is well saturated with the kind of information we need to go forward" to avoid big changes after funding has run out, noted Voda. But constraints shouldn't limit imagination, she added, invoking "tactical urbanism"—projects that get services into the community where they're needed and bring an element of fun as well.

TAKING THE LONG VIEW IN MN (l.-r.): MSR's Dagmara Larsen and BTR's Ann Voda discuss responsive design; Catherine Duarte, then Sarah Lawton, codelivered an on-point keynote on planning through a lens of racial equity. Photos by Kevin Henegan
TOOLS TO PUT RACIAL EQUITY FRONT AND CENTER
Catherine Duarte, senior community development planner for the City of Colorado Springs, and Sarah Lawton, Madison Public Library (MPL) neighborhood library supervisor, presented an inspiring dual keynote, "Not Without Us: Planning for Racial Equity and Social Justice at Madison Public Library."

MPL wanted to take the long view on its physical and social infrastructure and engaged Duarte in 2014 to work on a strategic plan that would address the library's—and city's—evolving needs. One of the first steps, she said, was to recenter the conversation on equity. In Madison, the 2013 "Race to Equity" report, examining citywide racial disparities, showed dire outcomes for the county's African American children. Duarte began by interviewing library staff about their interactions with patrons. Who did they see in the neighborhood but not in the library? She enlisted library staff and volunteers to ask open questions in everyday settings, encouraging dialog and input. This became the engagement tool Tell Us, which used conversational techniques to draw out residents on multifaceted subjects beyond race, gender, or income, such as their neighborhoods and hobbies, to get people thinking and talking about their own needs, rather than community needs, and turn those qualitative responses into usable data. That framework informed MPL's strategic plan, adopted in summer 2016.

EYES ON THE HORIZON
Alexandra Ramsey (l.) and Jane Dedering (r.)
talked about renovation trends to watch.
Photo by Kevin Henegan
As coordinator of MPL's inclusive design process for its new Pinney Library, Lawton incorporated Tell Us and resources from the national Government Alliance on Race and Equity (GARE). GARE's tools helped Lawton and MPL interpret the stories they were hearing, offering concrete action steps. Lawton recently coauthored GARE's issue brief "Advancing Racial Equity in Public Libraries: Case Studies from the Field," and MPL is in the final design phase for the new library. With a better understanding of community goals, the library was able to write its priorities into a Request for Proposals, she said. As its opening slide stated, "Social equity is not a philanthropic act, but rather a collaborative endeavor among equals."
SMALL CHANGES STRETCH BUDGETS
The afternoon's final panel, "What's Trending," invited design firm HGA's vice president Jane Dedering, Engberg Anderson partner Alexandra Ramsey, and moderator Jacob Grussing, director of Scott County Library, Shakopee, MN, to expand on current design practices that go beyond fads.
Collocation and mixed-use facilities continue to help libraries take advantage of valuable property, from shared meeting rooms to incorporating housing, office space, retail, recreation centers, and parking. But "you have to pick the right roommate going in," noted Dedering, and make sure the library gets equal play.
Tight budgets often cause libraries to "refresh" spaces rather than renovate, or stage renovations incrementally. Dedering advises libraries to envision changes as if they had no budget and then start a "what if" process, gradually working out small interventions that can effect gradual change. These include pop-up elements for children's or Maker spaces, which can be moved; blurring boundaries among types of collections or reducing collection sizes; and multipurpose furnishings and spaces.
Grussing advised planners to push back at architects who try to impose ideas that may not be right for the community.
And talking it out is only the first step. "We have to make sure we're not just listening to the loudest voices," Lawton said.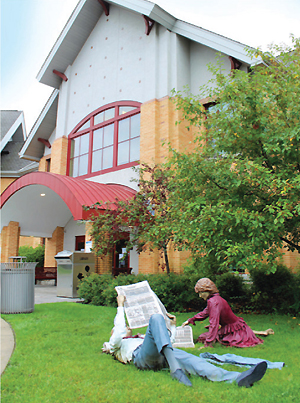 GARDEN STATE'S GREAT Cherry Hill PL (CHPL),
host and design exemplar. Photo by Kevin Henegan
SEIZING THE MOMENT IN NJ
In New Jersey, hard work by library advocates resulted in a massive statewide $125 million bond act for library construction. As a result, libraries aiming to renovate or build in the next ten years are suddenly motivated to do it now. At LJ's Design Institute in Cherry Hill, September 28, State Librarian Mary Chute walked in-state attendees through applying for such funding.
WHAT YOUR MAYOR WANTS TO HEAR
Susan Bass Levin, a member of the host library's board and former mayor, outlined the work she did to make the host building happen. Key to her success, she said, was to have the town council and citizens advisory board on her side. She ran an orchestrated campaign, showing pictures to demonstrate that her constituents were "getting something for their money, because that's what residents care about."
Levin urged directors to meet face-to-face with local government officials. "We need to assume good intentions from elected officials; you convince them with facts." The key, she said, is to figure out which facts: "some care about how many people use the library, some about the partnership with the schools, some about how open you are."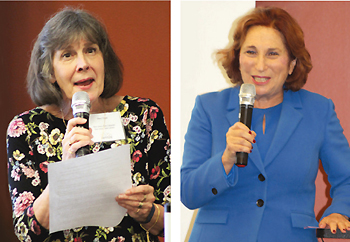 BRING ON THE BOND NJ State Librarian Mary Chute (l.) updated attendees on the state of the state's $125 million bond act; Susan Bass Levin, former Cherry Hill mayor
and current library board member, on getting the library built and how to persuade elected officials.
Photos by Kevin Henegan
FIRST STEPS
Next, architects Dennis Kowal, principal, Dennis Kowal Architects, and Amanda Rienth, principal, Holzman Moss Bottino Architecture, along with Kathleen Moeller-Peiffer, New Jersey deputy state librarian, discussed the architect-librarian relationship, community engagement and analysis, barrier breaking, budgeting, benchmarking, etc., on a panel moderated by Laverne Mann, director, Cherry Hill Public Library. The first key point, made by all three panelists, was to bring an architect on board early, to guide you through the process and know how much money you'll need. The next to join the team, panelists said, is the public, with community analysis: "What makes your community what it is, the things that make you different, and the gap analysis, what's not being served," according to Kowal. To do that, said Moeller-Peiffer, "go to a group on their turf, meet them where they are: PTO, community fairs."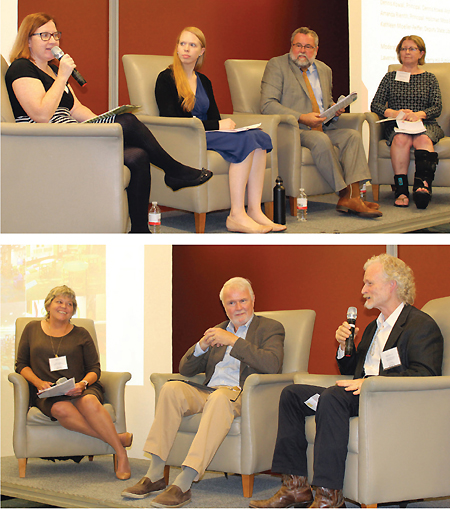 EXPERTISE ABOUNDS Top photo, l.-r.: CHPL director Laverne Mann moderated a panel with HMB's Amanda Rienth, Dennis Kowal from Dennis Kowal Architects, and Kathleen Moeller-Peiffer, NJ deputy state librarian; Bottom photo, l.–r.: Leah Wagner, president of the NJ Library Association, moderates BHC's Todd Harvey and Jeff Hoover from Tappé. Photos by Kevin Henegan
Rienth emphasized the importance of "Intimate involvement.... We invite people to come to workshops, move pieces around on the table, manipulate 3-D models. When they are actively involved, they see why they should support" the library. The panelists urged library leaders to first define the ideal spaces with no constraints before adjusting for code and cost. Then, said Rienth, come up with three or four guiding principles that are most important to achieve and examine cost cuts against them so you can say "we achieved everything we set out to."
"For realistic funding, always use your [whole] project costs," urged Moeller-Peiffer, rather than just construction costs. If you have to cut costs, she suggested, do it on furniture, shelving, and signage, which are easy to add later.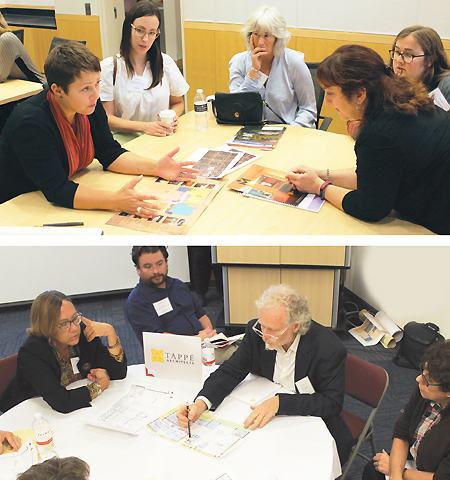 GETTING UP TO SPEED Attendees brought specific design and building questions from their own libraries to get one-on-one feedback from the participating architects in the small group speed sessions. (Top) MSR's Traci Engel Lesneski lays out her thinking in Minneapolis; (bottom) Tappé's Jeff Hoover pores over plans in Cherry Hill. Photos by Kevin Henegan
CHANGING FACES, CHANGING SPACES
After tackling real libraries' design challenges in the mini-charrette breakout sessions and bringing their questions to the architects during speed networking, the group reconvened to address how to balance myriad community needs, including changing demographics, by introducing new spaces and services.
Moderator Leah Wagner, president of the New Jersey Library Association and assistant director, Monroe Township Library, led off a discussion about creating spaces for children, teens, and adults.
Despite the received wisdom of creating separate spaces for kids, teens, and increasingly tweens, Jeff Hoover, principal, Tappé Architects, raised the question, "typically the library separates the family at the front door. Where do they sit together in the library?" He called for "space being set up to support family gathering where three generations can be comfortable together at the same time."
Todd Harvey, partner, BHC Architects, agreed. "The library is the fundamental resource for learning parenting, especially for those without economic resources," he noted. Harvey called for spaces that are geared to a particular function or user but can be used for other things at other times, such as by senior citizens during the day and teens after school. If you place group rooms as a buffer between teen space and adult space they can be a shared resource, he said.
When it comes to tech, panelists agreed, the main trend is that physically shrinking objects frees up space for people. A laptop lending machine is far more flexible than hardwired desktop computers. Hoover noted that this extends to library systems. As lighting and sound controls become smaller and cheaper, he said, "being able to fine-tune the color temperature in the room dynamically [means] we can fine-tune library environments." That's a lightbulb moment: fine-tuning the library environment dynamically is what these days of learning are all about.