Libraries reach non-patrons through innovative outreach
Visitors to Niquette Bay State Park in Vermont don't expect to encounter poetry as they wander forested trails around Lake Champlain. But for the past five years, Penny Cunningham at Colchester's Burnham Memorial Library has collaborated with the park on the Poetry Walk, an installation of 15 poems along a nearly mile-long trail. At the beginning of each month from June to October, a new series is installed. Since its inception, thousands of people have taken the Poetry Walk, and many made a trip to the library afterward, reports Cunningham.
The Poetry Walk is just one example of the ingenious ways libraries are developing to reach non-users. By bringing books, programs, and services to community members in places they already go—expanding the concept of what libraries do in the process—libraries are redefining outreach.
GETTING OUT AND MOVING
Cunningham's initiative taps into a larger zeitgeist, also seen in the Public Library Association's partnership with the National Network of Libraries of Medicine to promote physical activity and health literacy. Noah Lenstra, assistant professor at the Department of Library and Information Studies at the University of North Carolina, Greensboro, School of Education, created Let's Move in Libraries to track health initiatives launched by public libraries, including the Katahdin Gear Library (KGL) at the Millinocket Memorial Library (MML) in Maine.
When Matt DeLaney arrived to serve as director of MML in January 2017, it was on its last legs. The library had closed in 2015 for three months, then reopened for 15 hours a week thanks to volunteers. They raised funds to hire a director for one year—a challenge DeLaney couldn't resist.
Now DeLaney has temporarily relocated the library while the permanent building undergoes a $1.75 million renovation. "One of the best ways we could capture the attention of the community was ... reimagining it," says DeLaney, creator of the KGL, which lends out Nordic skis, snowshoes, canoes, kayaks, paddleboards, and mountain bikes.
The KGL, in an empty storefront downtown, is part of the library's commitment to supporting regional economic development. The town is developing mountain bike trails but struggled to create a biking culture. DeLaney created the KGL to get local kids excited about the sport, as well as to provide equipment and skills to maintain it.
A partnership with the Outdoor Sports Institute provided equipment to get the KGL started. People can now borrow bicycles, bike racks, tools, helmets, reflective gear, storage bags, and water bottles. Since its creation in 2018, the KGL has become a hangout for local kids who work with a volunteer to refurbish donated bikes. The result is an increase in the number of library cardholders from 1,300 to 2,000 in one year, and a change in people's understanding of the role a public library can play in transforming a community. This year, the second annual Millinocket Century Ride will raise money for the library. DeLaney, who was recognized by the Maine Library Association as its 2018 Outstanding Librarian of the Year, will prepare by running all of the mountain bike trails in Baxter State Park.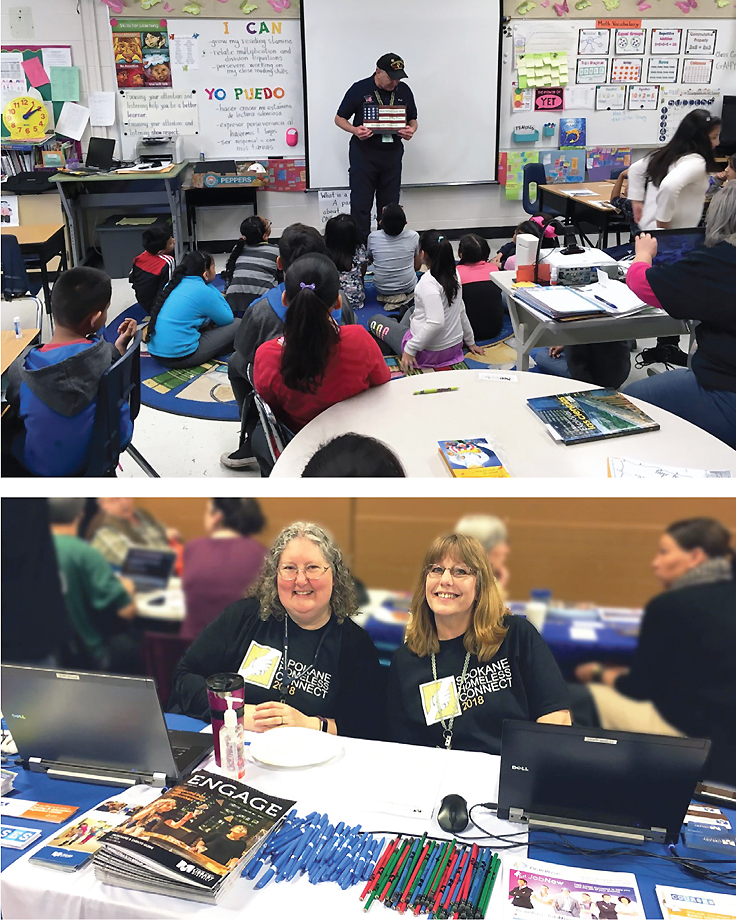 IN THE MIX (top) Gail Borden Public Library's Veterans Voices volunteer (and Vietnam veteran) Rob Braido talks to a third/fourth grade class at Parkwood Elementary School, IL.; (bottom) Gina Rice, Customer Service Manager (l.), and Kathy Tilleman, Operations Specialist (r.), staffing a table for the 2018 Spokane Homeless Connect where they forgave library fines and signed people up for library cards.
Top photo by Ben Bahl; bottom photo by Aileen Luppert
EVERYBODY LOVES A STORY
Story time is often the gateway to public libraries. However, kindling the spark can be difficult when families face trauma. Cindy Ulrey, a librarian at the Spokane County Library District, has been bringing monthly story times to the Open Doors family shelter since 2018. Ulrey arrives around 7 p.m. "The shelter is usually completely chaotic because everyone sets up their bed around that time," she says.
Ulrey lures families to her story time with a puppet, but that's where the similarities to traditional story time end. "It's different every time—sometimes I have elementary students, sometimes I have teens," reports Ulrey. "Most of the times we have parents, but sometimes it's just the kids." She says the key to success is flexibility, remembering one instance when a woman went into labor. "If you think of library story time, that goes out the window," says Ulrey. "Think about if you've had a bad day in regular story time; multiply that by 1,000."
Ulrey remains inspired, watching older kids read to younger peers, and seeing children make beds for felt bears after reading Brown Bear, Brown Bear What Do You See? Parents share favorite nursery rhymes, and Ulrey builds early literacy skills by asking open-ended questions and making connections between what happens throughout the day and at school. While she rarely has repeat attendees, when she does, they're happy to see her. For Ulrey, the opportunity to connect with people who are not able to access traditional library services has been profound. "If we weren't doing it as a library, I would be doing it as a volunteer," she says.
Julie Perrin, director of the Jaffrey Public Library, NH, agrees. When she took the helm in 2017, she prioritized reaching underserved, marginalized populations, which led her to partner with the Monadnock Adult Care Center (MACC). "MACC provides respite day care for adults with physical, emotional or social challenges," explains Perrin. "Many of their clients are memory care patients and suffer from Alzheimer's or other forms of dementia, or Down syndrome." What began as a simple idea to provide books at the center has morphed into a weekly Adult Story Time that the library, MACC, and clients alike eagerly anticipate.
Perrin and her assistant, Eileen Eber, have developed a program combining story time with a memory café. Each session begins with a brief book talk highlighting MACC's rotating collection, then a reading selection to trigger memories for participants, who recite along. Perrin and Eber share humorous children's books, highlighting illustrations, and encouraging the crowd to add sound effects. The group of 18 to 25 sits in a circle, and interaction is encouraged. When bilingual attendees began reading the French version of One Fish, Two Fish, Red Fish, Blue Fish, the language spurred memories of childhood, and several people who had never spoken began chatting with the librarians.
For Perrin and Eber, the experience has been magical. "You have an opportunity where no one's judging what you do, and it reminds them of who they were before they had dementia." Although many participants won't remember the story time, MACC staff report that the library visits are a highlight for their clients. "When I've had a hard day at the library, and we're going over to the Adult Day Care Center, I always come back completely rejuvenated," says Perrin. "We really love it, and they do as well."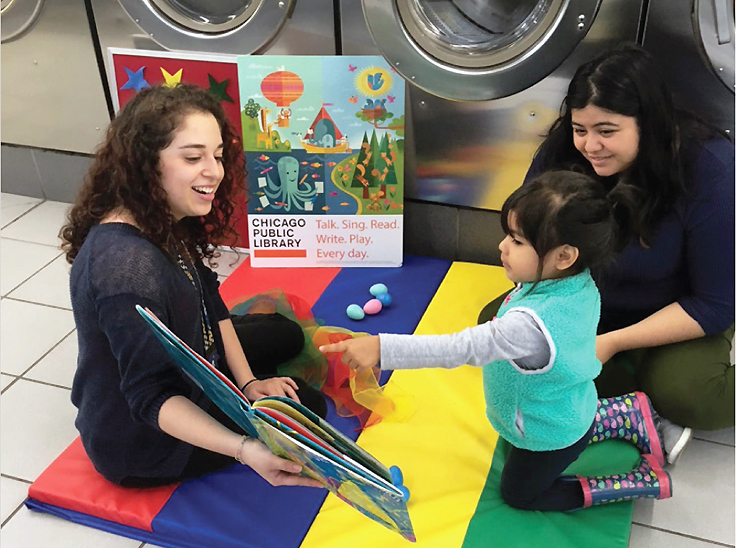 Alejandra Santana, First Assistant Librarian for the Chicago Public Library STEAM Team, shares stories in a local laundromat.
Photo courtesy of Chicago Public Library
LAUNDRY & LITERACY
The Chicago Public Library (CPL) has been doing outreach in laundromats for 30 years; it ramped up efforts two years ago, using its STEAM Team to bring science, technology, engineering, art, and math–based literacy programs.
"We use the laundromat as a learning lab," says Elizabeth McChesney, director of Children's Services and Family Engagement at the CPL. "We talk about the colors in the washing machines, and the bubbles, and how sorting is an early scientific activity, and how parents can build the skills in their children so that they'll be successful later in life."
The library makes weekly visits to 20 area laundromats. Establishing the initial relationships took tenacity, but they are now having an impact. McChesney reports an uptick in laundromat usage coinciding with story time. Library staff notice that parents are more comfortable singing, talking, and reading with their kids. Some take their socks and turn them into puppets—a skill modeled at story time.
To be successful in a busy, distracting environment, McChesney recommends being consistent yet flexible. Building trust with parents takes time. Sharing stories relevant to the listeners' lives—and providing a colorful quilt for kids to sit on—encourages participation. Hundreds of families have attended sessions, McChesney says.
Smaller libraries can succeed with similar projects. Since last August, Patsy Brewer, director of the Waynesboro–Wayne County Library, MS, has given away thousands of books through her Laundry and Literacy project. Brewer arranged with four laundromat owners to place colorful laundry baskets holding bilingual books, magazines, coloring books, coloring materials, crossword puzzles, young adult novels, children's books, and adult fiction in their facilities. Funded by a $500 Margaret Murray Literacy Grant and a matching grant from the Friends of the Library, the material is available to anyone who wants it to take home. Library staff make the rounds every two weeks to replenish items from donations, and promote library programs through flyers in the baskets.
BOOKS ABOUND
Whether visitors to the Effingham County Office Building in Illinois aim to renew a driver's license, see an incarcerated loved one, or take care of paperwork, chances are they'll leave with a book, thanks to a Book Box vending machine installed by the Effingham Public Library. A second Book Box has been installed at a struggling mall to help draw visitors. And when the office building underwent renovations, the Book Box moved to a grocery store, spurring an avid young reader to apply for work there. Since their 2016 launch, funded by a $3,000 grant from Better World Books, the machines have dispersed more than 10,000 free donated materials.
When new babies are born in Elgin, IL, registrars at local hospitals sign them up for library cards as part of the Welcome Baby early literacy initiative at the Gail Borden Public Library District (GBPL). Parents are invited to the library, where they receive a tote full of board books, blankets, hats, sippy cups, booties, and a onesie.
"We invite community groups to contribute," explains Miriam Anderson Lytle, division chief of Community Services and Program Development at the library. The program debuted in 2014, and within the first nine months 250 newborns had been registered. Since then, many new parents have visited the library for the first time and left with cards.
"Recently at a Baby's First Library Visit in Spanish, a new mom came with her mother," says Lytle. "They had never been to the library. They happily received their baby blanket [and] tote bag, checked out a Spanish baby bundle with the baby library card, and received a tour of the Early Learning Center. She also signed up to receive parenting tips in Spanish sent to her cell phone."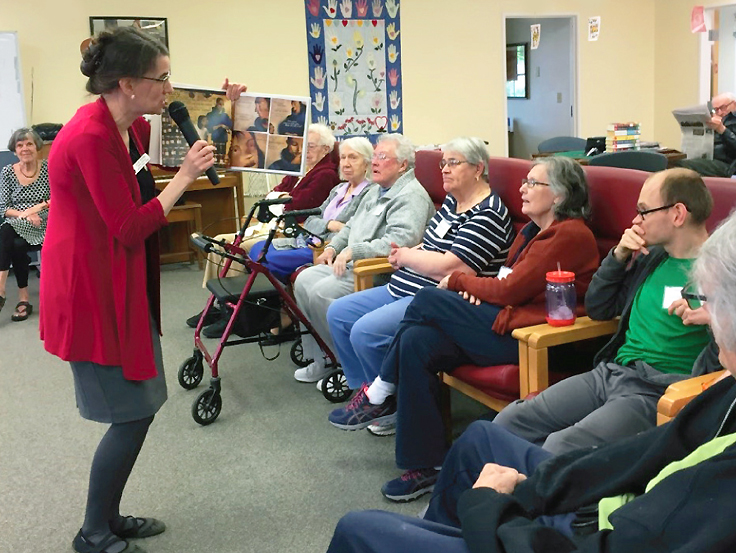 MAKING MEMORIES Julie Perrin, Jaffrey Library director (standing with mic) reads Wolves in the Walls by Neil Gaiman to the MACC clients during a weekly visit. Library Assistant Eileen Eber is seated in the background, to the left of Perrin; MACC clients to the right.
Photo by Chris Selmer
MEETING COMMUNITY NEEDS
Elgin doesn't stop with baby steps, however. More than 5,000 local students learn through GBPL's Veterans Voices initiative. Now in its third year, the program matches veterans with school districts during the two weeks surrounding Veterans Day for conversation, learning, intergenerational connection, and community building. The library built the program on relationships forged during its 2013 Big Read, The Things They Carried by Tim O'Brien. One spouse told Lytle, "I haven't seen my husband so happy in a long time."
Lytle cites the GBPL's ability to organize as key, a sentiment echoed by Aileen Luppert, managing librarian at the Spokane County Library District, WA, who serves as vice chair of the Spokane Homeless Coalition and chair of the Leadership Team for the Greater Valley Support Network. When Luppert attended Homeless Connect in Spokane, a day-long event connecting people experiencing homelessness with resources, she recognized a need in Spokane Valley. "Our homelessness looks different," says Luppert. Rather than living on the streets, families are doubled up or couch surfing. She collaborated with other agencies to organize a day when people could apply for state, food, and housing assistance; replace IDs from the Department of Motor Vehicles; work with judges from Community Court to quash warrants; get haircuts; visit a food bank; have their fines waived; and even get vaccinations for pets. The first Valley Connect event drew more than 300 people.
The library has created a low-use card for patrons who can't provide an address, so they can access the Internet and borrow two items at a time. "People break into tears of gratitude," reports Luppert. "We don't always know who's... struggling with housing. They look like everyone else." Because working with those experiencing trauma can impact staff, she provides Ryan Dowd's online Librarian's Guide to Homelessness training and encourages self-care. "Changing people's lives matters," says Luppert. "It is such a fruitful way to make connections in your community."
JUST FOR FUN
At Whitewater Memorial Library, KS, what began as a game of dress-up during the 2015 summer reading program has morphed into a full-blown costume collection. Director Jean Thiessen has cataloged 170 costumes for babies to adults. In a town of 716, the library circulates 60-70 costumes each year.
"We see people we've never seen before," says Thiessen. "People really have fun with it... They often check out multiple costumes to put together one of their own design."
The collection grew through garage sales and store purchases, but as word spread, the library was inundated with donations. Thiessen estimates the entire collection costs less than $500. The costumes are available year-round—even through interlibrary loan—but only displayed during Halloween. Says Thiessen, "It's really met a need in the community." Next up: a kite collection.
GO OUTSIDE AND PLAY
Comfortable shoes, flexibility, and willingness to meet people where they are are essential to extending the library's reach beyond traditional audiences. Nancy Kranich, special projects research librarian at Rutgers University, says that libraries need to get over their "edifice complexes," and recognize that institutions are more than just four walls.
"Get out of the building, because there are so many ways that we can reach other parts of our community and make a difference," says Jaffrey's Perrin. "Don't be afraid—it's completely worth it."