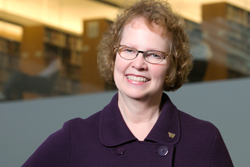 Lizabeth (Betsy) Wilson, vice provost for digital initiatives and dean of university libraries at the University of Washington (UW), recently announced that she will retire on June 30. Wilson has served as dean since 2001; in 2013 she took on the vice provost role as well, leading the libraries' strategy on digital scholarship, data stewardship, and open access. The network of 16 libraries—one of the largest academic research libraries in North America, with the largest collection in the Pacific Northwest—serves UW's Seattle, Tacoma, and Bothell campuses and Friday Harbor Laboratories.
At the national level, Wilson served as president of the Association of College and Research Libraries (ACRL) from 2000–01, and as OCLC board chair from 2003–07.
LJ caught up with Wilson to find out more about her career at UW, how she keeps libraries on three campuses and an island running smoothly, and what she plans to do next.
LJ : Had you decided to retire before the pandemic, or did that influence your decision?
Betsy Wilson: Yes and no. I had already decided to retire, but it influenced the actual date. In 2019, I told the provost that I would like to retire on January 1, 2021, because that would be 20 years that I've been in the position as dean. And then when I got ready to make it official, the pandemic hit. So I said I'd be willing to stay around through June of 2021, thinking it would be helpful for the organization—I thought we'd be completely through the pandemic by then.
UW has such a strong reputation throughout the field. What helped move it into that position, and what have you been able to influence directly?
Everything is dependent upon the quality and the passion and the dedication of the staff. When I first came, I remember saying to them, "You don't know how good you are."
When I first came, I was associate dean for research and instructional services, and my first detail was to define and develop a user-centered library. It seems so quaint now, because we all talk about being user-centered, user-driven. But we had a process where all the staff came together, and we defined what a user-centered library is, and how we would know if we had achieved it. What became very obvious is that we needed to assess what our users needed, and then do something about the information we gathered and measure it against metrics. This was 1992, and there really wasn't a field of library assessment. So it was a lot of hard work by the staff, which then grew into what we refer to as a culture of assessment. Everything we do is predicated on data and evidence. And I think that fits really nicely with the university's take as well.
It gave rise to a whole field, or subfield, of librarianship: library assessment, commitment to a user-driven entity, to using data and evidence. Also the collaborative spirit—that's very much the University of Washington and the Pacific Northwest. Everybody works very hard, they want to do the right thing, and are committed to the area, so they can't burn any bridges. We've got two great public library systems, the Seattle Public Library and the King County Public Library System, and we're very much a community.
All these practicing librarians feel a commitment to making sure that the information school is highly relevant and moving in what we think is the right direction. The Center for an Informed Public is doing great work, and we've been involved. I see my role as helping to create the environment and the culture of assessment, collaboration, innovation, inclusion, and dedication.
What are some of the other major changes that you've seen while at UW?
Digital is a huge thing. That's a real shift, from people using libraries for getting access to knowledge to using libraries for the creation of new knowledge, and the library being very involved in scholarly publishing, open access publishing, open educational resources—anything that takes the library and turns it inside out, in the words of Lorcan Dempsey—taking what we have and making it accessible in a way that is more meaningful than somebody just coming in and hoping to find that one item they're looking for.
The roles of people who work in libraries have changed dramatically. I was in the field of library instruction in the late 80s, and what we did seems so quaint now, but it was the beginnings of realizing that not everybody is born knowing how to use a complex research library—or any kind of library. The changing role of the librarian as an educational and pedagogical partner has been profound. Now it's very much part and parcel of all my librarians' responsibilities.
And not just being a partner, but also being a leader. The Centers for Teaching and Learning on all three of our campuses are co-led by librarians. Our writing and analytical skills centers are in our libraries. The vantage point of the whole educational enterprise is unique. We touch every department, every field. So we have, I think, a real obligation to help the university meet its mission through collaborations and through seeing where the libraries can help—moving into fields like research data management, visualization, research for the public good. Our health informatics and bioinformatics programs are large and important, especially during the pandemic. We partner with the Institute for Health Metrics and Evaluation.
There's been a complete transformation of the physical library to be a center for convening people for collaboration—very different than when I was in school, where the library was the quiet place. At the same time, we've realized that people need different kinds of spaces at different times. We see students very savvy about what they need, moving among these different kinds of spaces during a typical day. There's been some incredible renovations and new buildings that have been driven by user needs, and also by technology. In 2001, when I became dean, we had about 1.8 million people coming into our 16 libraries every year. Now we're routinely over 5.5 million. And it's had a lot to do with the reconfiguration of space, new services, and also that technology makes people long to be together. Things that they used to have to come to the library for, the access, they can now do remotely. So when they come together in the library, it's more productive.
What have been some of the biggest challenges?
When the provost hired me as dean, we were talking during my interview about the increasing costs of serial prices. I remember him saying, "Oh, don't worry. It's an economic model that will implode on itself." I said, "How long do you think that's going to take?" and he said, "Eight to 10 years." That was 20 years ago. So that continues to be [a challenge], not necessarily the increasing costs of journals, but ownership of information, and access to them being privileged to people associated with institutions that can afford them. Scholarly communication and publishing is a huge challenge—but a huge opportunity as well. About three years ago the university press began reporting to me, and we're starting to see some good experimentation in open access and different kinds of longform scholarship and monographs.
Space continues to be a huge challenge, because a research library like the University of Washington is heavily international. There are many parts of the world where digital is not the modus operandi. Our collections from the Middle East, all the stans—Kazakhstan, etc.—continue to be in print form and are growing. That's a challenge: how do you tell both stories of the digital library and the physical library when you're trying to convince people who have the financial strings to provide a good infrastructure for print materials, and also the whole new infrastructure that we all need for digital work? That digital work infrastructure, as we all know, is heavily collaborative, multi-institutional, and expensive.
What was the 2020 COVID-19 pivot like for UW libraries?
We were the first university to close, so we didn't have many other models to reach out to. We had to make it up ourselves to begin with. Then I was amazed at how much sharing there was among the various libraries in our state as well as across the country. We instituted a monthly Town Hall—it's been hugely successful for sharing information and demonstrations. That's something we'll definitely carry into the new world. It also brought our three campuses much closer together, since everybody is online. Then getting all the student success materials, teaching materials, learning materials, transitioned over to digital if they weren't already, and we did a lot of massive purchasing of electronic materials for areas that were not well represented in the digital world—dance, music, playwrights. That made a huge difference to a lot of classes that were really struggling. The AVON [Academic Video Online] streaming media subscription was critical as well.
The pivot was an amazing thing to see. At the same time, I still continue to harp on the importance of being kind and compassionate to each other, because the inequities have been laid bare. We're all separated, and it's been challenging to take all that energy and put it in a really good direction. We all know that this has been an emotional roller coaster and some people have struggled with severe isolation, living alone, and depression, so we're making sure we have linkages in place for people, and encouraging people to seek help as needed.
But the innovation of the staff in pivoting—the word for the year—to a digital environment, and remote learning and remote research, has been phenomenal. That's one of the changes that will be interesting to watch, how the new normal comes back, and what is let go of from the old. I think we've made amazing, quick progress on online and remote work. But what do we need to do when we get back to campus? We left the libraries so quickly, in a couple of days. And the planning that's going into the return is just huge.
How do you keep library services running smoothly across three campuses?
You hire great people that understand the place and the mission of the institutions. We're one university, but the three campuses are quite different. Tacoma is 35 miles south of Seattle, and that campus is fantastic. They recovered decrepit, dying downtown Tacoma, and built the university in these old warehouse buildings and kept the connection to the history of Tacoma. A lot of people from community colleges transfer there, working moms and dads—they have the highest first-generation student population of any of the three campuses—and have a real commitment to interdisciplinary research and learning.
Bothell is 20 miles north of Seattle, in one of the belts of high tech, so it has a very different feel to it—computer science engineering, and it's built from the ground up, in northwest lodge style architecture. And then we've got 13 libraries on the Seattle campus—the large main library and undergraduate library, engineering, business, etc. We also have a library on Friday Harbor, San Juan Islands—it's a marine station.
All the library staff reports to me. The budgets come from their respective campuses, but they go through the evaluation and promotion process as a member of the library cohort. The people that started the other two campuses were really smart in not trying to replicate two more research libraries. I use the existing research library to share materials internally, kind of like a little consortium. The central university at Seattle does all the acquisition, cataloguing, metadata, digital support. We've got a statement of principles, and then we do lots of strategic planning, and that keeps everybody in the same mindset. And with Zoom this last year, those connections have gotten even deeper and stronger.
What are you proudest of during your time at UW?
Creating a culture that people can thrive in, that's collaborative and innovative. And I'm proud of the culture of assessment because it's gotten us through some very difficult times, budget cuts, and being able to make decisions that we know are grounded in actual need.
I've had some major capital projects. We renovated our undergraduate library and it won several awards. It took a 1968 Brutalist building and turned it into this wonderful, light-filled, interactive environment. We're doing a similar thing at our Tacoma campus right now, renovating the library into a learning and scholarship commons. We did a major seismic retrofit of our main library, which is the iconic building on campus. That was a huge project, taking care of a building that is now almost 100 years old, and it's safe and beautiful.
And I'm proud of the many people I've been able to support and mentor along the way. That's the most gratifying, to see folks go from students who decided to go to library school to people who decided to stretch further than they thought they were going to.
What advice would you give the next dean of libraries?
Enjoy the gorgeous place, the incredibly strong, courageous leadership, the important goals, and just relish every day. I think it's the best job in the country at a research library. Be a radical listener—there's so much change going on right now.
What's next for you?
I've recently joined the Seattle opera board, where I can bring my love of opera—but more importantly, my experience in governance and fiduciary guidance—to an organization that has been so creative this past year, and to contribute back to something that's given me great joy.
I am going to travel. I'm going to see if I can still paint, see if I can still do printmaking. I started out as an art librarian—I have an art background. And this is going to sound strange, but I'm going to learn how to box. I have Parkinson's disease, and boxing is the best exercise for Parkinson's. All the classes for boxing for Parkinson's are during the daytime, so now I won't have any conflict with my work. I'm probably going to relocate to be closer to family—my sister lives in Louisville, KY. The pandemic really underscored for me the importance of being close to family.
And then watch the University of Washington libraries soar from afar. This generation of new leaders is terrific, and the students coming out of the information schools and library schools. There was a period of time, about 15 years ago, that I was a little worried about the future of the field. Now students are so activist, and I have great hope for what's going to happen.