The Central Library branch of Tulsa City-County Library, OK, is one of six winners of our New Landmark Libraries for 2019. Its $55 million renovation transformed the original library and created an event space for 400, an interactive and expansive outdoor plaza, and 26 percent more public programming across its five stories. In collaboration with the city, the project was intentionally designed to revitalize the downtown core.
A $55 million renovation transformed the 1965 Tulsa City-County Library's dilapidated central library and plaza. It now hosts an event space for up to 400, an interactive and expansive outdoor plaza, and 26 percent more public programming space across its five stories.
The project, a collaboration with the city, was intentionally designed to catalyze a much-needed revitalization of the downtown core and to serve the county's 603,403 residents.
A variety of design, programming, and infrastructure interventions, led by Traci Engel Lesneski at MSR Design, created a building that is exemplary in the field of generative design: The focus was to maximize the health and well-being of its occupants and to minimize the long-term effects of its operations on the environment.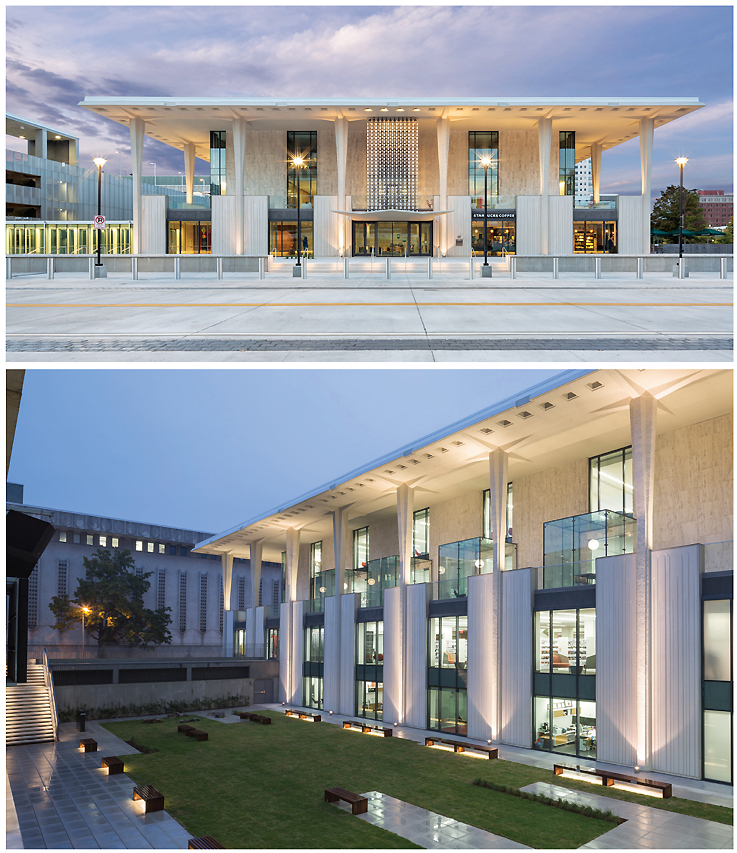 GENEROUS AND GENERATIVE

Tulsa City-County Library's Central Library uses expansive space to further its regenerative design ideals. View of the exterior (top) and an outside greenspace (bottom). Photos by Lara Swimmer
The architects expanded the original plaza and added greenspace to create an outdoor auditorium, with a large monitor mounted to one exterior wall in the 8,631 square foot garden. Staff parking was repurposed into a new parking garage, making the library more physically accessible. The garden also improves the microclimate outside.
By improving the building envelope and installing new building systems, MSR created a highly functional and energy efficient building. An 11,500 gallon storage system in the basement stores stormwater and condensate from the air handlers to be reused onsite. With a photovoltaic solar array, energy use is currently 57.1 percent better than the national average for libraries. Inside the building, guest chairs in the computer area are manufactured in accordance with the Living Future Institute's ingredient list, staff enjoy sit-stand desks, and the lounge furniture is cradle to cradle bronze certified.
New glass cubes offer study spaces for individuals while showcasing, for those outside, the learning environment inside the library.
CEO Kimberly Johnson explains, "We've adapted to the world around us and helped propel our community forward, further moderating inequities in areas such as access to information, educational achievement, and economic opportunity."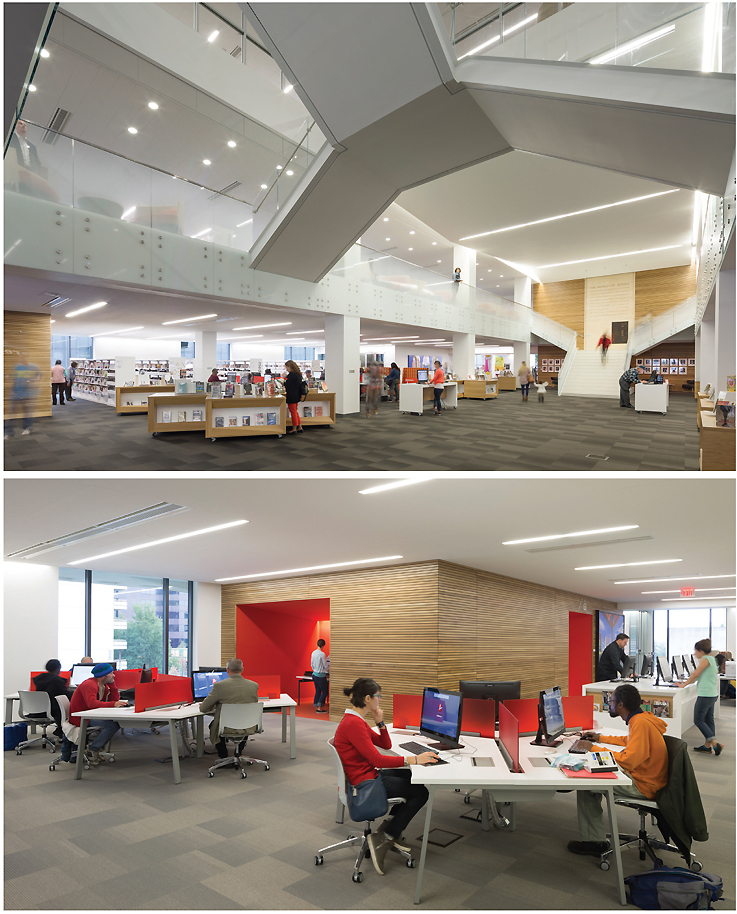 STUDY SPACE

An indoor atrium (top) and an open learning environment (bottom). Photos by Lara Swimmer
In pursuit of those goals, the renovated library now features an array of environments tailored to different activities, needs, and opportunities. The building includes simulators for hands-on learning and vocational skill-building, a recording studio that doubles as a quiet space for guests with sensory sensitivities, a digital literacy lab, a dedicated research center where users can book meetings with research staff, and an education center for the research and development of learning practices. Comfort rooms for nursing parents, administration of medicine, meditation, or other personal needs are available alongside all gender and gender binary restrooms. Lockable day storage offers stability for visitors, tourists, and people without permanent addresses.
New Landmark Library judges took a keen interest in the approach to community design. While the building was being renovated, the design team collaborated with library staff to use a temporary space as their "Librariaum"—a living-learning lab for staff to imagine, test, and create new services, opportunities, and experiences that contributed to the final design. Community engagement included inviting residents to discover their vision for a 21st century library together. By offering intellectual space for library staff to dream big, the Tulsa City-County central library truly provides a regenerative urban renewal opportunity for the community and has become a "prized community destination for active learning and creative engagement," says Johnson.
---
VITALS
---
ARCHITECT:

MSR Design
---
CATEGORY Renovation
---
COST $55,000,000
---
SIZE 145,391 square feet
---
DATE COMPLETED 2016
---
AWARDS Vita LEED NC 3.0 Gold, 2019 ALA/Information Today Library of the Future
---