COVID-19 causes construction delays for Flint Public Library, MI, and Carroll Public Library, IA; Saskatoon PL purchases property for new Central Library; Eden Prairie Branch of Hennepin County Library, MN, and Felton Branch of Santa Cruz Public Library, CA, see grand reopenings before library closures.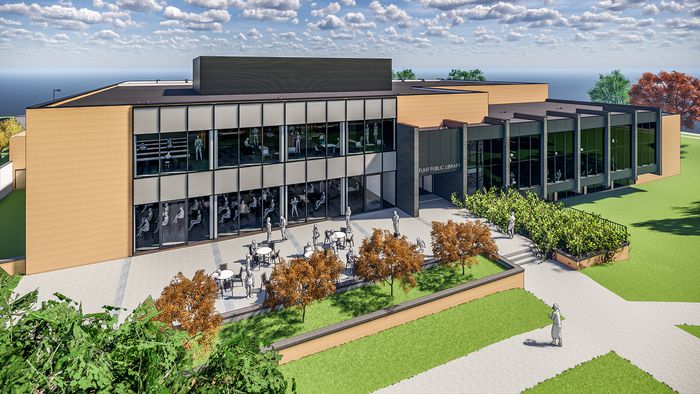 Rendering of Flint Public Library building exterior from front entrance
Courtesty of Flint Public Library
The COVID-19 pandemic has affected a number of building projects around the country, including the much anticipated $27.6 renovation of the Flint Public Library, MI. Although all books had been packed up and construction begun at the new site before the state shut operations down on March 23, work is currently on hold. The renovations—slated to add 16,000 square feet of public space to the building, double the children's learning space, add three "tech-rich" classrooms, and increase the local history and genealogy space by 60 percent, among other improvements—were originally scheduled to wind up in time for an August 2021 reopening. A temporary location at the Courtland Center was planned to open in May. "We just have to move the schedule out in proportion to how long this shutdown lasts," stated director Kay Schwartz. "We can't estimate a timeframe with any degree of confidence until the executive order has been lifted and we can get back to work." No funding changes have been made to the project, according to a press release from the library.
The Carroll Public Library, IA, also has a newly renovated library that remains unopened—and steadily mounting construction bills in the meantime. All materials and supplies are in the new space, but the city of Carroll was recently presented with yet another change order—its tenth—this one for the installation of a sheet metal band above the windows. Other changes have included modifications to the access card system, a stairway bulkhead, and interior finishes and drywall patching. While the construction budget included a contingency fund of $362,088, the ninth change order exceeded it by more than $13,000. However, according to City Manager, Mike Pogge-Weaver, cost savings in other line items will cover the necessary changes. Although the planned grand opening celebration and tour were canceled because of the coronavirus outbreak, the city will be holding a celebration once the state of emergency has passed, and the library is currently offering a curbside pickup program.
Other projects are moving steadily ahead, if not without t their own speed bumps. At its March 20 meeting, the board of directors of the Saskatoon Public Library, Sask., Canada, approved an offer for the purchase of a $9 million property for its new downtown branch. for library planning services at the new facility. The $132 million project will replace the Frances Morrison Central Library, the scope of the project having scaled down after Saskatoon City Council cut the library's requested loan amount from $87.5 million to $57.5 million in November 2019. The original project scope had called for a 149,000 square foot facility to replace the 54-year-old downtown library, which would have been completed in 2026. All library branches are currently closed, and employees are working remotely.
The Eden Prairie Branch of Minnesota's Hennepin County Library reopened, briefly, on February 25 after a 14-month, $12.1 million renovation. Upgrades feature sound engineering to ensure a quiet indoor space, updated collaborative and solo workspaces, vibrant furnishings, and state-of-the-art technology. A glass wall separates the teen section from the rest of the library, and a revamped children's section holds updated seating—with overlaps between the two areas, such as a magnet wall and light table, to encourage all-ages interaction. Core features of the original building, built in 2004 in the shell of a former big-box supermarket, remain: a vaulted wooden ceiling, stonework-clad columns, and a fireplace. All branches of Hennepin County Library are currently closed through at least April 10.
The newly constructed Felton Branch of Santa Cruz Public Library, CA, opened on February 22. The first major project to be completed with $67 million in bond money to renovate all ten branches as part of Measure S, approved by voters in 2016, the $10 million, 9,000 square foot facility was designed by Teall Messer and built by Thompson Builders. Improvements include a teen room, fireplace, cozy areas to read, study, and gather, and outside space connecting the library to the new Felton Discovery Park, which is currently under construction. In addition, "There will be a lot of instructional signage of the benefits of water-wise gardening," Regional Manager for Santa Cruz Public Libraries Laurie Whaley told KSBW8 News. "Defensive spaces, because of the fires that we do have up here."