Philadelphia's Temple University unveils its state-of-the-art Charles Library; Long Beach Public Library, CA, opens its newest branch, the Billie Jean King Main Library; Cornell University's College of Architecture, Art, and Planning completes the Mui Ho Fine Arts Library; and more new construction and renovation news from the November 2019 issue of Library Journal.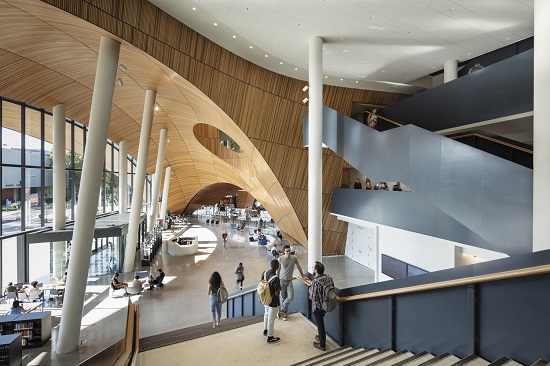 Four years after breaking ground, Philadelphia's Temple University opened its state-of-the-art Charles Library (pictured) to the public on August 24. The 220,000 square foot, $175.8 million building, designed by Snøhetta, features a student success center, more than 40 meeting and seminar consultation rooms, a digital scholarship area, and the Special Collections Research Center's Urban Archives, which document the greater Philadelphia region since the 19th century. In addition to browsable stacks on the fourth floor, the library's collection is housed and retrieved through a high-density robotic Automated Storage and Retrieval system. Natural light fills every level of the space through ­perimeter windows and an oculus skylight.
The Long Beach Public Library, CA, opened its newest branch on September 21. Named for the famed tennis star, women's and ­LGBTQ rights advocate, Presidential Medal of Freedom honoree, and Long Beach native, the Billie Jean King Main Library (pictured) is part of a new $530 million civic center. The 92,500 square foot wood and glass library will feature centers for family learning, adaptive technology, and veterans' resources; as well as an art studio and an enhanced children's section thanks to an donation of $250,000 from the Long Beach Rotary Club. The Long Beach Library Foundation has raised more than $2 million, and will continue to fundraise throughout the library's inaugural year.
Cornell University's College of Architecture, Art, and Planning started off the academic year by welcoming the newly completed Mui Ho Fine Arts Library, which opened on August 5. The library, designed by alum Wolfgang Tschapeller ('87), is located at the top of Rand Hall and houses approximately 100,000 volumes of fine arts, design, and urban planning works on three levels of stacks suspended in the center of the library. The building also features spaces for research, computing, instruction, and study, offering elevated views of campus through windows from the stacks.
The Main Library of the Toledo Lucas County Public Library reopened on September 28 after a yearlong $12 million renovation. Additions include new meeting spaces, recording/editing studios, a "Make U" space with a 3-D printer, and a café. A donation from the estate of George K. Saloff funded renovations to the children's area, which now features a mystery wall, color wall, interactive book-themed playground, and Dr. Seuss display. Open sight lines from the main entrance to the back door bring in more light and air.