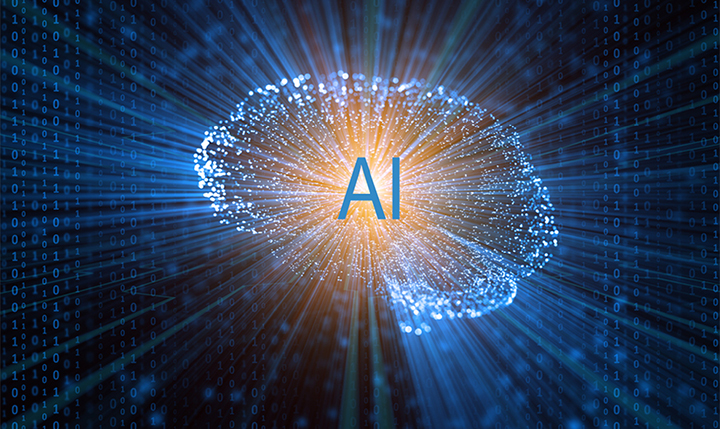 On Tuesday, the University of Rhode Island (URI) opened an Artificial Intelligence (AI) lab on the first floor of the Robert L. Carothers Library and Learning Commons. While many universities have launched AI labs in recent years, URI officials believe this is the first such facility located in a university library, and designed to be open to all students and faculty, as well as researchers from the Rhode Island community.
"We want to facilitate discussion about AI," Chief Technology Officer for University Libraries Bohyun Kim told LJ. AI labs in other universities are "usually in research facilities. So they are created for scientists and researchers. The goal [of those labs] is not necessarily educational."
By contrast, URI's lab, prominently located near the Maker space in the university's main library, will encourage cross-disciplinary collaboration and integration with undergraduate and graduate-level courses from all fields.
"Our goal is outreach and education," said Kim, noting that a recent survey of incoming URI students indicated that AI was a top area of interest. "The explicit mission of our AI lab is to help students and faculty learn about and navigate all of the discussions and issues around AI. The goal is a lot broader than just pure scientific research."
Funded by a $143,065 grant from The Champlin Foundation, the lab is powered by an Nvidia DGX-1 high-performance GPU server supporting a Dell workstation and six Lambda Tensorbooks pre-installed with deep learning frameworks including TensorFlow, Keras, PyTorch, Caffe, Caffe2, and cuDNN. A project bench area currently includes an Nvidia Jetson TX2 Developer Kit and Internet of Things (IoT) devices such as an Amazon Echo and Google Home Mini, with plans to add more, including programmable robots and drones.
According to a recent post on URI's College of Engineering website, "a physical model of Rhode Island will be developed. The model will contain distributed sensors and actuators so students can design intelligent algorithmic projects to control city environments such as lighting, traffic, transit and parking."
Prior to launch, instructors and faculty teaching about 20 to 30 courses had already expressed interest in using the lab for coursework, Kim said, adding that the logistics are still being worked out. Currently, the lab's webpage indicates that 406 students enrolled in current courses in the Colleges of Engineering Arts and Sciences will be working in the lab, citing examples such as an engineering course on wearable IoT, in which students will use the lab to enhance devices designed to collect data on health and fitness; a neural engineering course, in which the lab can help explore the use of the brain's electrical activity to control robots; and an intro to philosophy course, in which students "will undertake foundational programming exercises, allowing [them] to engage in discussions related to relationships between man and machine."
URI is also starting a new Bachelor's degree program in data science, Kim noted, which coincides well with the AI lab's launch.
The library is hiring a consultant to provide basic instruction and advice for students and faculty interested in using the AI lab. When the lab isn't being used as part of an integrated course, Kim hopes that the environment will eventually resemble a Maker space, with people working on collaborative projects and offering peer-to-peer instruction.
"Students find it a lot more accessible and easier to approach new technology when there are other students [using it]," Kim said. "They develop resources for one another…. We will invite visitors to explore, learn from one another…initiate [projects] that they want to work on, and find other people who are like-minded."
Kim expects student interest in AI to continue to grow, given its impact on a wide range of fields and its visibility in the news.
"Things are happening in science, but also industry, in ways that affect our lives," Kim said, citing examples such as self-driving cars, which have been in the news frequently due to rapid advancements in data analytics and AI, as well as controversies generated by accidents. "Students are, in general, interested in new technology trends."
Commentators often question how AI technology will impact jobs, how faulty algorithms can generate biased results with bad consequences, or how the data collection that enables many AI applications could impact personal privacy. But despite such concerns, the practical applications that employ AI, such as voice activated assistants, have become ubiquitous in recent years—Apple's Siri launched in fall 2011, so many incoming freshmen had these features on their first personal phones.
Partly as a result, Kim conjectured that incoming students were likely more comfortable with AI technology than previous generations. "I think they have much more affinity for interacting with machines," she said.
According to URI's official announcement, Karim Boughida, dean of URI Libraries, said during a ribbon cutting ceremony on Tuesday that the lab would also facilitate discussion about AI's potential and the challenges it will pose.
"Our goal is to make it accessible, to have many conversations around it," Boughida said. "There are two sides to this lab—the technology side and the side that will address ethics, fairness, and biases in artificial intelligence development. Social justice is a critical part of these discussions."
URI President David M. Dooley also emphasized this aspect of the lab. "We are grateful that this lab will be more than just a technology center," he said. "It will be a place of ideas, discussion and debate. Society, families, the workplace, hospitals, schools, research enterprises, and many more aspects of the 21st century are going to be affected by artificial intelligence in ways we can barely imagine."