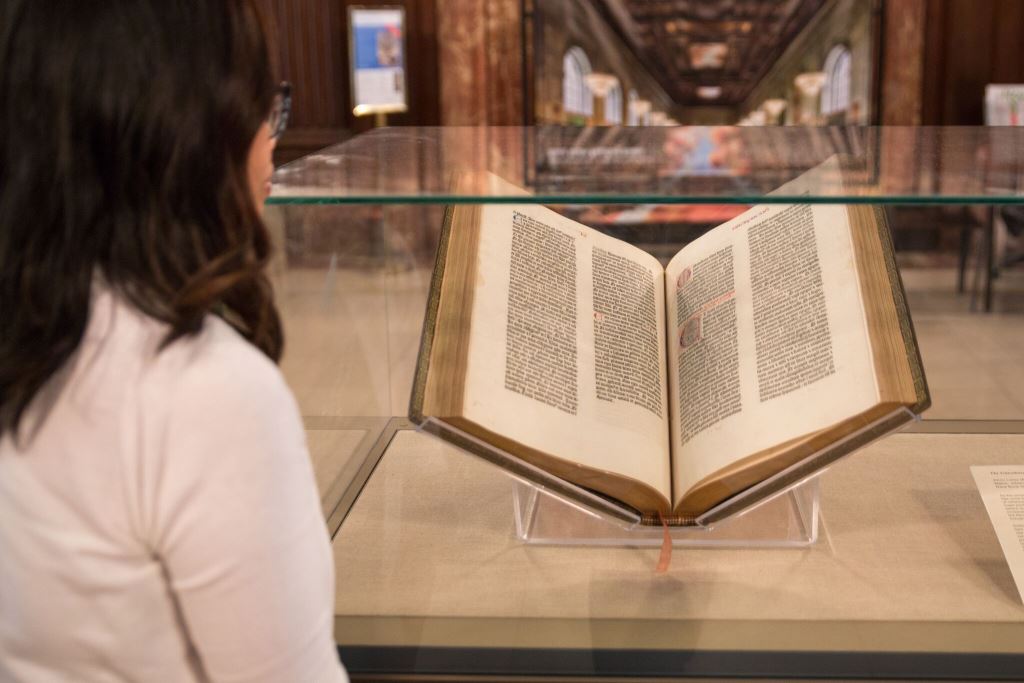 Gutenberg Bible, Lenox Copy.
Photo by Jonathan Blanc / NYPL
Thanks to a $12 million gift, the New York Public Library (NYPL) has begun work on a permanent exhibition of treasures from its extensive—and eclectic—collections, to be housed in the Stephen A. Schwarzman Building on Fifth Avenue and 42nd Street.
At its Board of Trustees meeting on September 12, NYPL announced the receipt of the gift from philanthropist Leonard Polonsky and the UK-based Polonsky Foundation. The money will go toward funding a rotating exhibition, which will be displayed in the library's 6,400 square foot Gottesman Hall, as well as hiring a curator to work specifically on the exhibit in collaboration with director of exhibitions Declan Kiely and curators from NYPL's four research libraries.
Transforming Gottesman Hall
An impressive, marble-clad space on the Schwarzman building's first floor directly across from the main entrance on Fifth Avenue, Gottesman Hall is "the heart of this building," according to William Kelly, NYPL's Andrew W. Mellon Director of the Research Libraries. It has been used on and off as a display space for temporary shows from the library's collections over the years, but library leadership had long envisioned it as a place to spotlight NYPL's treasures—many of them museum-caliber artifacts, manuscripts, and ephemera—on an ongoing basis.
The items are held in the collections of its four research libraries: the Schwarzman Building; NYPL for the Performing Arts; the Schomburg Center for Research in Black Culture; and the Science, Industry, and Business Library. But, Kelly told LJ, "Across the research libraries, the feeling was quite strong that we did not imagine ourselves as dragons guarding a hoard—that we saw the items we had as fuel or provocations for thought. We wanted to expand the reach, the scope, and the impact of the material we had."
NYPL's master plan for the building's renovation, unveiled in November 2017, proposed to transform Gottesman into a full exhibition hall, with additional adjacent display space. With the Polonsky Foundation's funding—the single largest gift it has given to any institution—those plans can now be finalized, and schematics for the space are currently in progress.
"It was always our intention to use the Gottesman Hall for this," NYPL president and CEO Tony Marx told LJ. "We just needed to find the resources to help make that possible. And that's what Dr. Polonsky's generous gift has done."
The Polonsky Foundation, which supports cultural heritage, humanities, and social sciences scholarship, and innovation in education and the arts, has been a major supporter of NYPL's digitization initiatives. In 2012 and 2015 the foundation gave the library two gifts totaling $1 million to digitize 127,000 pages of early American historical documents, including the Thomas Addis Emmet Collection of American historical manuscripts and selected manuscripts from Walt Whitman, Mark Twain, Henry David Thoreau, Nathaniel Hawthorne, and others. The foundation has also supported digitization efforts at the British Library, the Bibliothèque nationale de France, Oxford University's Bodleian Library, the Cambridge University Library, the Library of Congress, and the Vatican Apostolic Library, among others.
While Polonsky is still committed to digitization projects, said Marx, "he really liked the idea of us doing what the British Library does, which is show our treasures and use them in a way that can inspire creativity and lots of conversations."
Among the Artifacts
While the exhibit will be permanent, the individual items within it will swap out. "We're not interested in creating a mausoleum," said Kelly. "We're interested in a vibrant evolving show that continues to change across time."
The goal of access will be balanced with the fact that many of the collection's items are fragile. "We have a responsibility to ensure the preservation of our treasures and everything else, but also a responsibility to make them accessible to the public," noted Marx. "Most New Yorkers don't know we have them, have never seen them, and that's a pity."
These artifacts, many of which have never been viewed in public, include:
The Declaration of Independence written in Thomas Jefferson's hand
The original Bill of Rights
Charles Dickens's "prompt copies" featuring his handwritten notes as well as his desk, inkwell, and letter opener
George Washington's handwritten farewell address
Manuscript material from Maya Angelou, T.S. Eliot, Jack Kerouac, Langston Hughes, Malcolm X, Herman Melville, Vladimir Nabokov, Mary Shelley, Virginia Woolf, Truman Capote, and many others
The Gutenberg Bible
The original Winnie the Pooh and friends dolls
Photos from legendary photographers, including Diane Arbus, Lewis Hine, and Richard Avedon
Original sheet music from Beethoven and Mozart
Writings from Lou Reed
Early dance footage of Baryshnikov, Jerome Robbins, Merce Cunningham, and others
Dancer Vaslav Nijinsky's diary
Frank Braun's pen and ink drawings of The Wizard of Oz
The World's Fair collection
A Sumerian cuneiform tablet, ca. 2300 BCE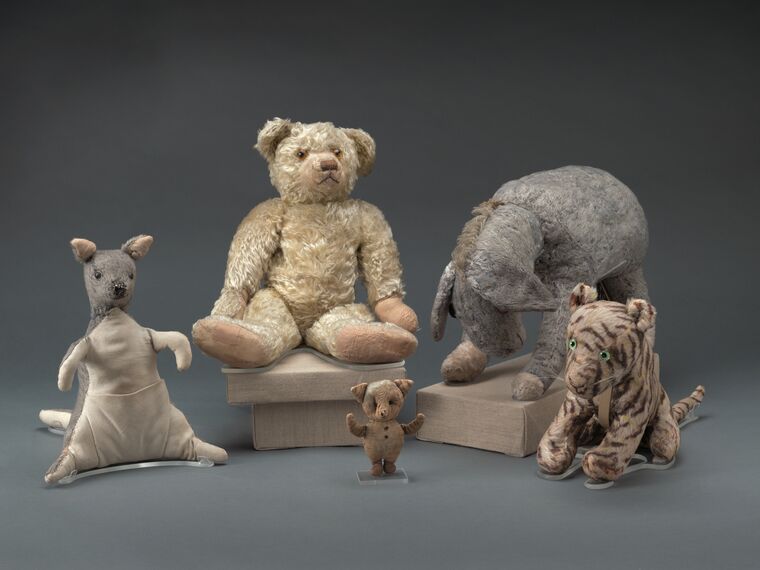 The original Winnie The Pooh dolls that belonged to Christopher Robin Milne.
Photo courtesy of NYPL
"I have long been impressed with the priceless treasures at this preeminent research library," said Polonsky in a statement. "In keeping with The Polonsky Foundation's mission to provide broad access to the riches of cultural heritage, we are honored by this opportunity to amplify the exposure of the many wonders in the New York Public Library's collections and to make them available to the wider public."
Marx hopes that the exhibit will excite and inspire students of all ages, researchers, local patrons, and tourists, and give them a taste of how they can use the library—and how it can inspire them.
"These are incredible teaching tools," he told LJ. "When you see Jefferson's handwritten, edited version of the Declaration of Independence, you see that a document that we all think of as etched in stone actually was fought over and negotiated over, and that that's how history works. We want kids growing up to feel that they can be a part of shaping history in the way that the founders shaped it."
On a more sober note, he pointed out that a letter from Christopher Columbus to King Ferdinand documenting his discovery—the first document on record connecting the Old World with the New World—envisions the next 300 years of Colonialism.
That these are physical, primary-source documents is critical to the proposed exhibition's mission, added Kelly. "At a moment in our national discourse in which we need to understand how it is that one comes to an understanding, however provisional truth may be, the importance of primary research—of primary documents—seemed to us to be a real contribution we at the libraries could make to public discourse."
The ultimate goal, said Kelly, is to keep people coming back to see what's new. "That makes the debate about what to put in the show an easy one."