British history, the Holocaust, and Black American perspectives.
Click here for additional new Prepub Alert columns
Brown-Nagin, Tomiko. Civil Rights Queen: Constance Baker Motley and the Struggle for Equality. Pantheon. Jan. 2022. 528p. ISBN 9781524747183. $30. Downloadable. BIOGRAPHY
From the Bancroft Prize–winning Brown-Nagin (Courage To Dissent), dean of Harvard's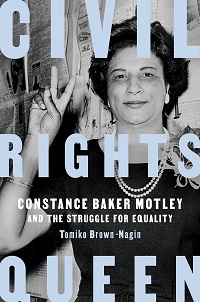 Radcliffe Institute for Advanced Study, this biography finally gives activist lawyer Constance Baker Motley her due. Baker Motley defended Martin Luther King in Birmingham; helped argue Brown v. Board of Education; became the first Black woman to serve in the New York State Senate, as Manhattan borough president, and in the federal judiciary; and was the first Black woman to argue a case in front of the Supreme Court, winning nine of the ten cases she finally argued there.
Bucci, Andra & Tatiana Bucci. Always Remember Your Name: A True Story of Family and Survival in Auschwitz. Astra House. Jan. 2022. 190p. tr. from Italian by Ann Goldstein. ISBN 9781662600715. $23. HISTORY
In March 1944, six-year-old Tati and her four-year-old sister, Andra, were deported from Italy to Auschwitz with their mother and their cousin, Sergio. They were among only a few dozen of 230,000-plus children who survived imprisonment there, uniting with their mother after the war because she made them memorize her tattoo number and told them to "always remember your name." To this day, they bear witness to the Holocaust in schools and at the camps. From promising new publisher Astra House, distributed by Penguin Random House.
Elkins, Caroline. Legacy of Violence: A History of the British Empire. Knopf. Jan. 2022. 928p. ISBN 9780307272423. $35. lrg. prnt. Downloadable. HISTORY
Founding director of Harvard's Center for African Studies and a Pulitzer Prize winner for Imperial Reckoning: The Untold Story of Britain's Gulag in Kenya, Elkins presents Britain's 20th-century empire—the largest in history—as grounded in violence stemming from Victorian-era urgency to maintain control by punishing those among the colonized who seemed defiant or willfully rebellious. By the mid-20th-century, as their control began slipping, the British simply left, covering up their tracks.
Harriot, Michael. Black AF History: The Un-Whitewashed Story of America. Houghton Harcourt. Jan. 2022. 288p. ISBN 9780358439165. $28. CD. HISTORY
A senior writer at TheRoot.com, where he examines the convergence of race, politics, and culture, and a staff writer for Peacock's The Amber Ruffin Show, Harriot has been called by Michael Eric Dyson "one of the funniest men out there taking no prisoners on the subject of white supremacy." Here he reassesses U.S. history, which has been told essentially by, for, and about whites, by highlighting 30 crucial Black American experiences ranging from the Tulsa Race Massacre to the history of policing.
Howard, Hugh. Architects of an American Landscape: Henry Hobson Richardson, Frederick Law Olmsted, and the Reimagining of America's Public and Private Spaces. Atlantic Monthly. Jan. 2022. NAp. ISBN 9780802159236. $30. HISTORY
Howard, whose Architecture's Odd Couple focused on Frank Lloyd Wright and Philip Johnson, here pairs another design team: Frederick Law Olmsted, the first and arguably best U.S. landscape designer, whose accomplishments ranged from Manhattan's Central Park to the preservation of Yosemite National Park, and the first leading U.S. architect, Henry Hobson Richardson. The two were friends, and though Richardson isn't as well known now, we have him to thank for Boston's stunning Trinity Church and the open plan for family homes.
Jähner, Harald. Aftermath: Life in the Fallout of the Third Reich, 1945–1955. Knopf. Jan. 2022. 416p. tr. from German by Shaun Whiteside. ISBN 9780593319734. $30. Downloadable. HISTORY
Published in Germany in 2019, this account of the country post–World War II was a best seller for nearly a year and won the Leipzig Book Fair Prize. As he surveys an occupied country with its cities in ruins and more than half the population displaced, Jähner, a cultural journalist and former editor of the Berlin Times, focuses on how Germans thought and felt as they faced up to the horrors of their immediate fascist past and tried to make a better future.
Katz, Jonathan M. Gangsters of Capitalism: Smedley Butler, the Marines, and the Making and Breaking of America's Empire. St. Martin's. Jan. 2022. 448p. ISBN 9781250135582. $29.99. HISTORY
Dubbed "The Fighting Quaker," celebrated U.S. Marine Smedley D. Butler fought for his country in every major overseas conflict from the Spanish-American War of 1898 until the eve of World War II. Yet looking back, he declared bitterly, "I was a racketeer for capitalism," having helped seize Guantánamo Bay, the Philippines, and land for the Panama Canal and helped occupy countries from Nicaragua to Puerto Rico to Haiti. Multi-award-winning journalist Katz uses Butler's life to frame a discussion of U.S. expansionism. With a 50,000-copy first printing.
Ridley, Jane. George V: Never a Dull Moment. Harper. Jan. 2022. 752p. ISBN 9780062567499. $35. BIOGRAPHY
Biographer of Queen Victoria and Edward VII, the Duff Cooper Award–winning Ridley turns to King George V, Edward's son, who ruled the British Empire from 1910 to 1936. Though he was considered dull as a young man, especially in comparison with the rascally Edward, George's era encompassed constitutional crisis, World War I, the fall of 13 European monarchies, the first Labour government, the rise of Bolshevism, and George's refusal to grant asylum to his cousin Tsar Nicholas II. Ridley argues that his was a pivotal reign that shaped the modern monarchy.
Sullivan, Rosemary. The Betrayal of Anne Frank: A Cold Case Investigation. Harper. Jan. 2022. 368p. ISBN 9780062892355. $29.99. lrg. prnt. HISTORY
Anne Frank's The Diary of a Young Girl is among the most-read books in the world, but despite reams of studies no one has been able to determine who betrayed its author and her family. Finally, as recounted here by award-winning Canadian author Sullivan, retired FBI agent Vincent Pankoke stepped in with a team of investigators, examining over tens of thousands of pages of documents and interviewing descendants of people familiar with the Franks to come to the conclusions relayed here.
Tsu, Jing. Kingdom of Characters: The Language Revolution That Made China Modern. Riverhead. Jan. 2022. 336p. ISBN 9780735214729. $28. Downloadable. HISTORY
The John M. Schiff Professor of East Asian Languages and Literatures and Comparative Literature as well as chair of the Council on East Asian Studies at Yale, Tsu argues that China was transformed over the last century into the powerhouse it is today by a prolonged battle to make the Chinese language accessible to the modern world of global trade and digital technology. Along the way, she reveals language to be both a tool and a source of power.