Five novels that enlarge our understanding.
Click here for additional new Prepub Alert columns
Black, Daniel. Don't Cry for Me. Hanover Square: Harlequin. Feb. 2022. 288p. ISBN 9781335425737. $26.99. LITERARY
On his deathbed, a Black father named Jacob writes a letter to his gay son, Isaac, to whom he has not spoken in many years. Jacob seeks not only reconciliation but the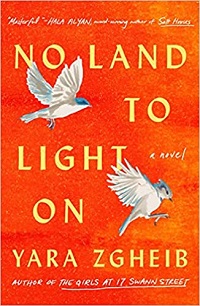 opportunity to communicate family and ancestral truths to his only son as he recalls a rural Arkansas background dating to the days of enslavement, his painfully chaotic relationship with Isaac's mother, and his sorrow at the collapse of their family. Above all, he senses where he failed as a father. From the multi-award-nominated author of Tell Me of a Home; with a 75,000-copy first printing.
Frost, Caroline. Shadows of Pecan Hollow. Morrow. Feb. 2022. 352p. ISBN 9780063065345. $27.99. lrg. prnt. LITERARY
Abducted in 1970 by small-time crook Manny Romero, 13-year-old runaway Kit Walker at first gently tended to and then initiated into a life of crime; she and Manny are soon known as the Texaco Twosome for their gutsy gas station robberies. A decade and a half later, Kit is living in modest, muddy Pecan Hollow with her daughter when Manny reappears, just out of jail and ready to start a clean new life—with her. From debuter Frost; with a75,000-copy first printing.
Harris, Kai. What the Fireflies Knew. Tiny Reparations: Random. Feb. 2022. 288p. ISBN 9780593185346. $26. LITERARY
With her father dead of an overdose and her family in financial extremis owing to his addiction, Black preteen Kenyatta Bernice (KB) is sent with teenage sister Nia from Detroit to her estranged grandfather's home in Lansing, MI. A burdened mother, an irascible grandfather, and a suddenly distant sister (she's growing up), not to mention the only intermittently friendly white kids across the way—KB is having a tumultuous summer indeed. But it's a chance to find herself. From debuter Harris.
Lazar, Zachary. The Apartment of Calle Uruguay. Catapult. Feb. 2022. 256p. ISBN 9781646221110. $26. LITERARY
Christopher Bell, a painter struggling to regain his momentum and confounded by issues of identity, having immigrated to the United States at an early age, encounters Venezuelan journalist Ana Ramirez in the woods near his home in Long Island's East End. Ongoing political crisis forced Ana from her country, and she is looking for work in New York, trying to recover the sense of self she has lost. Their romance gradually reveals their complex pasts and efforts to discover a place to call home. From the author of the multi-best-booked Sway.
Zgheib, Yara. No Land To Light On. Atria. Feb. 2022. 304p. ISBN 9781982187422. $26. LITERARY
Some years ago, Sama arrived in the United States from Syria, intent on achieving her big dreams. Hadi arrived later, a sponsored refugee from the relentless civil war in their homeland. Now they are married and expecting their first child, but when Hadi attends his father's funeral in Jordan, he's stopped at the border on his return home, and the lights start to dim ominously on the life they'd imagined together. From Fulbright scholar Zgheib, author of the popular debut novel The Girls at 17 Swann Street.