Here are a few ways to relax, keep your stress levels low, and enjoy a relaxing holiday season.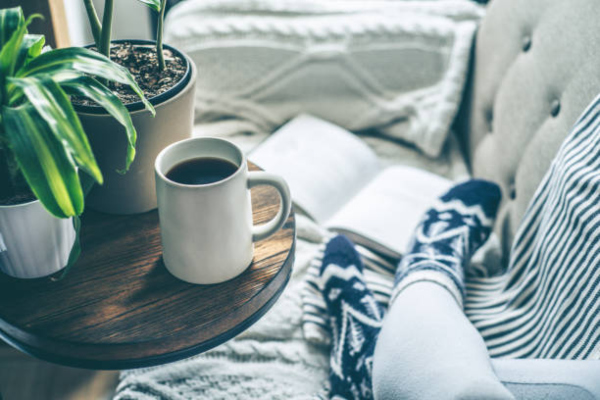 You may have decked your halls, checked your gifting list twice, mailed those holiday cards—or, you know, not at all! This year, let's all give ourselves a bit of a break. Sure, holiday dinner needs to be made, but who says you need to do the cooking? Instead of taking on too much, here are a few ways to relax, keep your stress levels low, and enjoy a relaxing holiday season (who knew there was such a thing?).
EMBRACE THE POTLUCK. You love to have everyone over for the holidays, but the thought of creating and executing a menu has you taking to your bed. I've got one word for you: potluck. Embrace the "many hands make light work" edict and get everyone to pitch in. Set up an email invite, prep your favorite dish, and welcome your friends with (well-rested) open arms.
DECIDE ONCE GIFTS. This is a concept from Kendra Adachi, author of The Lazy Genius, and it's really stuck with me. There are certain things in your life you can decide upon once, and never overly ponder again! In this Instagram post, commenters share their Decide Once gifts and I could weep at the thought of never having to brainstorm teacher presents again.
SCHEDULE DOWN TIME. Before your calendar becomes full of fun (and obligations) be sure to pencil in some me-time. Want to have a movie night at home? Block out that Saturday night! Need time to check in with your kids or spouse? Mark out a midday walk, with no errands or to dos in mind.
WRITE IT OUT. There's nothing like helping others to give you a little perspective during the holidays, and letter writing is a great way to do it. Kids can help too, with stickers and drawings, or missives of their own. Play Santa and answer kids' letters to the North Pole via USPS, or send notes and cards to seniors or military and first responders.
EMBRACE REALITY. There's a funny and warmhearted Netflix baking show, Nailed It, featuring contestants who have no idea how to bake. They create ugly and terrible tasting treats, then laugh about it. Let's bring that energy to the holidays! Did your cookies turn into a runny and somehow also burnt cake (this may or may not have happened to me)? It's fine! Stop at the bakery. Are your holiday lights in a Gordonian knot? Turn on the fireplace channel and call your house decorated! Forget social media-filtered perfection; instead, embrace the mess and laugh about it.
GENEROSITY OF SPIRIT. Closing out this list is a simple concept proved to help with happiness, and it costs zero dollars and basically no time to implement. Generosity is important all year long, but it has to do with so much more than spending money thoughtfully. You can be generous with your kindness. Research has shown this is one way to improve your life outlook. Someone cuts you off at the red light? Assume they were rushing to pick up their sick kid who's stuck at school. Receptionist at the doctor's office snippy? Instead of getting huffy, imagine that she's waiting to the end of her day until she can get home to soak her toes. The more you give other people the benefit of the doubt, the more it will benefit you.