Libraries are constantly becoming more versatile when it comes to offering patrons a broad spectrum of services. They have made extra efforts in delivering high-quality customer service to suit a new generation of library users.

Libraries are constantly becoming more versatile when it comes to offering patrons a broad spectrum of services. They have made extra efforts in delivering high-quality customer service to suit a new generation of library users. The next generation comes from a world saturated by new, advanced technologies that are updated almost daily, it seems, making technology a normal occurrence in everyday life. Libraries are following suit in the digital landscape and offering intuitive self-service solutions to streamline the customer experience, and the technology currently taking the sector by storm is the smart locker.
With a predicted market growth of over one billion US dollars by 2024, the smart locker is already providing enormous benefits for libraries by saving them time, and money whilst simultaneously elevating their offerings for patrons. One of the first and most comprehensive smart locker solutions to hit the market has been introduced by D Tech International. Its new SMART range offers libraries a versatile all-in-one locker solution. Read on to learn more about its unique capabilities.

What is a Smart Locker?
A smart locker is a secure storage and distribution system that enables patrons to easily access library materials as and when they need them. Smart lockers can be used for a variety of purposes such as stock management, media vending, and click & collect (parcel lockers) services. However, the main purpose of a smart locker is to deliver a secure and connected distribution centre, capable of holding a large variety of items to suit all requirements. How can incorporating a smart locker transform a library? Here are the top five ways smart lockers are changing the game for libraries.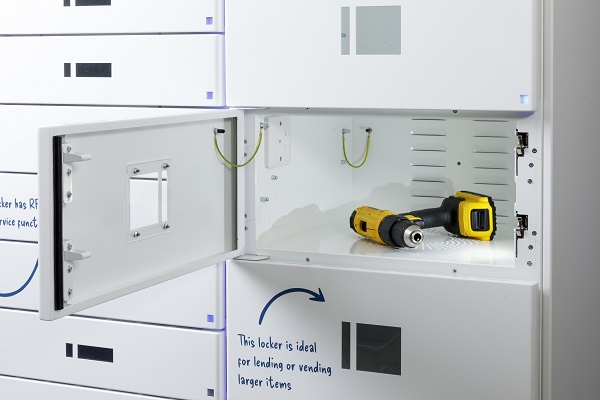 Enabling Smart Library of Things
Libraries can open a vast number of possibilities by installing smart lockers, including enabling them to widen their lending services. Gone are the days when libraries offered a simple borrow-and-return service for a limited range of library materials. Smart lockers have now introduced the possibility of libraries expanding the lending catalog, and many joining the 'library of things' initiative. The movement has seen libraries able to offer sports equipment, household tools, and musical instruments for patrons to borrow, saving valuable time and money.. One library that has joined the trend is Fontana Regional Library in North Carolina. Fontana Library, in partnership with the Franklin Appalachian Trail Community Council, has chosen to promote a healthy lifestyle and offers sports and hiking equipment to encourage members of the local community to stay active.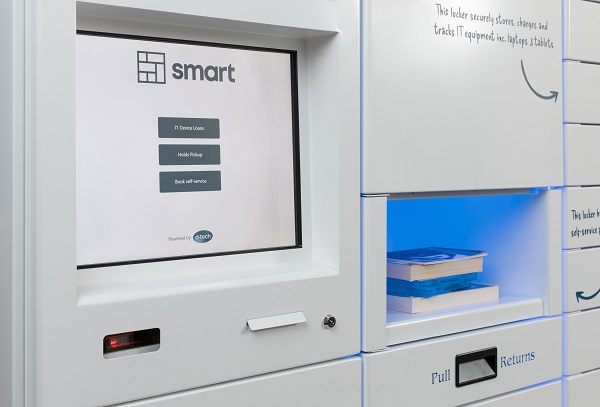 Click + Collect Availability
Smart lockers also enable libraries to work on a click-and-collect basis. With businesses making themselves pick-up destinations by adopting click-and-collect delivery, libraries can now take a significant step towards placing them on the map as a destination accessible to all patrons. By installing a smart locker, libraries can elevate the pick-up experience. Patrons will be able to collect ordered library materials at a time that suits them, whilst avoiding long waiting times making the process a simple and stress-free experience.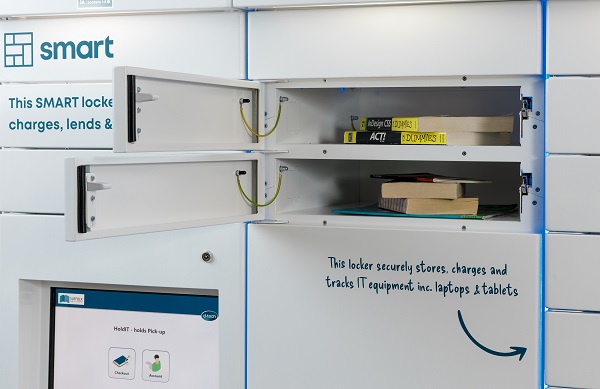 Smart Secure Access to IT
A smart locker also provides an easy, secure solution for vending, lending, and holding expensive IT assets. Having an easily accessible vending solution for technology can supply education resources to members of the local community who may not be able to access the internet otherwise. In today's world, it is vital that people of all ages, social and financial backgrounds are given the computing resources they need to develop basic IT skills. Developing IT skills can enable individuals to increase their digital literacy and access public services with ease. By installing a smart locker, libraries have a safe, secure, and intelligent solution that safely stores IT assets, which ensures that everybody has equal access to technology and opportunities moving forward.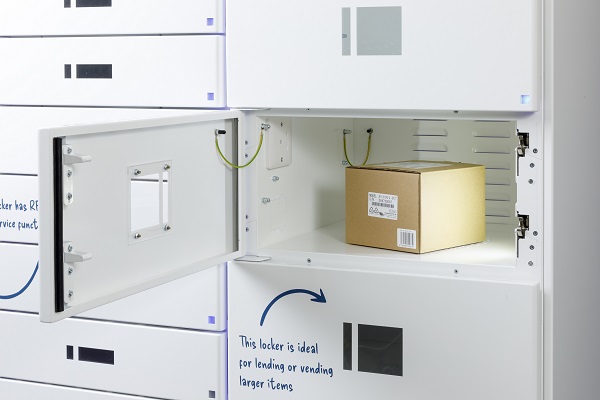 Weather-proof
Smart lockers are designed with all kinds of weather in mind and manufactured specifically to meet all unique requirements. Whether your smart locker is installed indoors or outside the library, the smart locker is weather-resistant and built with anti-corrosive steel for a true 24/7 lending and holding locker solution. An intelligent 24/7 solution allows your library to extend not only its lending, holding, and security capabilities but its opening hours at no extra cost, giving your patrons around-the-clock access to library materials. The 1000+ nit screen also enables the smart locker to be used in direct sunlight.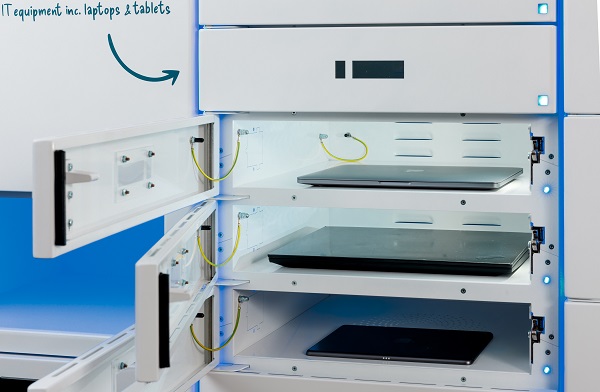 Integrating with your LMS and the Cloud
For your benefit and convenience, smart lockers give you control of your laptops, notepads, and tablets. The remote access and cloud-based system allow librarians and library staff to minimize time spent on asset management and direct their time towards aiding patrons on the library floor. A cloud-based system also allows for the efficient tracking of inventory management, offering authorized users a secure check-in and check-out process, meaning libraries and staff are always aware of the locations of IT assets and whether the device is damaged or broken. Your smart locker can also be fully integrated into your library's LMS/ILS systems to ensure the efficient collection of data, creating a fully connected system all accessible via the Cloud.
Smart lockers can suit any requirement for your library's requirements, whether you are looking for device charging lockers, media vending, or self-service capabilities, D-Tech International offers an all-in-one SMART range solution that allows you to mix and match features and capabilities to create the perfect SMART locker for your library's needs. To learn more about how the new SMART range can enhance your customer self-service, give D-Tech a call at (609) 435-5846 or our website at d-techinternational.com/us/smart/ for more information on the SMART range.
SPONSORED BY