Biographies of Martin Luther King Jr. and Winnie and Nelson Mandela, plus parking, NFTs, and a son lost in Russia.
Click here for additional new Prepub Alert columns
Eig, Jonathan. King: A Life. Farrar. May 2023. 688p. ISBN 9780374279295. $35. Downloadable. BIOGRAPHY
Forrest, Brett. Lost Son: An American Family Trapped Inside the FBI's Secret Wars. Little, Brown. May 2023.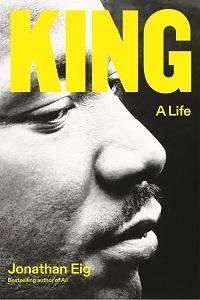 352p. ISBN 9780316591614. $29. SOCIAL SCIENCE
Grabar, Henry. Paved Paradise: How Parking Explains the World. Penguin Pr. May 2023. 368p. ISBN 9781984881137. $30. SOCIAL SCIENCE
Hundreds, Bobby. NFTs Are a Scam / NFTs Are the Future: A Memoir / A Manifesto. MCD: Farrar. May 2023. 224p. ISBN 9780374610296. $28. Downloadable. BUSINESS/CRYPTOCURRENCY
Rubin, Robert E. The Yellow Pad: Making Better Decisions in an Uncertain World. Penguin Pr. May 2023. 336p. ISBN 9780593491393. $32. BUSINESS/DECISIONMAKING
Smith, Ben. Traffic: Genius, Rivalry, and Delusion in the Billion-Dollar Race To Go Viral. Penguin Pr. May 2023. 352p. ISBN 9780593299753. $28. MEDIA STUDIES
Steinberg, Jonny. Winnie and Nelson: Portrait of a Marriage. Knopf. May 2023. 576p. ISBN 9780525656852. $35. Downloadable. BIOGRAPHY
With King, the New York Times best-selling Eig ( Ali), a former senior writer for the Wall Street Journal, draws on recently declassified FBI files to create a bold new study of Martin Luther King Jr. (100,000-copy first printing). Drafted by the FBI as a trilingual counterterrorism researcher, Billy Reilly went to Russia when it first invaded Ukraine's Donbas region and promptly cut off all communication; it was unclear whether the FBI actually sent him, but Reilly's parents asked Wall Street Journal reporter Forrest to find their Lost Son (100,000-copy first printing). AsSlate staff writer Grabar clarifies in Paved Paradise, parking matters; we've distorted our landscape to find cheap and easy ways to store our cars, with much valuable real estate devoted to vehicles sitting empty when space for affordable housing is desperately needed; at least Grabar proposes solutions. Following This Is Not a T-Shirt, a memoir about his clothing brand, Hundreds (aka Bobby Kim) limns his venture into NFTs (Non-Fungible Tokens), Web3, and the Metaverse in NFTs Are a Scam / NFTs Are the Future (75,000-copy first printing). Former secretary of the Treasury and cochair of Goldman Sachs, Rubin draws on six decades' worth of experience in business and politics to explain how to make smart decisions in an uncertain world; it all begins with sketching out the possibilities on a simple Yellow Pad (or now an iPad). In Traffic, former BuzzFeed editor in chief Smith shows how Nick Denton's Gawker and Jonah Peretti's HuffPost and BuzzFeed fatefully duked it out for control of internet media in the early 2000s, arguing that the unintended consequence was a rightward shift in the internet's orientation. Windham-Campbell Award–winning South African writer Steinberg shows how the marriage of Winnie and Nelson Mandela reflects the course of South African history and tensions within the antiapartheid movement, as Winnie moved toward supporting armed insurrection while Nelson was jailed.